sitemap
search the site here
27.02.2003
---
SPECIAL
by
Matthew Haumschild
Kilgore: one of the greatest band that could have been.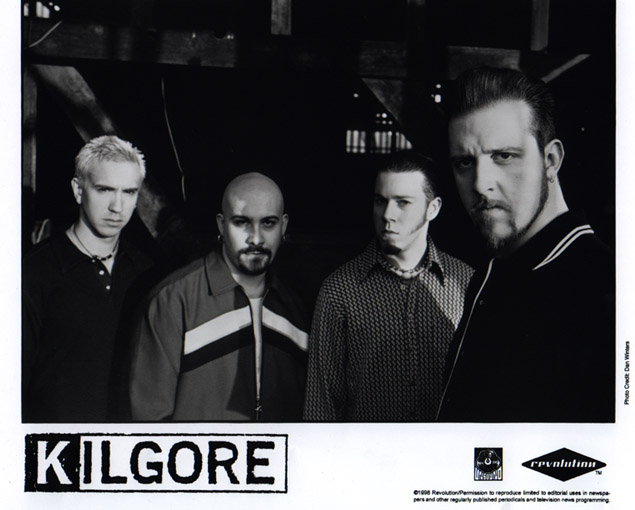 "It's enough, it's enough to make you want to bust
*
"
That is exactly how Kilgore made you feel sometimes and that's how their fans felt about music and the world.
Kilgore (formally Kilgore Smudge, Stain and Smudge) was a quartet from Rhode Island. In late 1997 they recorded a CD entitled
"A Search For Reason" and it was released in 1998. At such time several different magazines acclaimed the CD by saying "Throughout it's entirety, A Search For Reason manages to balance rhythmically piledriving riffstomp and remarkable though not commercially-minded songwriting flair without sacrificing one for the other…the damn thing's an infectious little bastard too
**"
. Kilgore from there got on the Ozzfest 98' tour, where they got to tour with the likes of Megadeth, Tool, Ozzy, Limp Bizkit, Life Of Agony, and Ultraspank amongst others. I was lucky enough to see them at that show.

About four months after I saw that show I went out and bought A Search For Reason and I absolutely fell in love with it.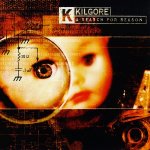 The first recorded song I heard from Kilgore was "TK-421" that specific song had guest vocals by probably the best voice in metal at that time, Burton C. Bell of Fear Factory. I caught the song on the Ozzfest 98' compilation CD of which Best Buy, the promoter of Ozzfest from 96-98, put out to anyone who went to the show. I remember I went over to a friends house who got the CD before I did and we listened and we both said, "God damn this is tight!" meaning we really liked it.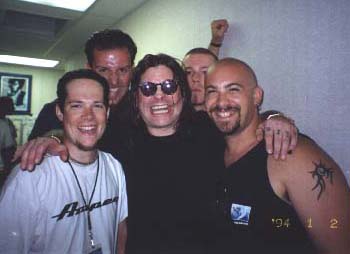 I must have listened to A Search For Reason a hundred times after I got the CD. There were so many songs that sounded so good. The vocalist, Jay Berndt, did not sound like every other metal singer out there. His vocals kind of reminded me a very angry country singer. Even though he was from the North East, and if you lived in this country, you would know that New Englander's have a very distinct accent. I shouldn't say a country singer per say, but there are obvious notes he hits that have a southern twang to it. He didn't growl like singers do more and more in the metal genre, he sung and screamed certain note's as if he was angry at you or trying to prove a point and not so much just for the sake of being in a metal band for which many metal singers have forgotten in today's music. I would think, that if the band continued on today and if they had not have broken up, Jay Berndt would be one of the best singers in the world.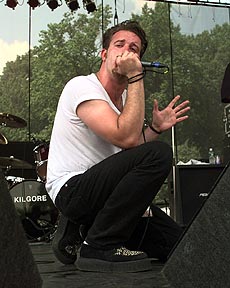 I brought this CD everywhere I went. During my last year of high-school, my father and I flew out to Las Vegas and drove from Las Vegas to Phoenix, to look at schools so when I get out of high-school I would have an idea of where I would go and what I would be doing. I was 18 years old and I had never been to that region of the United States and the drive was very serene. I saw parts of the world you wouldn't find anywhere else, places so desolate you would ask yourself "why would anyone want to live out here?" From Las Vegas to Phoenix is a long drive. And through out that drive I was listening to Kilgore. Everyone probably goes though this, but you know when music becomes more meaningful when you are in the right place at the right time… this was it. I knew that in a few weeks I was going to Germany for my first time and I was getting really excited to go and it was going to give me more time away from schoolwork and more time listening to my CD player
When I finally went to Germany, I brought along A Search For Reason, and all I could think about was Arizona. Eventually the music blended in with what I saw in Germany. When an American goes to Europe for the first time, he/she notices all the little differences and usually thinks it's really cool and what forth. Kilgore filled that gap for me.
When I got back to the States' I had to prepare for prom. For those who don't know (but I can't imagine anyone who doesn't know), prom is the high-school dance. Where kids show up sometimes in Limos and all the guys wear tuxedos and the girls wear these elaborate ballroom dresses and what forth. This was the dance everyone would remember for the rest of their lives. The week of the prom, there was a song request paper going around and it got to me and put down "Providence" by Kilgore. The night of the Prom, I was dancing with my then girlfriend, waiting for the Disc Jockey to put on that song, but knowing me he didn't have the CD, so… I brought mine along. I gave it to him, he dedicated that song to my then girlfriend, all the "Goths", and myself in front of everyone.
Kilgore, as you can imagine right now, was becoming one of my favorite groups and was holding special meaning for me.
Not too long after their tour with Slayer and Fear Factory, Jay left the band. His reason for doing so is that by touring with big name bands in the previous months, he grew more intelligent on the way music business worked and the more he learned, the more he hated it. Jay left the band because of what he was learning. Personally, I can't say I blame him, anyone who's actually dived into the music business realm knows that it's more work than play and the actual pay scale isn't as high as most people think it is.
After he left, the band moved back to Los Angeles to find a new singer. After months and months of searching, they basically called it quits. The bass player, Marty O'Brien, ended up playing bass for a band called "Methods of Mayhem", which for those who do not know, is Tommy Lee of "Motley Crue's" band. Marty has since played in all of Tommy Lee's projects. He even stepped in for a while and filled in the bass slot for Static-X. As for the rest of Kilgore, as far as I know, Jay doesn't sing in bands anymore, the guitar player, Mike Pelletier is in Rhode Island still looking for the right band members for a group he wants to form, and I have no idea what Bill Southerland the drummer is doing.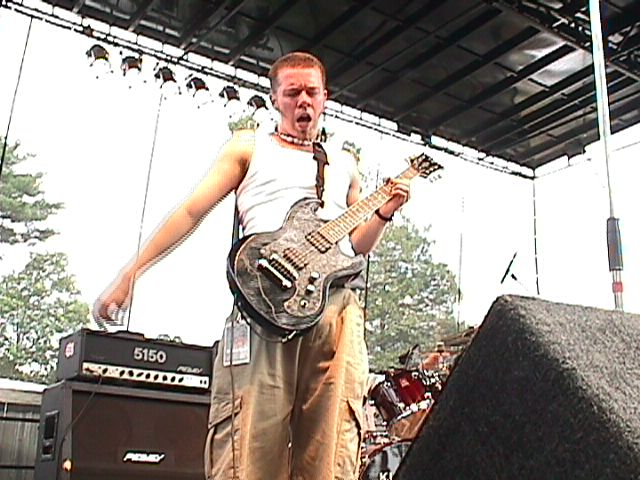 I suppose the remnants of Kilgore could be found in the bass playing of Marty O'Brien in his works with Tommy Lee. I did see Methods of Mayhem once at, get this, Ozzfest 2000 and they weren't too bad. Better than I thought they were going to be, worth a download or two in my book.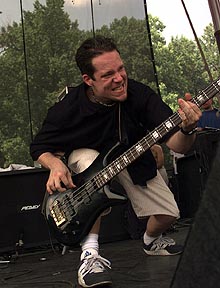 Kilgore, to me will always be one of the greatest bands that could have been. The vocals and the rest of the music still send shivers down my spine even after nearly 3 years of them splitting up. I hope anyone and everyone who reads this gets curious enough to download a song of theirs and hopefully get A Search For Reason on CD. It is worth every penny and it represents what music of today is missing. They sang about almost every topic. They sang about Love, image, being a drone, politics, being faced with death, and the effects of alcohol. Since Kilgore, I have not seen a band fit all those topics onto one album. I will forever applaud them and hope whatever endeavors they go out on become prosperous.
For more info on Marty's current projects go to
http://www.marty-obrien.com
*Lyric taken from the song "X" on A search for reason
**A review of A Search For Reason from the November, 1998 issue of Metal Maniacs Magazine
Matthew "Matt" Haumschild
zum Seitenanfang

top - inizio pagina
© gryphonmetal.ch 2001-2012

Niederrohrdorf - Switzerland

contact


web: dalia di giacomo