Bloodshed is an album that has much to offer. It offers 12 tracks , 8 of which are completely new and 4 very rare, published in 1993 in the form of the MCD "Unmerciful Order". Then it offers something very interesting: a balanced and even new image of the band: the name Krisiun shouldn't mean hyperspeed only. The godfathers of Brazilian fast brutality can manifest their malignant but constructive unmercifulness also using slower paces and rhythms, spiced up by very good Melodic Death metal tendencies and modern sounds of psycho-ghostly fear (like in Outro/MMIV). Krisiun incorporate brilliant hooklines and obsessive passages as well. Bloodshed is solid but not monolithic, able to arise jets of fire, crawling solos, but also a pounding massacre of bone-breaker heaviness. Many times you can get the impression that, in Bloodshed, Malevolent Creation meet Kataklysm and Morbid Angel but in a groovier , more downtuned , asphyxiating way.
Bloodshed offers a policy of fan-friendly reduced price, for 40 minutes of pressing machine that leave you however surprisingly fit and active instead than depressed. The double bass drums grasp deeply in the range of bass sounds, grip the ground: in this way the square snare-hits make a remarkable contrast. Vocals are mighty and hate-filled. Guitars and bass are tight and agile, able to let spring a paradox anyway: in the point you seem to hear too much monochromatic moments (like in Ominous) they evoke anyway an impression of variety and sparkling implacable waterfall of sounds underlining the changes of patterns so that at the end you attend a reiterated pure hammering enthralling banging loop (and indeed so is Ominous) . While even more varied tracks like the formidable opener Slain Fate, which results immediately addictive, (but Ominous becomes addictive too) are dressed with a pulsing coherence. Slain Fate, marked also by lead -guitars recurrent spasms and overdriven fugue, or Ominous or Servant of Emptiness are a thunderous but gloomy waves of hammering landslips. But who likes cold abyssal ghostly effects and distortion can admire Eons (the title is perfectly matching the sound) for almost 2 minutes of sidereal unreality as a break between the Death rides. The brutal and fierce Hateful Nature is very punishing nevertheless ennobled by lead solos and stop start cadenced bursts of hooklines. Vision beyond has a procedere that is similar to Kataklysm's Blood on the Swans but showcases a real profusion of lead -guitar ability. A certain acoustic-distorted appeal can be found in the instrumental Vodoo , where also the drumming gets tribal characteristics . With They call me Death the CD catapults us back in time, with a relentless Death in US style and infernal brutal-barking-brachial vocals, and the cult begins. All is closed by Outro/MMIV (already mentioned) and its atmosphere of sidereal horror.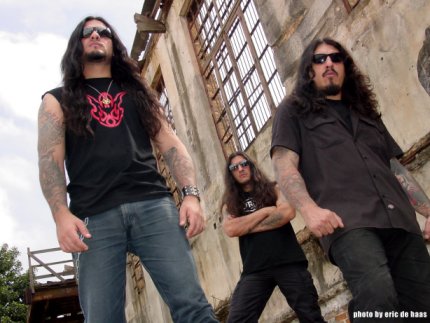 I would say that Krisiun 's Bloodshed can be appreciated by all Death Metal fans without any exception, from the Old-School party to the Melodic one . Bloodshed is a bridge between present and past with an eye to the future, and is a bridge between two worlds well cemented in that American culture (America is not only US) that gets influences from USA indeed but maintains strong connections with Europe. Among the new tracks many are killers, addictive, others are more atmospheric and instrumental, but all are intense and played with absolute competence. that competence and self-confidence that a veteran band has. It's one of those albums that really will grow on you. So make your wallet happy and let's bang your head! Krisiun are really mighty.
I can't deny my fate
when the victory comes
I'll be the king, Lord of all evil
I knew the prophecy, I knew the pain

rating: 9/10