presented by MEH SUFF!

KROMLEK
Slartibartfass, Abinchova & Frijgard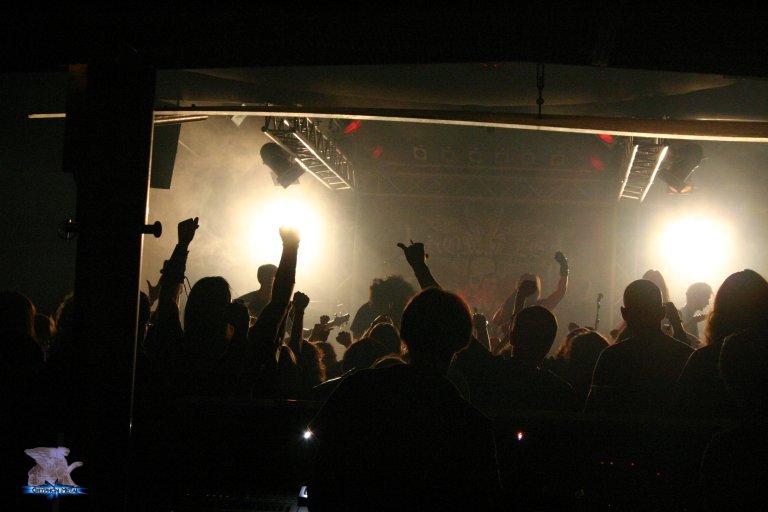 SoundDock 14 - DIETIKON (ZH) - 17.04.2010
www.myspace.com/slartibartfassmusik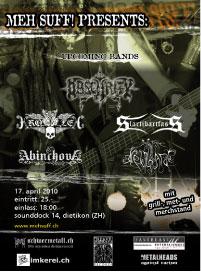 Live reportage by dalia di giacomo_
Organized by Meh Suff!, at the comfortable venue SoundDock 14 in Dietikon, in Switzerland, near Zürich, this concert has been a great rendez-vous with Pagan/Folk Metal, mainly of young imprinting. The atmosphere has been very friendly, numerous people attending in the organized structure of a music-club that has hosted well known acts together with local and or emerging bands. As always, when organized by Meh Suff!, this time too we had the possibility to enjoy a well planned Metal concert, in the best "horns up" mood! Intime, underground yet of big caliber. Indeed German Obscurity should have been the headliner, but unfortunately due to the block of flights set by the Iceland volcano ash, it was impossible for the band to reach the location. Yes, it was a bit sad, but the evening has been anyway really successful even because "Urban Pagan Metallers" Kromlek, who have celebrated its premiere in Switzerland, had the possibility to perform a longer show and to focus the interest as clout of the gig. Kromlek took no prisoners, or, better said, made us all prisoners of its sound, and 3 encores have resonated in the 5 meter high hall. Frijgard, Abinchova, Slartibartfass has been the 3 bands who played before Kromlek and that were able to fully warm up the audience, already delighted by the appetising grill organized in the front yard and by the excellent mead provided by Imkerei.ch.
All bands have risen in me a big fascination because they were all authentic, spontaneous, exactly like i want to see, they have been able to communicate their compositions, but also to entertain, to have fun together with fans in uncomplicated way. Nonetheless the shows were all very professional, prepared by an accurate soundcheck. Headbanging, moshing and crowdsurfing more and more put into action during the whole evening.
The long "Pagan" evening has started with the band Swiss Frijgard. Four young musicians in the line up the Black Pagan combo, which has release the self-produced cd "Morgenrot". Although people were inclined to bless at once the concert, the first minutes were not so easy, actually the band has been not very lively in the impact, yet the 4 in Frijgard at, the third song "Dem Tod geweiht", have convinced that there is much potential in their music with many dark elements and melodies, with a good double bass drum and good backing vocals that added a kind of sinister trance. Everything was easygoing then when ripping bursts of riffs, nice loops were evoking a nocturnal, sinister but also romanticized Norse Paganism.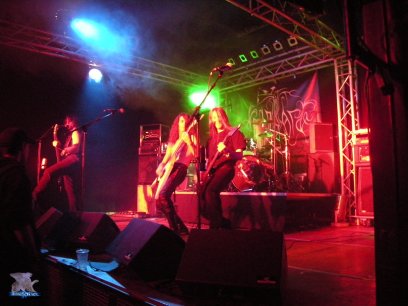 Applauses for the broken guitar! Gitarre kaputt!. The seven musicians (or "Musikanten") of Abinchova are simply an avalanche on stage! Begun with the nocturnal and sinister touch of Frijgard, now the concert has got incredibly animated and literally conquered by the energy and sympathy and skilfulness of this brighter Folk/Pagan Swiss tribe, that, in my opinion, is even better than Eluveitie, and actually it's with Eluveitie that they will play in Lucerne on May 29 (at Schüür). And in July they will play the Metalcamp in Tolmin. Welcome! Abynchova is simply push and good mood. On the stage Abinchova mix Pagan Death (mainly of Celtic sign, i think) with Thrash, with classic elements of Folk and harsh vocals , spiced up with joy and a very good cooperation. 2 women are part of the line up, at the violin (and vocals) and at the keyboard. There is also a deal with intense melodic moments that often fade away eaten by the aggressive side, like in Die Züsler from EP Hörensagen, presented along with Versteckte Pfade, Der Geigenspieler, Hundert Raben, Abenteuer, Heimatlos, and the final Pestfinger. Don't miss them at The Forefather Festival this next October in Olten with the likes of Finntroll , Excelsis, Frijgard . Abinchova has recorded the first half of the debut album in February, so i presume that this has been a warm up gig for the upcoming circuit of appointments of this year. The only thing i didn't like were the moments of female sung, really not so pleasant as the sound of the violin was. For the rest, great gig!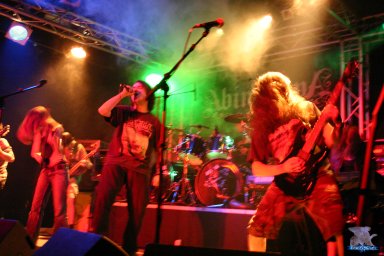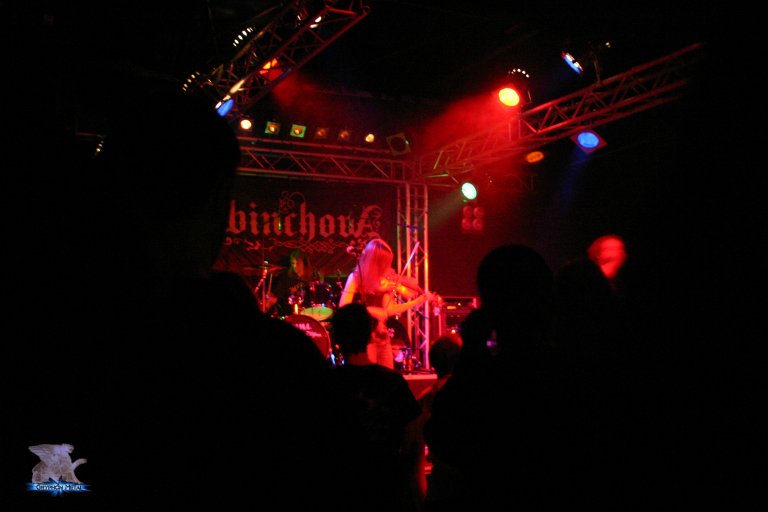 A woman in the line up of Slartibartfass too, Jessica, who plays bagpipes. Needless to say, bagpipes give a Scottish tone to the music of this German band founded in 2005 and now under contract Trollzorn/SMP Records. To tell the truth, Slartibartfass is truly a nice band showing much engagment and solide stage acting which is not only focused on singer and guitarist Philipp. The keyboard adds an epic movement to compositions that show many Pagan influences, elements of extreme metal too, a bit Avantgarde and much rhythm, lot of cadence...and, why not? , a veil of melodic decadence, united with balladesque rocking solos. The stage acting has been informal but elegant, not hiding the eclectic vein of the band. The audience has been enthusiastic and involved.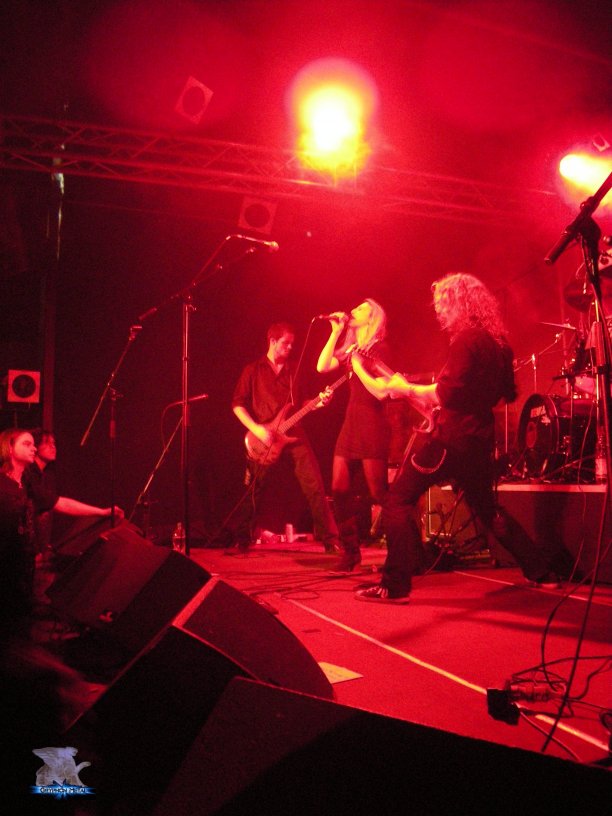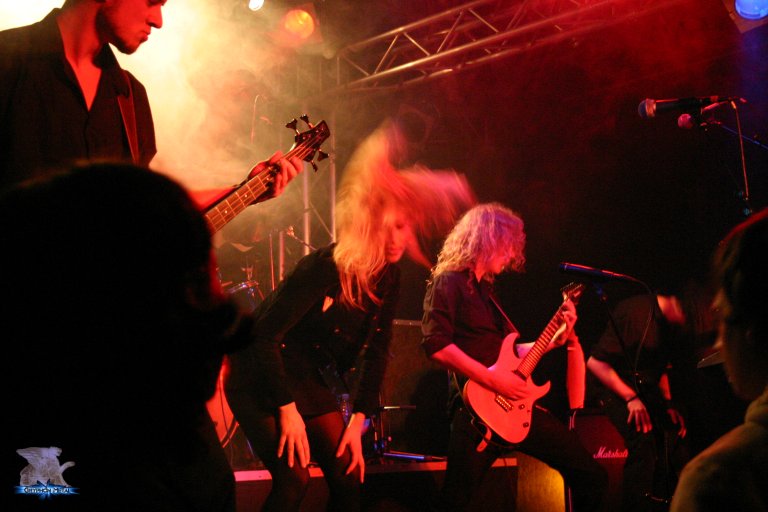 But German Kromlek took it all, and, thanks also to the forced absence of Obscurity, was acclaimed and perfectly supported by the audience in this Swiss premiere. Although , as already said, the previous bands were interesting, Kromlek hit the stage by showing a first liga class. The Pagan Metal band founded in 2004 got a fresh but already experienced and determined acting. Mr. Alphavarg was not the only one to be fit, the balance among the different members of the line has been almost perfect. Important: brilliant keyboards, super guitars! Humppa and nordic folklore mixed with heavy grooves and some exotic lines have been the bomb at the SoundDock . Among the songs presented: Herjan, Kromlek, Grim Omens. a super Solo battle before the wonderful Strandhagg II Wave bound. Gorgeous moshing during Svartmetall. Kromlek calls its music "Urban Pagan Metal", i don't know..rarely i was pushed into a magic retro vampiric/folklore like tonight : a bridge between Nordic mythology, ancient times in Transsilvania, middle age and nineteenth century, each of them personified through a strong music. I would call it "Across Time-Pagan Metal".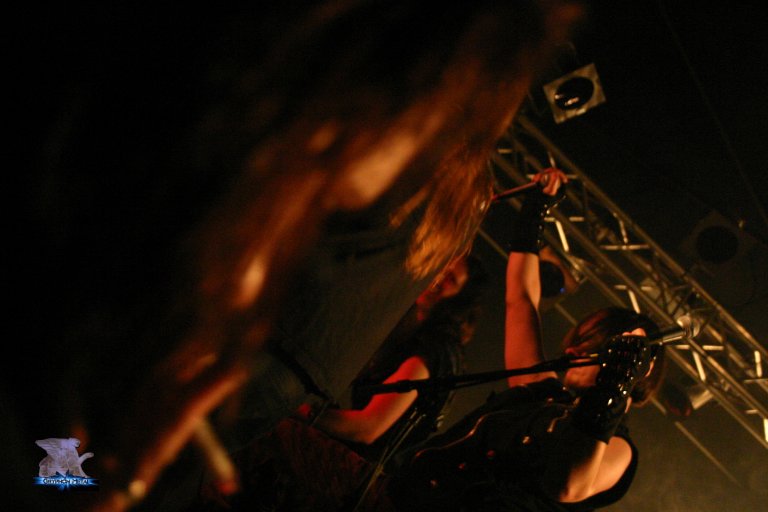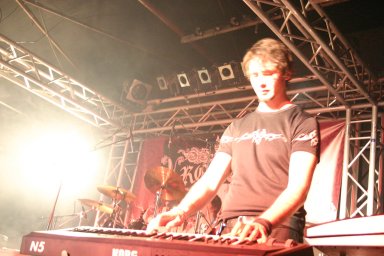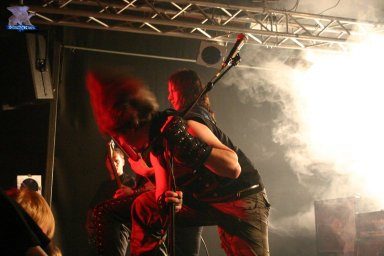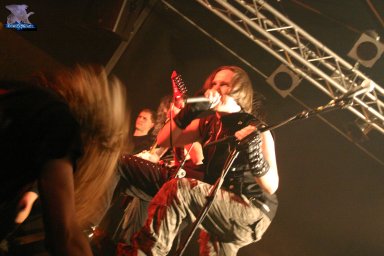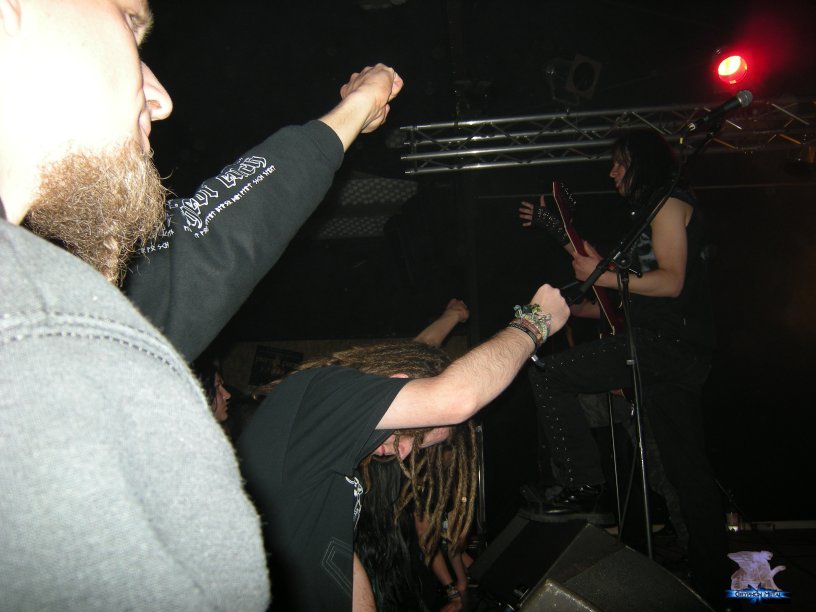 from the blog of the band April 18 that can be read here