review by dalia "gryphon_spirit" di giacomo____

If the concepts Beautiful and Good Taste have a meaning Living With Eating Disorders fully personify it. From United Kingdom is coming a Psycho Industrial of class, seductive, enchanting, frightening, moving and hypnotic underlined by a sensational female voice, that will go under your skin. Dark electronic but with crunchy guitars too and fascinating bass sounds : in its genre simply perfect.
---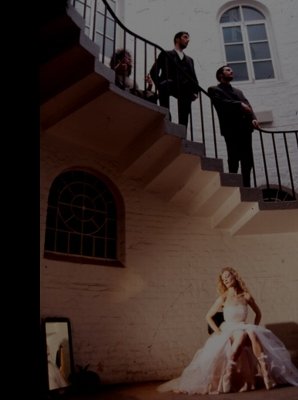 Even when you smile
I can see your skin
Crying to be whole again
I won't cry
Love and hate, attraction and tears. Seduction and fear. All this and much more is contained in More than this, wrapped in a white essential cover, which is simple, very original...and meaningful, with its piece of medicine-blister attached to it.
This formidable mini CD is presented by a sensational emerging band from United Kingdom, well known and fully accepted by the Gothic/Industrial scene in London. Psycho Industrial with just a tender touch of Gothic that delivers emotions in music in the full meaning of the word. A music that will make you cry out internally for passion and pain. Inner feelings and modern alienations become tension in notes. Notes that are tender, sensual, menacing, slow, but also can become full of force and deep torment and anger. Far from Metal but with the same feline temperament, Eating With Leaving Disorders take our hand and let us make a journey into our soul, into our identity, into our microcosm of wishes and fears, so much similar to the wide macrocosm in the space where planets, stars and galaxies are dancing a majestic dance of beauty and terror. And if you add also mystic and atmospheric inputs you get the final result of the deep, psychic, alienated, melodic, haunting, hypnotic, desperate, abstract music of this act fronted by Andrea Kerr, whose voice is magic. Sincerely one of the best female vocals i have ever heard, and after all, not very usual in the Industrial /Psycho genre. Sensual and full of energy Andrea can span from slower smoothness to strong screams, from being very innocent to being very mature and disillusioned. It depends on the song and on the moment in the song, it depends on the path the song is undertaking, on the path that the feelings are walking. Like in a dream, everything can be beautiful, enchanted, in order to turn then into a damnation or vice versa.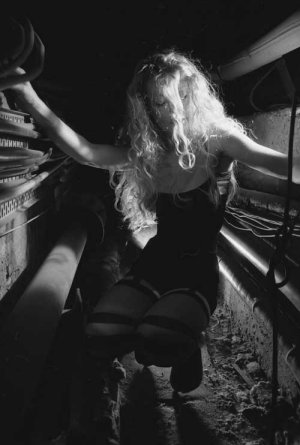 The care about sounds and about the balance between instruments and vocals is perfect. Among the 3 songs that carry you away, into the maze of memories, in a fragile carousel of emotions, it's hard that you can leave the first track Lullaby. Full of Paradise Lost-ian echoes from the Believe in Nothing era, Lullaby is, in its genre, a masterpiece. With ethereal electro tones, guitar riffs and and chorus a bit à la "Fader", mixed by John Fryer (Paradise Lost) in person, this song makes an ulterior step into the world of the subconscious, while Fader obviously had to rock more : totally alienated and fragile, this track delivers an amazing mix of sensations from love to tenderness and loneliness, from smiles to tears.
Lullaby perfectly fades away with a sensation of gentle loss into the second track Envy, that begins with a bit mystical and delicate proceeding and then explodes in a short, sudden burst of rocking energy, in order to end then in a liquid sphere of seething bubbles with a touch of final force. Absolutely psycho-industrial but incredibly magic like a dance of the elves or of light supernatural beings at night, Fading softly gets you in another dimension of tender fascination and obscure menace, like in an ever green fairy tale. We fade softly indeed in our unconsciousness of losers and winners, that much has lost on the way to nowhere, while happiness and serenity are near us, in the small things.
I usually don't rate so high mini CD's but exceptions just confirm the rule. "More than this" is perfect in every detail.
15:43 minutes of intense surreal emotion, 15:43 minutes of extremely good taste and unforgettable devotion. 15:43 minutes, fragile and strong like the wings of a butterfly. 15: 43 minutes suggested to all psycho lovers, to all PL fans of the Host and Bin eras, to all Gothic souls and in general to all sensitive listeners who like good taste, delicacy, chill out and subtle voltage at the same time. The cold mind can only see that UK in puncto Gothic Electro Industrial is producing remarkable results, but the sensitive soul remains touched and moved. And my tears are like those ones i cried when, as a little child, i lost my balloons in the wind. They flew higher and higher away, they became nothing else than little points for me, i became a little point for them....

They're fading softly
There little lights going out
Rating: 10/10