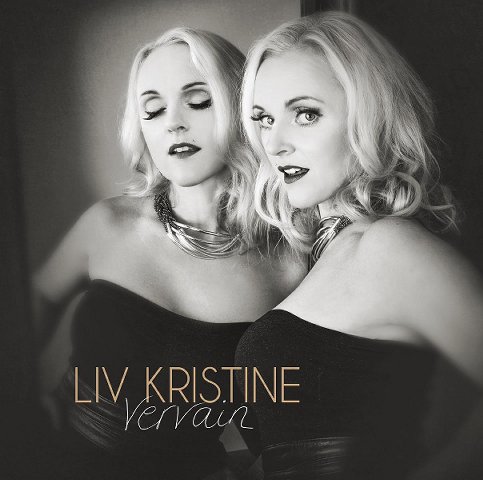 LIV KRISTINE
"Vervain"
Review by Salvo Russo
01. My Wilderness
02. Love Decay (feat. Michelle Darkness)
03. Vervain
04. Stronghold of Angels (feat. Doro Pesch)
05. Hunters
06. Lotus
07. Elucidation
08. Two and a Heart
09. Creeper
10. Oblivious

---
Websites

http://www.livkristine.de


https://www.facebook.com/LivKristineOfficial


http://www.youtube.com/user/LivKristineOfficial
---
You can't escape from your deep Gothic soul.
It's a modern dive in the past! I'm playing on words to describe the new Liv Kristine album that is a return to the roots of fashion Gothic Rock/Metal; one way or another it can't but bring you back to the of mid 90's (Velvet Darkness They Fear or Aegis Theatre of Tragedy albums to clarify) even if the modern approach make it absolutely up to this time!
Liv has an unique and sweet voice and this album still confirms how an artist may go through different periods during his or her life! After the previous more Pop-Rock oriented album "Libertine" and other different releases in which Liv showed a real detachment from Gothic, this album proves that you can't escape from your deep Gothic soul…if it really belongs to you!
After this long introduction, let' say start talking about this album;
The single "Love Decay" is pure enchantment for gothic souls, those (like me) who grew up listening to old Theatre of Tragedy! Liv avails herself of Michelle Darkness collaboration (End Of Green vocalist) and the song takes the shape of a great gothic hit, in which the perfect combination of Liv's voice with Michelle create a suggestive mood into the gothic essence of this song.
"My Wilderness" that is the opener , let us immediately realize that there's a great gothic mark in which some metal/rock riffs, 90's style makes the essence of this song; we could say the same things for what concern the title track in which Liv releases a great and deep interpretation, but the recipe remains the same!
It's time for another great featuring! "Stronghold of Angels" gets the great participation of Doro Pesch, the famous Hard Rock singer! The duet is absolutely perfect…Liv is delicate and her style is like an intense rub in the deep chord's listener…Doro is a pure Hard Rock female singer, her "rough" style , can't but release the perfect other side of the coin…
"Hunters " shuffles the cards and it's still another successful song in which Liv finds another decaying refrain made by an "easy" and "usual" arrangement that still sounds perfect!
"Lotus" is a great gothic ballad that begins with a crying piano in which Liv sings in a very extraordinary way, showing all her experience to give emphasis to the song; it gets a great evolution and becomes a pure "velvet" Rock/Metal song…
"Elucidation" seems to wink to modern electro Goth for what concern the mood and refrain, even if the arrangement is free almost from the usual modern electronic stuff.
"Two and a Heart" seems to be taken from "Velvet Darkness They Fear" and it is nothing new, just a fair gothic song made up with the usual recipe!
I want to underline the great decaying song "The Creeper"…even it sounds similar to the previous, this one (for me) hits the mark thanks to the great atmosphere released in which some simple electronic loops supports the great gothic arrangement.
"Oblivious" is quite nice and decaying and Liv doesn't leave the classic structure song that seems the theme of this album .
"Unbreakable" closes this album in a very great way; it's a touching acoustic ballad for piano, viola and voice.
Unlike she did in the recent past, this album seems to be targeted for Gothic style, but I'm sure there's nothing build on purpose; it's evident that she was looking to give out her soul through deep emotions, and the outcome is an album that sounds targeted for Gothic fans, but if you look over this, you can appreciate and be involved into her dreaming and pleasant voice and some very good songs that in my opinion are simply beautiful and deep!

9/10
Review by Salvo Russo