H
ere you get the feeling that Machine Men know a lot about their instruments.
Already the first hearing of the disc lets my heart beat faster. Thus an album should be, voice and music fit perfectly, the sequence of the tracks is well chosen, rather quiet, sometimes loudly and smashing, sometimes a ballad like they better couldn't be.
The album of the young musicians from Finland encloses ten songs. "Falling" (which was also brought out as a single-extraction) and "Back From The Days", which both quite clearly are the break of the album for me. "October" is held rather quiet, nice melodic swings and the right reef include at the right places.
Also fans of ballads come with "Apathy" (I think I can say it's half a ballad) and "From Sunrise To Sunset", almost a stately ballad which comes across let and nevertheless, also expression-bringing after their wishes.
Now the remaining songs also leave not unnoticed, " Dream and Religion ", "The Traitor "and "Daytime Theatre" let the eyes of every fan of the power and heavy rail shine , here you get the feeling that the guys know a lot about their instruments.
The only song which doesn't fit to me is "Doors Of Resurrection", this one sounds too much conglomerate to me, and, in any case, I can listen to no right structure here, also not after hearing again and again.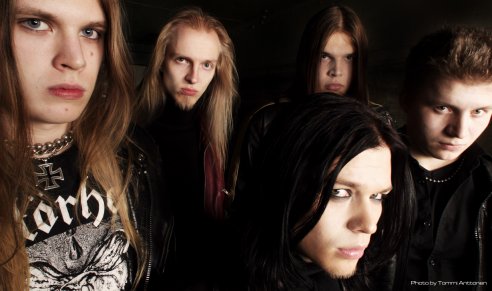 Antony's independent, but of Dickinson reminding, strong voice fits together talented with the music. The "Freak" cover (originally from Bruce Dickinson's "Accident Of Birth") soundsgood, even if it does not approach with that of Bruce at all.
The Cover-Artwork was provided by the Norwegian Christian Ruud, simple but rather interesting, well fits to the disc. In general, this is a very likeable volume for ears and eyes also. A bit more percussion would be right with the one or other song.
Briefly summarized: Nice tunefully, quietly held, but still an inspiring album full of pressure which one should absolutely sometimes tried out. My personal favourite is quite clear. "Back From The Days" which begins with a kind of intro and the voice is used then jerkily. Between the vocal inserts over and over again guitars full of sound and flows of bas , and also the percussion doesn't come too briefly on this occasion.
Elegies, appeared in Germany on 8th August and 22nd August (under Century Media Records) in remaining Europe, it is Machine men's second album, after "Scars and Wounds" (2003).