Mature in order to release chemicals of history and Heavy Metal.
The shadow of the The Teutonic Order is over you!
You don't know the price
nothing you can change
get the scent of Hell
Have you ever dreamed of the flowers of hell? Have you ever felt a kind of genetic nostalgia for a very far past where and when heroes walked and fought , when the spirit of mankind was longing for something immortal? Would you like to listen to intelligent lyrics that invite to discuss and to meditate about past and present, sustained by an essential Heavy Metal/Melodic Hard Rock in the wake of the eighties? Would you like to listen to something anthemic and epic, at times neo-classical, but without clichés and useless bombastic overplus? Something pocket and appealing, something you can reach with your hand? With influences that go from Domain to Saxon, Iron Maiden and, in a way, to Heimdall? With a noticeable atmospheric and Prog component? If yes, if you appreciate the 80's and dynamic cadenced catchy midtempo's , involving solos, musicianship ability, the Italian Marshall won't disappoint you. In that case, Marshall seem to offer you what you want, without being too extreme, nonetheless they are very subtle and immediately attractive. After the good album "Atlantis", the band from Naples is mature for releasing chemicals of history and Heavy and Prog throughout Italy and beyond, through this new album, "Pages from the Past", that conceptually will lead you into the maze of history and human decadence. The subliminal will to spread your wings of imagination among Teutonic Knights, black crosses, ancient Greek warriors or angry Gods of Fire will remain utterly stuck to your skin. Marshall range between powerfully rides and wide melodic cascades, among light and dark with a lot of ideas and determination. Even better if you listen to them with a very high volume or through headphones: in that way there is no dispersion, everything becomes more compact, and you can notice a lot of details like whispers, instrument distortion, the different embroidery made by vocals and keys.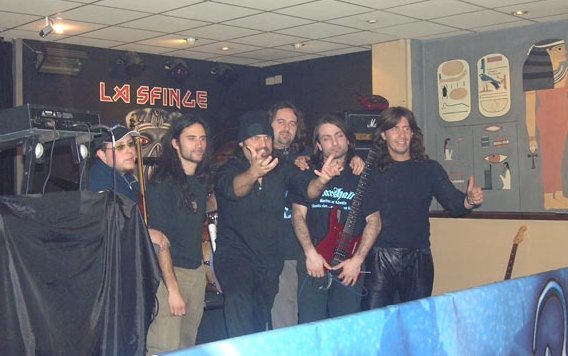 Marshall and Blaze Bayley at La Sfinge, in 2005
Fueled by mastermind keyboard-player Marco Signore and singer Bruno Masulli, Marshall showcase a commanding rhythmic session in the hands of bass player Ly Holestone and drummer Lino Mazzola, who both , in my opinion, have a soft spot for Thrash methinks.
The lead guitar makes us feel 20 years younger with awesome solos in foreground and the insertions of Marco's lively piercing piano add strong color to melodies and rhythm. The fact is that every instrument is perfectly distinguishable, yet the cohesion is big. Maybe the production could have proposed a more imposing background, in some points the sound looks very "eighties". Anyway what Marshall do is knowledge and ability without any help of pumping up methods. Although not 100% innovative, Marshall are proposing, nonetheless, fresh songs and surely new ingredients in texts as well as in music , for example the fact to put together Heavy Metal , Prog under a dark vision which could even lead to tendencies of Thrash or Gothic or Black if only the band would have the determination to break seriously some boundaries. They have the potentiality to do it.
Last but not least, Marshall guest an angelic presence, a soprano voice adapted to metal in the best way. Such an enjoyable round strong female voice, like rarely i've heard.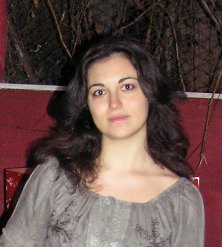 Coming from classical study and years of sacred chant, the young and beautiful Marilena Pace makes her appearance in some songs, giving source to remarkable duets. Every note sung by Marilena is perfect with a pleasant timbre. Incredible performance for a girl that is quite new to the Metal world. For me better than Tarja Turunen. And indeed the good vocal variety is another important characteristic of "Pages from the Past": choirs, backing vocals, sung in clear by Bruno and Marco (never high-pitched) as well as deep bass tones and the soprano female vocals arise, all together, a sense of diversification and dynamism.
The excursus among the tracks is fluent as well as interesting. In general the background is enough dark, at times even gothic like. The opener Mission Empire is one of the strongest tracks, where pounding midtempo fades into uptempo . Riff intensive Heavy metal that fades into balladesque Power and erupts then into an anthemic wall of choirs, a couple of top notes and a pummeling uptempo. With Mission Empire Marshall present themselves like a group of with mystical attitude mixed with a bittersweet longing for old school Metal and Rock. The melodic discharge with the key loops in background is so beautiful and precedes a Prog bridge and the return of the refrain. The Call of the Banshee where Marilena's vocals are immediately protagonists together with Bruno, is epic, full of pressure balanced with melodic and pounding Prog rides. There is much care in every detail in order that every instrument and every voice finds the perfect timing , and even deep almost growling attacks are present. Vocals range from the more highpitched soprano to deep emission while the double kick drum complete the dry snare, making a good contrast with the narrative keys. Victims of Science is just an one minute instrumental passage but such an amazing one with a sorrowful yet pushing melody and a rainy piano, while the guitars lunch with an optimal force and typical Heavy Metal/Rock abrasive distortion the next Flowers of Hell, one of the tracks i like the most . Cadenced, strong, metal melt down, obscure, outrageously catchy but never commercial , well it impacts savagely in the wake of the mythical 80's with a bitter flower of crusaders ready for the battle. Amazing the way that Bruno performs here, and only rarely recurring to yet well launched high notes , while the gloomy choir adds a kind of Table Ronde environment. Please notice how the piano develops notes like they were frozen drops of water. Thermopylae, obviously based on the story of Leonidas and the Greek arrows that darken the sky, leaves me a bit perplexed, its intro could be a pagan one more in Turisas style, and the too Italian - oriented melodic breakdown makes this song difficult to be interpreted as inspired by the episode of the Thermopylae indeed, in spite of the call- to- arms drumming. Fortunately it follows an (instrumental) acoustic masterpiece: Pentekonter, with a major guitar arpeggio. Mournful feeling, with stress on the strings during the chord change, decadence and sorrow and sadness of finest. Wonderful the sound.
Marco Signore in just 5 minutes got the inspiration for the lyrics of the 6 minutes Human Quest, the most Iron Maiden oriented with a big Saxon influence too, anyway essential in its construction.

I'm still looking for
A person that means what he really is
Looking for man
Every night with my lamp I search in vain!
The short melodic By the Light of Lady Moon has a strong nocturnal piano in foreground, sung in clear by Marco , with a gloomy approach of that minimalist solemnity of the first part of xxth century, followed by a long (10:47) Prog suite Krakatau where an entire story is told, a little opus in the opus, that requires a not superficial attention. And finally another of my fav tracks, enriched by the participation of Marilena Pace, who gives unforgettable chills. Epic and anthemic yet always gloomy, Knights of the Black Cross tells a portrait of the Teutonic Knights seen through the eyes of their enemies (very likely Poles and Lithuanians before the Grunwald battle in 1410) . I imagine these lyrics can invite to a lot of confrontation, but one thing is true:
according to the Rules and practices of the Order, Obedience unto Death.
Marshall Knights! see you on tour in Italy and hopefully somewhere in Europe. The shadow of the The Teutonic Order is over you!

rating: 8.9/10