A summer desire.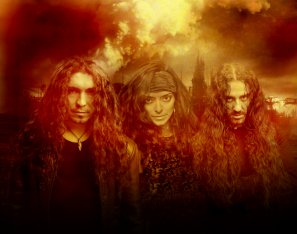 Second album for the Italian outfit Mastercastle, released on June 18th. In the line up, the name of guitarist (and founder) Pier Gonella, who plays in Labyrinth and Necrodeath, is obviously standing out. I got a good impression already by listening Mastercastle's first work "The Phoenix", but now i am definitively convinced of the value of this trio (+ guest drummer Alessandro Bix Bissa from Vision Divine). Mainly written between May and September 2009 "Last Desire" is a Hard Rock /Heavy Metal cd with superb guitar solos and guitar riffs by Pier Gonella, who mixes many natural and harmonic scales among which the Aeolian is not necessarily the dominant . Therefore the tension of the album is noticeable cause there is no boredom in this heavy metal repertoire, which might appear not so ominous or thunderous as Judas Priest, but anyway interesting in its only apparent easy going mood.
Giorgia Gueglio has become much better as a singer, more mature and refined, anyway she remains too much in foreground, and , at a long distance, you would appreciate a variation in vocals. Pier Gonella is able to transform nice earworms in little precious tracks, while the rhythmic section is very compact, very solid and reliable. The ideal summer-cd for rockers who are in big synchrony with Heavy Metal and compositions who make the listeners feel good in powerful mood: in few words, "Last Desire" is rich in melodies with strong pace or accelerated rates always marked by a nice atmosphere full of hook lines and feelings.
Although the 3 songs that open the album are quite involving with a nice yet no revolutionary rocking-gypsy imprinting, it's from the fourth song, the title track Last Desire, that the album becomes fully interesting. In my opinion the fourth song represents a border line between simply nice and really good. The minus point of this cd is that the production is crystalline yes, but perhaps too crystalline, the result is that the songs get a cold shadow upon them, like a freezing breeze that sometimes makes the album resound as it would have no background carpet. otherwise songs like Last Desire or the sorrowful ballade Jade Star, or the lively Great Heaven's Climb and Cat-House would be marvellous under every aspect. But this is typical of Italian productions, where the perception of each instrument is accompanying by a sterile sense of emptiness. On the other hand, there also positive aspects because this production doesn't allow the presence of bellicose errors: everything must be absolutely transparent and exact.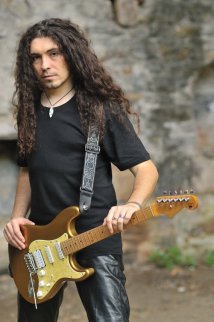 Cat-House is one of the best tracks because has some note-combinations which are enough original, uncomplicated, immediately agreeable but not usual. Cat-House is really ok! Space-Trip and La Serenissima deliver baroque influences in Venice style (exactly the influences that were incorporated in the music of RondÚ Veneziano) and are completely instrumental. La Serenissima is een a cover but revisited in a fresh way. Toxie-Radd is, on the contrary, a song that could have been skipped in the track list, a kind of slowed down retro rock, a bit in American style, with a dull resolution.
From the moment that , concerning vocals, the is no other than Giorgia Gueglio's singing in clear (which is anyway a trade mark of Mastercastle), lyrics appear intelligible and one can appreciated the related quality. Different kind of desires, as the title of the album lets understand, represent the main concept which unifies many of the tracks. Above all desire of freedom, desire to overcome the problems of life, desires of strength. Inspired by the film "Gone with the Wind", the attractive and sensually urban track "Scarlett" well closes the album as ...last desire. After all, this album is for me a summer desire.
8,8/10