Live reportage
organized by MEH SUFF!
DISPARAGED release party
with OMOPHAGIA- DARKMOON
Total Annihilation
Confector
June 06.2009 - at Merkker in Baden - Switzerland
This was an underground concert like underground should be. A mosh-banquet in which the pit reigns. An enthusiastic and energizing metal meeting organized by the guys of Meh Suff! that are doing such an honorable job in particular in this wonderful corner of Switzerland (Argovia) strategically placed near Zürich and Germany, that however needs and deserves more traffic and attention from the Rock and Metal scene. the word underground, which for me and for many of you is a guarantee for the unique genuineness of our roots, should however not be underrated, concerning this event. Although very young, promising bands have spread lots of pugnacity (like Total Annihilation for example), the presence of the distinguished Swiss calibers Disparaged, Omophagia and Darkmoon can make this short presentation of the evening interesting to each metalhead around the world. Omophagia have recently shared the stage with ....at the Metal Fest 2008 in Pratteln, while Disparaged and Darkmoon are by now important elements in the Helvetic congregation. Moreover Darkmoon, who are almost entering the studio for a new album set to appear next year, will play in July the Metal Bash festival with Disbelief: another of their concerts shared with big acts which will be another step in increasing their already grown-up experience.
Fantastic the venue in the town Baden! Merkker. Unproblematic, relaxing, raw yet comfortable, able to pick up around 300 people with a nice stage, this venue can make of a metal concert that underground party that we all need, like feeling at home. No parking problem, very near to the railstation, easy to be reached by car, being placed along one of the main streets of Baden, Merkker could become "little" metal Mecca. if some good will -from the big metal circuit- to escape some usual trite locations could blossom , the Merkker could be a "new" ideal area.
The evening, in which all bands took advantage of a good organization, of much time at disposal , and of drummers encapsulated behind plexi, was opened by the very, very young, in Bülach (Zürich) based Confector, a trio Death/Thrash oriented who played songs like Vultures' Paradise, Blind Believers, Shattered Trust, Blasphemic Desecration and titletrack The Beauty of Leprosy. Before playing Precious Blood and The Beauty of Leprosy, they gift a fan with a copy of their EP. This was indeed an occasion to introduce their Debut EP "The Beauty of Leprosy". All who are interested to make acquaintance with this new generation of musicians can show up at their already planned concerts at Werk 21 in Zürich (2010 Jan. 15 and March 31) www.myspace.com/confectormetal .
Basel based melodic death metallers Darkmoon was one the focal points. Our Swiss (and not Swiss readers too) don't need any presentation of the band, which is sincerely one of the most valuable Melodic Death message around and signed uder CCP Records. Their next album will be recorded again at V.O's Little Creek Studio (GurD), but the magnificent news is that their new product will be mastered by Jens Bogren, the much acclaimed mixer/engineer/producer (Katatonia, Amon Amarth, Opeth, Paradise Lost) who seems to add a particular clear yet warm sound in general, together with an organic crunch to the guitars. Actually the two songs that, in the meanwhile, Darkmoon have uploaded on their myspace profile (www.myspace.com/darkmoonmetal) remastered by Jens Bogren have really become an ultimate hammer, getting some astonishing depth). Nonetheless there is no magician able to transform metal stuff into "gold" if the composition in itself is no smash. Darkmoon don't know this problem , because they always compose addicting songs of quality. On this event they played in absolute preview 2 new tracks of the upcoming album: Locked in and Rise up. My videofootage of Rise up can be viewed at Darkmoon's official site www.darkmoon.ch . I will not indulge in telling again how much involving A Darkmoon concert can always be. This event was no exception to a rule to which Darkmoon's fans (loud and supporting here at Merkker too) are used. The only minus which i would underline is that Darkmoon were too... relaxed...maybe? Less bloodthirsty, less "evil" than usual. Anyway the performance was good , marked by an enthusiast audience going crazy for excellent songs like Caravan of the Dead, The Hate still burns and Dust in my Eyes. Couldn't be otherwise.
setlist Darkmoon: Falling Down, Damned, Caravan of the Dead, My misery, The Hate still burns, Dust in my Eyes, Drowning, Rise up.
The shows of Omophagia and Disparaged were full of impact. Omophagia (Swiss/Brazilian Death metallers) is becoming the new Swiss aggressor with a certain Cataract touch. With macho militant hostility they shred the stage, and the result is really interesting cause their put in music a natural born disposition to fight, which is supported by technique and precise offensive rhythms. Not by chance one of their songs is called Killing the Weak. www.myspace.com/omophagiametal
Disparaged was the band who celebrated the release of their new cd "The Wrath Of God", the show was warm, incisive, compact, with a decent "baptism"-celebration. It's incredible how this band has improved along the years until reaching that maturity in composing which makes the difference. Honestly speaking i have never been very attracted by this band, but i must admit that they have enriched the panorama of their capacity even concerning the live performance in itself, so to take more than moment in order to get more information about their new release is a well spent time. www.disparaged.ch
You could come to the conclusion that the event would have ended after Disparaged, that practically did underline. On the contrary, after Disparaged, another young presence in the Swiss Thrash Metal scene have delighted the survivors till quite late at night. I'm speaking about Basel based (and 2006 founded) Total Annihilation, who are in the billing of the next True As Steel festival with Elvenking and Unrest, at Gaswek in Winterthur 17.10.2009. Total Annihilation impressed me when i saw the band live this last spring in Aarau, together with Darkmoon and Thash legend GurD. Woow! ...these young guys are "dressed for success", i thought. Tons of enthusiasm, astonishing technique (considering that they are still young indeed), big vocal ability combined with a good composition and a lively stage acting assure an interesting future for this new breed without compromises, if the band will play well its "cards" too. However it was a fascinating wind of renewed faith in metal that geared us up during the Total Annihilation concert. Kind of stream of continuity in and for the new generations. Here and in every place, where Metal has a home.
setlist Total Annihilation: War, Death, Suffering, Social Distortion, Tyranny, Circle Mosh, Monster, Atomic Suicide, Nuclear Devastation, Thrash isnot dead. www.myspace.com/totalannihilationthrash
review and photos by dalia di giacomo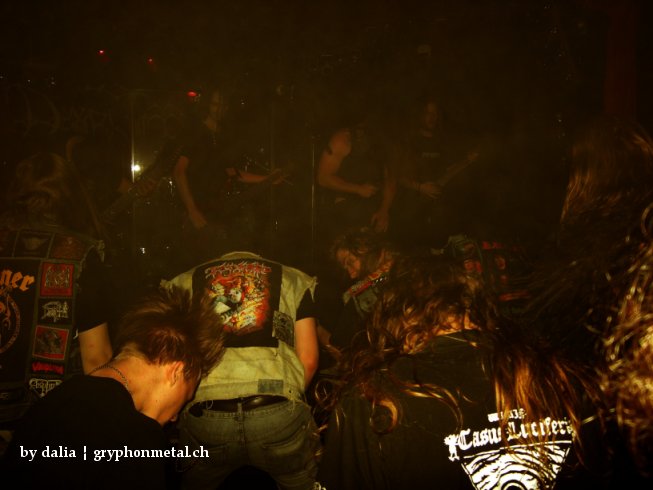 lots