17.06.2003
---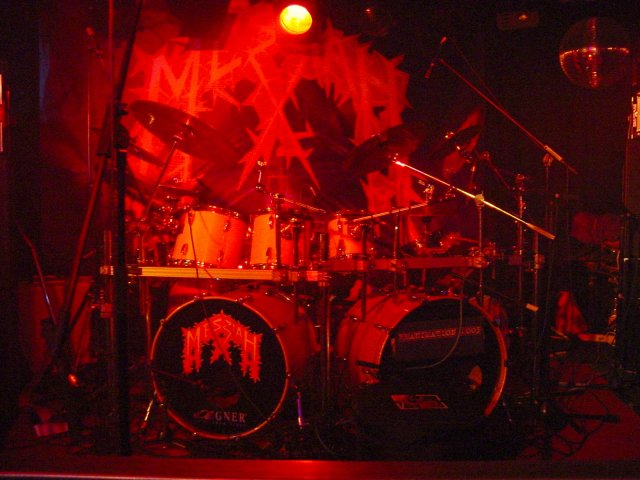 MESSIAH - REANIMATION 2003 AT ABART
Zürich 13 June 2003 - Abart Music Club
PICS BY: © Stefan "Absolut_Evidence" Vogelaar -
REVIEW BY dalia "gryphon_spirit" di giacomo
The public use of these fotos is strictly prohibited without written permission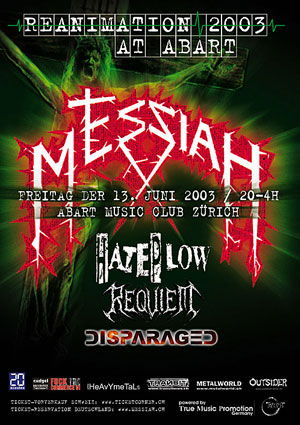 presentation
Event of first class this evening in Zürich at the Abart Club: cult Death/Thrash band Messiah will play one last concert in Switzerland , followed by the last opportunity to see them play live at the With Full Force Festival in Germany, in a couple of weeks (4.-6. JULI 2003). it's not a reunion, only a "reanimation", this is to say a moment offered to the fans and to the band itself in order to stay together one time more, for playing live once again, before the definitive goodbye from the stages. 1994 the Swiss Giants of Death split up, but then in september 2002 the cult albums "Hymn To Abramelin" and "Extreme Cold Weather" were re-issued by Massacre Records. Times were definately ripe for a memorable come back. Messiah will play tonight presenting themselves with the 1992 line -up : singer Andy Kaina, guitarist and founder member Brögi, bassist Hersche and drummer Steve Karrer. After the last tickets bought this evening, the Abart is completely crowded and sold out, doors open at 20:00 and we arrive just when the crowd begins to flock to the venue. The Abart club is guesting an important event after the other in this period, and today will turn into the Swiss Death temple "par excellence" , think! the Abart with its Gothic attitude is guesting tonight the connoisseirs of the hard Swiss Metal scene from Luzern to Bern, without speaking of all the guys arrived from abroad, in particularly Germany, where a group of fans has even planned and organized special bus travels in order to live this cult show . For us of GM the cult began yesterday always in Zürich , when we had the possibility to make a very nice and interesting interview with the charismatic Brögi of Messiah . Congrats anyway to Abart that on thursday 19 June will see nothing less than Anthrax in action. So prepare to bang your head and prepare to Death in this hot summer Reanimation night! no fear , you will resurrect!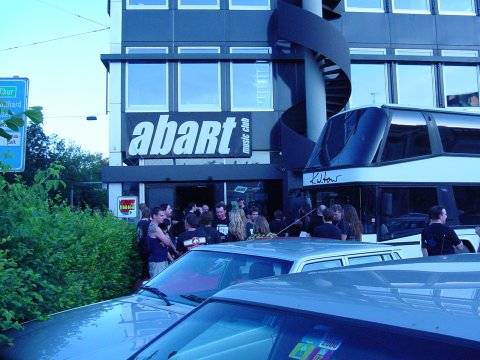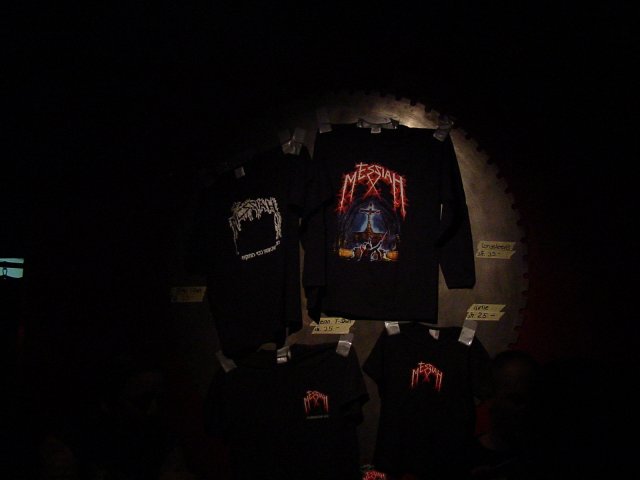 ---
disparaged
www.disparaged.ch

21:00 Disparaged, who are about to record a new album these days, is the Swiss band that has the burden and honor to open this cult evening, supporting, together with Requiem, Messiah and Hate Plow: not easy this duty. Not easy to share the stage with such Giants, though Disparaged have already opened for Immolation and Cradle of Filth and will play the Z7 Metal dayz this July. They seem to be very serious, not that relaxed, and when they have to start off something doesn't work well with the intro , so the band starts off at once with the first song. The quartet proposes a very fast death with heavy loops and tempo changings, unfortunately the extreme bass vocals are not to be heard very well, sounding a bit outclassed by the general soundscape. Then they present themselves and announce Souvenir that is very speed and repetitive, brutal enough. Disparaged build a wall of sound supported by furious and blast drums, that contrasts with the calm stage acting. Their technique is good, valuable the moments where the 2 guitars are played in a duplicate way simultaneously playing the same scales, but their music is too repetitive for me, interesting but without spreading its wings, there are many interesting starting points but nothing breathtaking. Anyway their show is not bad and receive warm applauses by a high-spirited audience and eager to celebrate this event.
Among the songs proposed: Souvenir, Overlust, Salvatio, Bloodstained Hands, Iternal, Necrophobic.





---
---
requiem
www.requiem-net.com

(Revenge Productions)
h 21:54 the second band that will warm up the Abart is on stage for a quick last soundcheck. Messiah drumkits are adapted to Requiem, that start off their show at 22:00. A merciless and brutal uptempo fills the room; bassist Michi's death vocals can be heard rather good. Death /Thrash straight forward , but with mid tempo alternations, slow-down passages and persuading hammering riffs. The audience doesn't stand on ceremony , this is the evening of the infernal Metal that make your blood boil. Shortly said the crowd begins to launch many intense moshing and headbanging moments and finally the first crowdsurfings are in full swing. Requiem are successfull to prepare the audience for the so much awaited Messiah with interesting loops and with a satisfactory stage acting. But their best strength, in my opinion, depends on the doom slow passages that sometimes are proposed, embedded in a tight decise music, enriched by tremolo effects too. Though mainly fast, this Swiss band can have catchy resonances. Exact and extremely concentrated is drummer Reto, while Ralph and Phil provide good guitar vibes. All in all, a very good success for Requiem which is a well known top underground Death band from Switzerland, supported this evening by many local fans too
22:23: the infernal sabbath reigns in the small mega crowded "gothic" club, thumbs and horns up to the Death fans that know how to enjoy this music even with wild emotions that however are never out of control or extreme , and when i remain astonished every time and even proud to see with how much dedication and vitality the Death /Thrash scene welcomes their fav heroes , at 22:45 that the encore is called, but there is no time: it's already late enough and Messiah are supposed to be protagonist of a mega rich show. The stage is prepared with care for the Legend: people throng the gate around the stage. it's very hot, sweat is flowing as the cold beer does, there is no space, in particular in the first rows. We are all like sardines but no one cares, it's reanimation effect!

setlist
Threads in Hands (Nameless Grave)
Alone
Nameless
Chilf of a new Generation
Formed at Birth
Murder U.S.A.
Mind Control
Sentenced to Death
Living in Misery
River of the Blood
Kill- Fuck- Die















---
---
MESSIAH
www.messiah.ch


MASSACRE RECORDS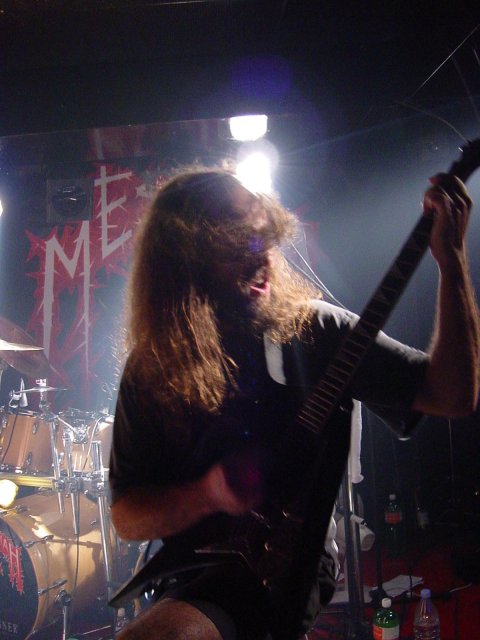 23:05 in few minutes Messiah will be back for just one night in their Switzerland, powered by the founder member Brögi: the atmosphere is electrified, everyone is waiting with enthusiasm, trying hard to get a good place in order to make handbanging or to see the band better. Drummer Steve Karrer is preparing the drumkits, setting the cymbals. The crowd begins to greet " haaa Steve!!" and to acclaim Messiah - "Messiah!!! Messiah!!" ; the last sound check is carried out "Messiah!! Messiah!!!"" " 23:20 here they are: Bassist Hersche, drummer Karrer , singer Andy Kaina and The spirit of Messiah "Brögi" take the stage among applauses outstreched hands, and a lot of sincere approvals. Brögi has prepared a cool apparition , he shows up on the stage wit a lot of energy, absolutely concentrated and good mooded, brandishing a bow for strings playing his guitar with it taking out incredible sounds that enhance the start of the show. Bow off and hymn to Abramelin on , the bangers are in rapture and me too, cause already from the first moments i measure how this band master the situation: it seems that a gap of almost 8 years has never existed, they play like they would be trained by a long but not exhaustive tour: excellent notes, great virtuosisms. My gosh, many bands nowadays move their first steps into success having everything: studios, producers, labels, managers and similar luxuries, on the contrary ,when Messiah began in the 80's their fantastic and mythical career, they had nothing if not their determination, creativity and enthusiasm, believing in their musical dream and not in money. But Look now how they play, how brilliant they are and above how modern their music sounds., They could tread any stage , taking part of any festival, tour or event, remaining a big span higher than many others .Songs like Space Invaders, Choir of Horrors, Akasha Circle, Living with a Confidence follow in the setlist. What i really like is that their music turns out , chord after chord, so rich with many facettes to enjoy: from brutal rhythm to more melodic passages you can have everything you desire from Death and Thrash Metal , without omitting even rock touches. The music is well structured and immediately comprehensible though it's a live show: the sound is really very good , thanks to ability of the band helped by the sound engineer from Zeche Bochum, if i have understood well. Anyway the great preparation and attention for the sound lets underline Andy's vocals which are impressive. No one would believe he has established since long time in another continent, having there other interests than music and singing. No , no one would believe! So, very good vocals, brilliant guitar and great bass work. But another great characteristic of Messiah tonight are the powerful drums that hit me really: not hyperactive but lively and mighty , Messiah drums can be fast or slow with right essential and effective strokes, being able to shoot also very bass grenades . They support the band with a brilliant, exact and involving solid frame: they are protagonist without giving the idea to be. And this introduces the fact that Messiah, like shortly mentioned above, can be melodic and doom too, with enthralling stop-starts. Brögi's melodic picking, that many times open or close a song, are simply clear, well executed. What can i say more, if not the enthusiasm of their fans is immense; ovations, wild moshing, hands raised towards the band, acclamations. While Brögi, as Lord of this absolute enthusiasm, is headbanging like hell. Another point: Messiah are very heavy , they put everybody under a severe progression of heaviness but they can be gentle and harmonic when they want: this is old school, meant like having valid musical schemes and being able to create an atmosphere without electronic crap. Charismatic personalities, all Messiah members entertain the audience and don't disappoint anybody. The setlist is awsome, with songs taken from every mile stone album .Their fans have so much waited for this event and they are fully rewarded. Every song is the hammer, with a mythical aura! at 00:32 the show ends among the general satisfaction, mega success in more than pure Candlemass style. The encore is a must , so soon they are back : "Messa - iahhh - Messa- iahhh - Messa - iahhh !" ovations, and new dose of electrfying and pushing Death as the concert would just begin again this moment, under green and orange lights. 00:44 the band greets everybody "danke vielmals!" but they cannot surely escape a second encore: after one minute they are again on the stage in front of the hungry Abart, alternating pushing rhythms with romantic guitar passages. 00:50 the reanimation show is ended, though another encore would have been fully welcomed. Time has simply flown away. Moreover tonight, no one noticed how small the stage here is and the sound was cool. Small big magic done by people who prepare their shows really good. After The with Full Force Messiah will no longer play, silence for "eternity", but ...just a minute: guys ! if space and time are relative, the eternity can be even short. Metal still needs you Messiah, you can reanimate when you want! It was worth for everyone to be here, it was worth to come from the North of Germany too, so it will be worth waiting for eternity.
setlist
Intro
H.T.A.M./ Messiah
Space Invaders
Enjoy yourself
choir of horrors
Akasha- Chronicle
Lines of Thought of a convicted man
Cautio Criminalis
Living with a Confidence
Raped Bodies
Das Münchhausen Syndrom
Battle in the ancient North
Underground
Future Aggressor
Johannes Paul der Letzte
Total Maniac
Condemned Cell
Birth of a second Individual
Light for Unright
Lycantropus Erectus
Extreme Cold Weather

















---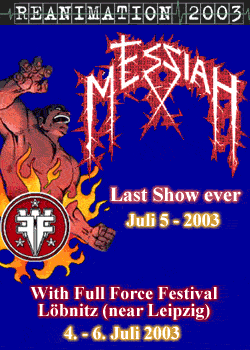 ---
---
HATE PLOW

http://hateplow.cjb.net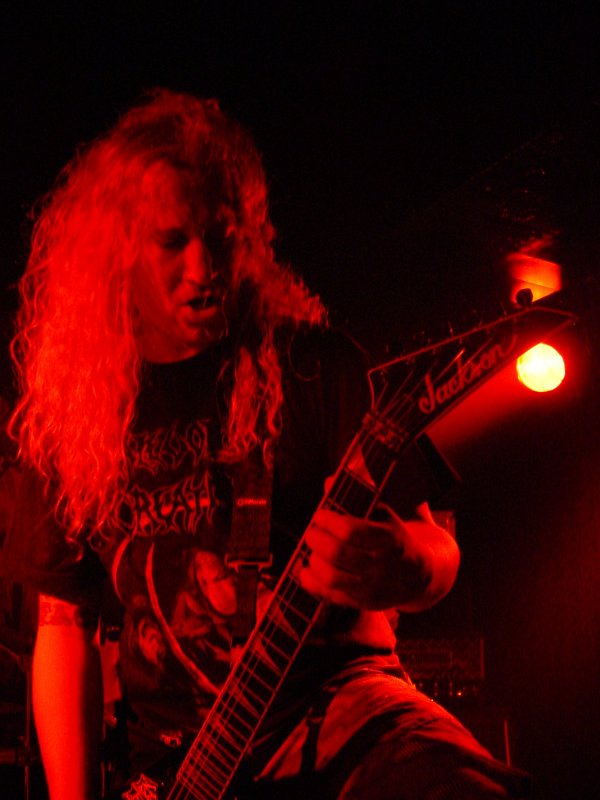 After Messiah show, so many people seemto leave the venue; a sense of emptiness mixed wit joy, like saying " it's really finished but what a joy!" is in the air, empty are also the beer bottles on the ground. Here in Switzerland is generally allowed to come out from the venue to have a smoke ,a breath of fresh air, to speak with the friends you have not still met in the venue and to greet the bands, then you can enter again. This is why there is no fear for Hate Plow to play in front of an empty room: though some people really had to go away, so many fans are still here, please consider that is 1:00 h. When Phil Fasciana begins to let warm up his guitar at 1:15 , capturing the attention of the blessed audience, the Abart gets really crowded again. Anyway there is more free space, so that me too canplace myslef again in a kind of comfort in the first row again. It's the turn of the extreme fast, brutal and fierce Hate Plow style (Hate Plow are one of the fastest Death Metal bands if not the fastest) . I would not dwell on telling that Hate Plow are strictly connected with Malevolent Creation, both concerning line up and music: a kind of side projects maybe. I say maybe, cause Fasciana and his fellow bandmates don't seem to live Hate Plow like something minor, it's an autonomous and independent combo with its precise connotations. I get the impression that Phil, Kyle and Rob, when play with Hate Plow , are more fans of Malevolent Creation than representative of them. Hateplow line up is
Dave Culross - Drums
Kyle Symons - Vox
Rob Barrett - Guitar
Phil Fasciana - Guitar
Xaphan - Bass from the Black Band Kult ov Azazel http://www.kultovazazel.com/
Vokills Kyle acts self-assured, showing a big degree of involvement and passion, sometimes desperate, sometimes more theatrical , he sings with his brachial guttural attitude as if he would live in first person what is telling through the lyrics, which touch social problems too. Fasciana lays emphasis to his guitars with relentless fast riffs and tremolo picks, changing from Jackson to Gibson Les Paul, the work is then amplified by guitarist Rob. In this music you can hardly hear a bass solo but their is a hard work behind bass, while the hyperspeed-driven style makes this music not only brutal but above all ferocious in my opinion. Fierce and intense like Fasciana's glances between one headbanging and the next one. If Messiah are like a tank that runs over you, Hate Plow are more "aerial", more high and this goes on drums too: less bass shoots and more cymbals, though the double bass is used and a lot , but it's more suffocated preferring higher tonalities. Like a sharp saw turning quickly around your head, Hate Plow let their grind Death vibrate, mesmerizing the audience so much that again moshing and banging moments start furious. This cause Hate Plow 's music contains, in my opinion, subtle straight forward but but irresistible cool loops, that nail your interest, maintaining you high, making this music enjoyable, though it's nothing for disco oriented ones or wanna- be's . Fortunately none of them can be seen here tonight: at 2:10 Hate Plow close their show after having aroused a lot of enthusiasm again with Stalker.
Lights slowly turn off over this warm night of the Gods of Death.


setlist:
The only Law is Survival
F.T.M. (Fuck the Millenium)
$20.00 Blow Job
Ante Up
Addicted to Porn
Crackdown
Traitor
Everybody dies
Should I care
Outcast
B's
Stalker
In the Ditch
Resurgence of Hate






















---


---
meetings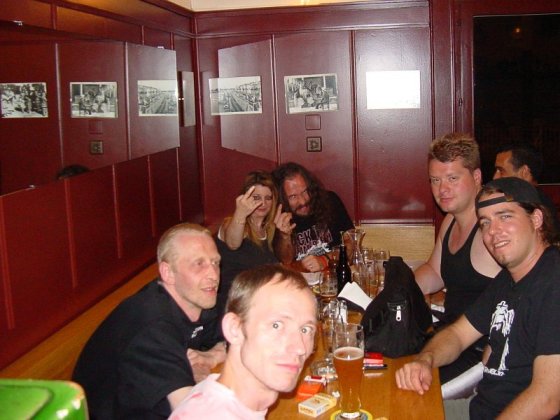 interview with Messiah is online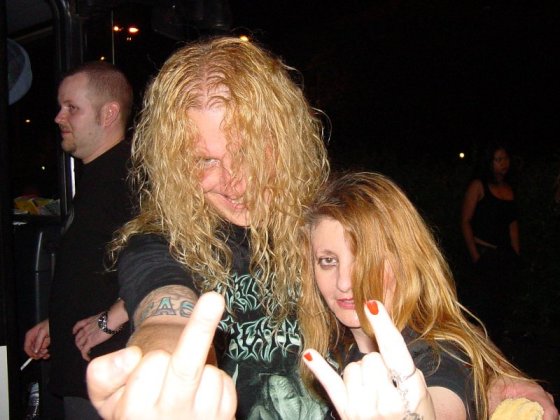 Phil and Dalia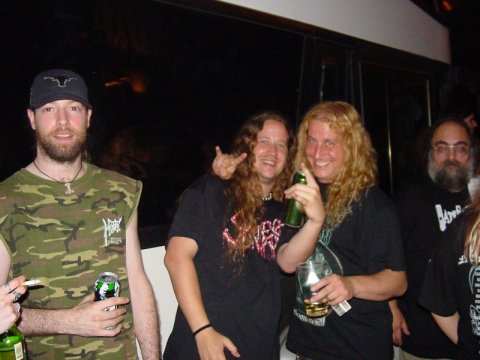 Hate Plow meet fans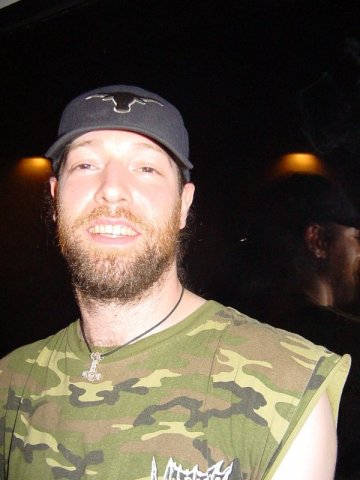 Hate Plow Rob
---