INTRO
After about 14 months Moonspell visit Greece once again for their European tour promoting their new masterpiece Antidote. The concert was delayed for about one hour because the band was still doing soundcheck and not until they finished they crowd was allowed to get in the venue. We heard many songs from outside the club during their soundcheck and it was sure that the band was on top form. Many people had come for this show and the venue was almost filled.
FUNERAL REVOLT
The show started with a Greek band opening called Funeral Revolt who were giving out their recent promo for free in the entrance to the fans. On stage they seemed that they had experience from concerts, their presence was very good and the singer was a good performer. They started their set powerful with some interesting songs where in some parts they had some electronic samples. The band had many electronic elements but many heavy riffs as well. Somewhere in the middle of their set the crowd seemed to get tired of them but the band played some more great songs towards the end of their show. In general the band was very good, they had interesting songs and they fitted very well to open a Moonspell concert.
MOONSPELL
The moment everybody was waiting for had come. Moonspell kicked in very powerful with In and above Men to continue with From lowering Skies. Next song was the incredible Alma Mater which I didnít suppose they were going to play so early on their set, I considered it as the encore. It was a right choice to play such a song so early because after this was very warmed up! Only complaint is that they didnít play the song on itís entirely but before the last part they turned it into Vampiria.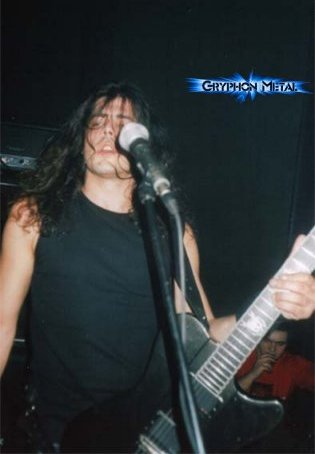 The devastating Southern Deathstyle followed and the band is on fire! Everything Invaded is next with Fernando greeting us in Greek and then my favourite Moonspell song Ö Opium! The new bass player of the band was more energetic than Sergio and he went on stage wearing a Venom t-shirt and he never stopped headbanging during the concert. Next was a song off their Darkness and Hope album, Devil Red followed by another new song Capricorn at her Feet. The last three songs before the encore were Abysmo, Ruin and Misery and the title song of their new album, Antidote. For encore they gave us five songs from which the four of them were mentioned in they set list. They hit the stage with Awake, continued with Wolfshade and A Walk on the dark Side and for the very end they left two hymns of Moonspell. Mephisto and Fullmoon Madness closed this great night after about one and a half hour show.
It was the second biggest concert for the new year after that one of Stampiní Ground and Moonspell really brought the place down with an excellent show.