After 15 years of a glorious career, the ultimate Death Metal band (they inherited their title now that Chuck is not longer with us) visited Greece for 2 shows, one in Thessaloniki and one in Athens. The band has many devoted fans in my country and although in 2001 they had announced a show they cancelled it right after and decided to come here 3 years later. Letís see if the wait was worth.
The venue which can hold about 1500 people was almost full of metalheads, eager to see Morbid Angel for the first time. Before the show, The Gathering's music was playing from the speakers, later I learned that Trey is a huge fan of them and recently he announced a project of him and Anneke. With a small delay of half hour the band hit the stage in screams and shouting from their fans and moshing was created at once. The band was playing like they were on fire. Trey is a brilliant guitar player, not just the typical death metal player, his style is very rich and includes many variations in his songs. As for Pete Sandoval what can I say. The man is a machine, he was playing double bass for over 70 minutes and he used triggers which made his playing sound very mechan≠≠ical. Probably one of the best Death Metal drummers ever. Steve Tucker after some years in the band has adapted fully and no one missed the legendary David Vincent on vocals. Steve did a great job both on vocals and bass. The sound became very good after the 4th song and we could hear clearly the complex compositions of Trey. On the second guitar was Tony Norman from Montrosity who filled his place satisfactory. We heard many classic songs from almost all their albums, I can remember the following : where the slime lives, curse the flesh, pain divine, dawn of the angry, beneath the hollow, lords of all fever and plague, stricken arise, cleanshed in pestilence, world of shit, god of emptiness, rapture, praise the strength and the final song of the night was the amazing chapel of ghouls. They promoted their latest album Heretic with some of the best songs from the album performed very well live. Although they played some many great songs, some of their classics were missing and they should have played a little more to include them as well. The fans reacted very warm to the bandís excellent performance and there was always moving in the pit and headbanging everywhere you turned your eyes. I am not a big fan of this band but I must admit they amazed me, I just wish I could enjoy them for some more songs.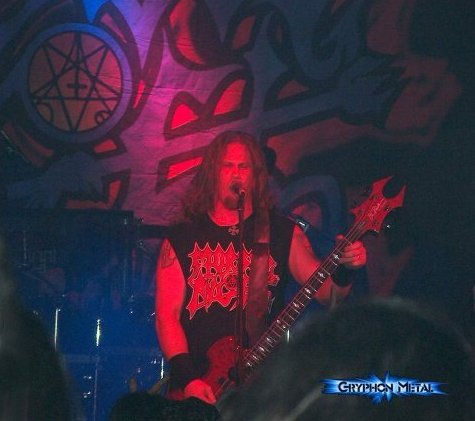 To conlude, Morbid Angel gave an incredible Death Metal show that left all of their fans satisfied from a performance and set list point. All songs we heard were played flawlessly and the band gave its best. BUTÖthere are some things that I must say. When a band visits a country after many years for the first time and they know that they have many devoted fans there they donít play ONLY 1 hour and 10 minutes!!! For godís sake, they are still young all of them and could have played 20 more minutes without problem. It doesnít matter that they play death metal, Iíve seen Death Metal bands that played almost 2 hours and their material was not less tiring for the members as Morbid Angelís. I donít want to mention those bandís names but I am sure that you all agree that 70 minutes show to a country you visit for the first time is almost a robbery no matter how good you play those 70 minutes. The fans that came to see them paid 30 euros ticket and money is a rare things in our days. Thank you to Morbid Angel for giving us a show we will never forget for its power and brutality but we wonít forget the short set either. Letís hope they visit us again soon and they pay us back with a longer set filled with more of their killer songs.