14..12.2005
---
MORTICIAN
AKERCOCKE
BLOOD RED THRONE
at Gaswerk! - WINTERTHUR - Switzerland
21 November 2005
review by dalia di giacomo
photos © by Stefan W. Vogelaar
The public use of these photos is strictly prohibited without written permission
---
---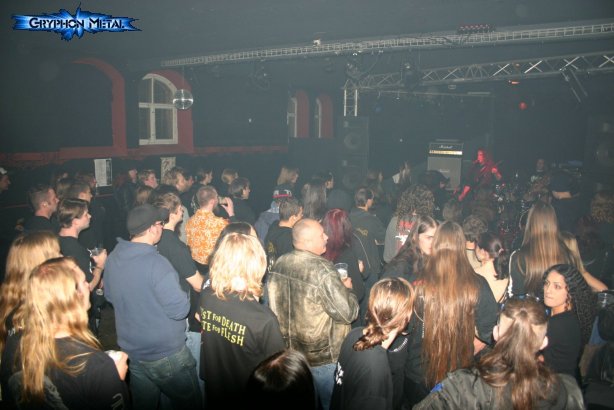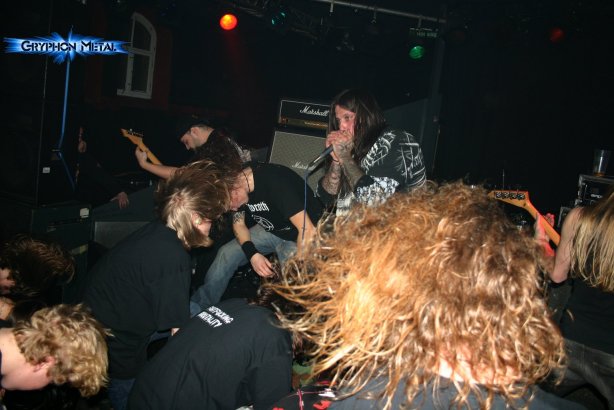 Solidarity and glorification of extreme Death Metal could be the two key-concepts that well describe the brilliant concert of this evening, a concert taking place in the Foyer of the venue Gaswerk! in Winterthur. To attend bands like those ones protagonists today, is a rare, original , unique event. It is simply gluttony for the straight-ahead metallers, it is temple for skillfulness, ability and brutality. It is joyful perverse massacre. The Foyer is good crowded and the audience is well worth the engagement of the bands. Although i was hoping in a larger attendance, in a bigger afflux of the exquisite Swiss Death scene (this show would have really deserved some people more) , i see a very good , expert crowd, particularly selected for appreciating demigods and destroyers, a crowd that gives great support and doesn't know mercy. At the end of story, this concert is a great successful crushing show. It is quite useless to spend more words concerning what happened to Mortician few days ago in Poland, right during this tour. Vocalist/bassist Will Rahmer was arrested, after threatening a taxi driver, stealing the car and driving to the Polish/German border. Whatever the reason for this acting could be, it is important to perceive that the story triggered a wave of solidarity and fellowship among the fans and the bands involved in the tour. A tour that goes on despite everything negative: this is class and professionalism . And Mortician's music is brought in total foreground. If Mortician were performing under normal circumstances couldn't have made it better. This stage in Switzerland marks also the last date of the itinerary across 13 countries; the bands are coming from Rome quite late after a long travel methinks. There is no time for a calm normal sound-check and preparation- routine before doors open. But who cares. Bands like these, so well trained and organized together, with many veteran elements, just don't need it. They just need people who understand and enjoy them. One of this people is for sure Andreas Walt, guttural throat of the Swiss band Brutal God who joins the stage during Mortician's gig and provides for his quote of impure vocals and Swiss - German Language, in the middle of a joint fest together with members from Akercocke and Blood Red Throne, who help also by singing and playing bass.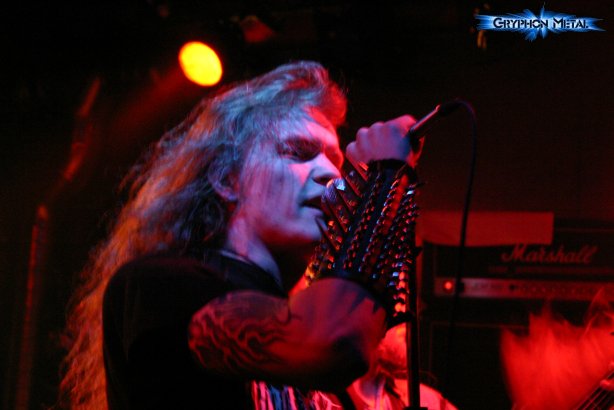 21:15 It's time for the mighty show to begin. Recently I was discussing with a friend of mine about extreme Death metal, about its current situation and its glorious roots. He told me that Blood Red Throne, the Norwegian Death Metallers around mainman Tschort (Carpathian Forest , Green Carnation, former Emperor / Satyricon / Einherjer) , is one of the few bands who have realized what Death Metal was and is all about: mass destruction. And a music of mass destruction that remains in your mind. I cannot say he is not right, concerning me i was very impressed by the music of the album "Affiliated with the Suffering". If i remember well, in an interview the band was complaining about the production quality of that album, but that CD is fantastic terror. On the contrary, honestly i cannot say much about the new "Altered Genesis", whether it is really an evolution or not . Anyhow this evening i am not disappointed by the new tracks: in particulars the guitars unleash tons of groovy vibes and killing riffs. The band is solid and compact, moreover bassist Erlend C is a god behind his strings. Period. New vocalist Vald provides for the right guttural emissions and for cool screaming; vocally, he fits very well to the music, only he seems to me still too "green", still too young for this line up. I think he just needs more experience in stage acting and even more aggressiveness, but, as far as it concerns singing, he's doing a good job. On the whole the band is advancing unstoppable, summoning brutal attacks like a combat vehicle. Songs old and new like Altered Genesis, Chaos Rising, Affiliated with the Suffering , Incarnadine Mangler , Mephitication, Monument of Death and Many Whispers of Death unleash lots of headbangings on the stage and in the pit. All pickings are precise, while kicks are merciless, tempo changes are enthralling as well the eruptions of erratic Death. By the way tempo changes, the breakdowns to mid tempo and the rising pushing assaults receive immediate impact, cause they are catchy yet dreadful.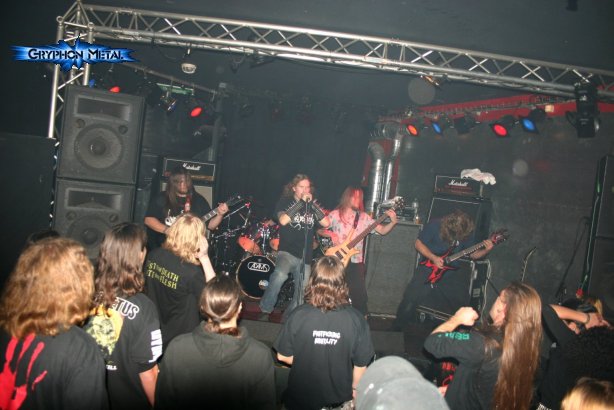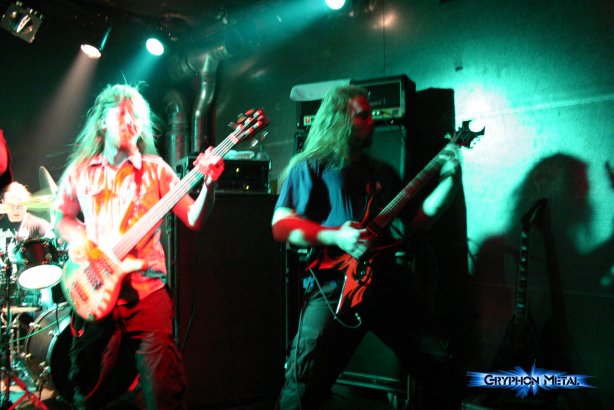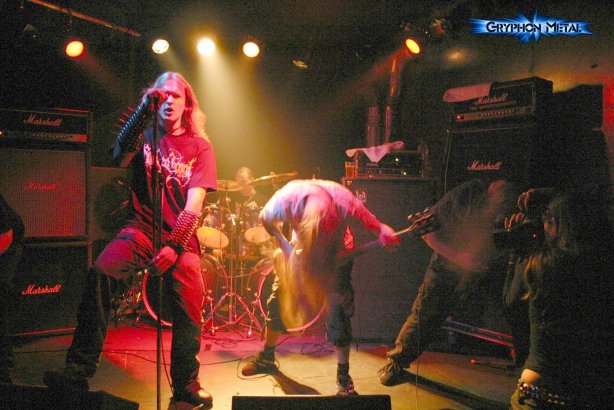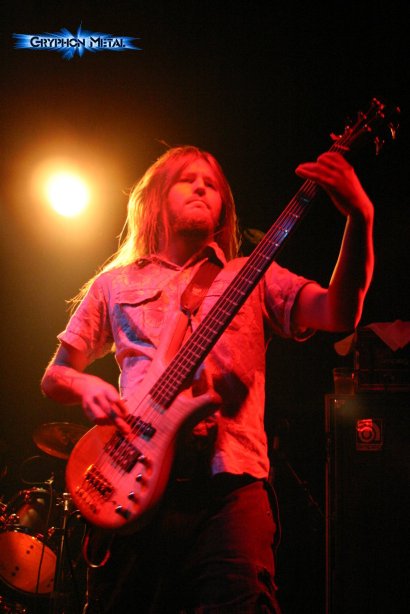 ---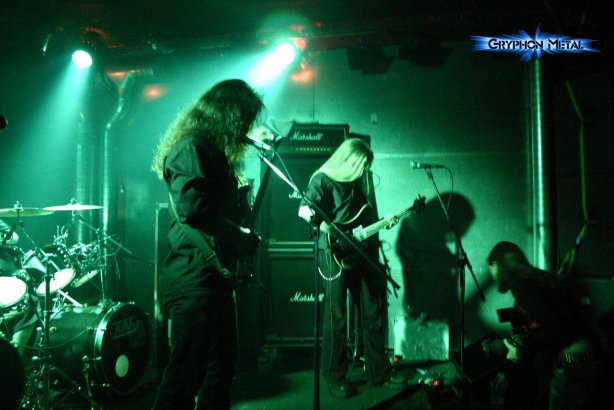 22:05 yes! Let's worship Satan with Akercocke! I heard a lot about the phenomenon Akercocke coming from United Kingdom. Akercocke: the true Satan Worshippers and well dressed gentlemen of the dark hordes. I was thinking that this "image" was quite of good taste but a bit manipulated or "artificial"....But, to my delightful surprise, Akercocke prove tonight that this impression was utterly wrong, cause Akercocke show that they can be unpretentious and able to go badass and brutal . Actually it has been only recently and almost by chance (bassist Peter Theobalds knows what i mean here) , that i became curious and really interested in the discography and philosophy of this band. Therefore I can say that Akercocke was the ultimate push to persuade me to attend this concert and i'm lucky, cause never i would have hoped in seeing them live so soon, after the release of their new album "Words That Go Unspoken, Deeds that Go Undone". I give a suggestion to my readers: never , never and never neglect any single occasion to attend them. Otherwise, you can only regret and that's what you deserve. Their acting rewards me beyond every expectations. First off, i would say that , despite the presence of unmistakable elements of Black metal, Akercocke is a band well rooted and settled in Death Metal. It is clear when you listen to the music and even more when you see them so perfectly at their ease between 2 monsters of Death like BRT and Mortician. Secondly, Mr. Jason Mendonca is a super frontman, who knows how to get his audience excited and still knows how to really enjoy a show himself with enthusiasm. This evening he is quite far from the image of an obscure Sir, he actually could stay in the middle of any blasting and hyperblasting Death band. Akercocke simply don't have boundaries, you cannot say they are only Black (it would be a big error) or only Death, simply their imagination is free and based on a good technique that makes this freedom real. What can i say now? Having no comparisons with previous concerts cannot valuate whether they give their best, but i think they do, or, at least, they deliver one of their best straight-to -the point concerts. Another particular mention must go to Mr. Gray's drumming, he unleashes a fat artillery behind the skins. Outstanding! another great drumming very near to pure Death style. Simply amazing, sincerely. On the contrary, what i don't like in Akercocke are those moments of experimentation, that kind of psycho, hypno, astral distortion, those progressive elements, which even go close to jazz at times, elements that bore me to the bones, though some of them really are able to break and to go beyond some abyssal gates. After all , Akercoke is a technical band, yet able to put unrestrained fluid violence on the table. Summing up, Akercocke is a great live band, live they are even able to sound and appear totally different from what you imagine when hearing their CD's. In any case we attend a very genuine version of this 4-piece band from London. Still elegant but uncomplicated, they show they are able to be a band ready for a battle. The set proposed gets tracks taken from all CD's, from "Rape of the bastard Nazarene", till "Words that go unspoken..." passing indeed through "Choronzon" and "The Goat of Mendes". Songs as Scapegoat, Justine, Of Menstrual Blood and Semen, Becoming the Adversary, The Penance, Eyes of Dawn, Enraptured by Evil picture Akercocke's whole discography. Each song gets its hammering as well its ritualistic part, each song is wrapped in a merciless shell. Peter's backing vocals, as well his precision on bass, are a remarkable part of the show, as well as the good performance of guitarist Matt Wilcock.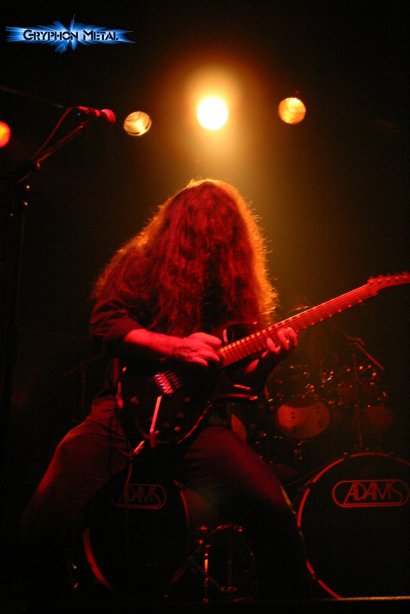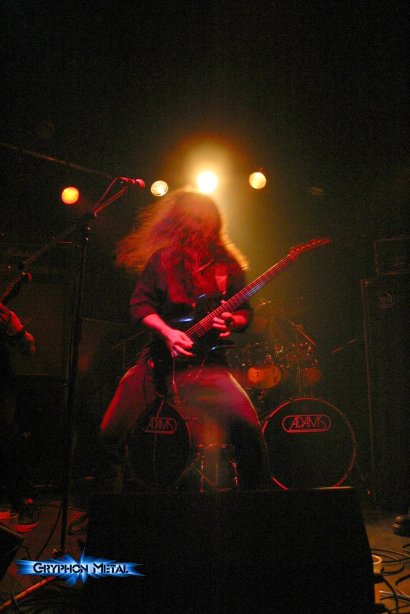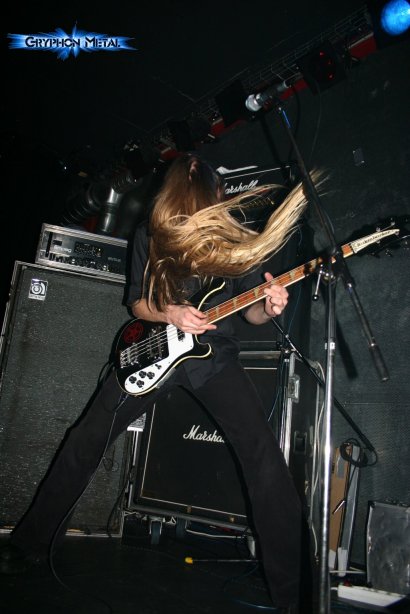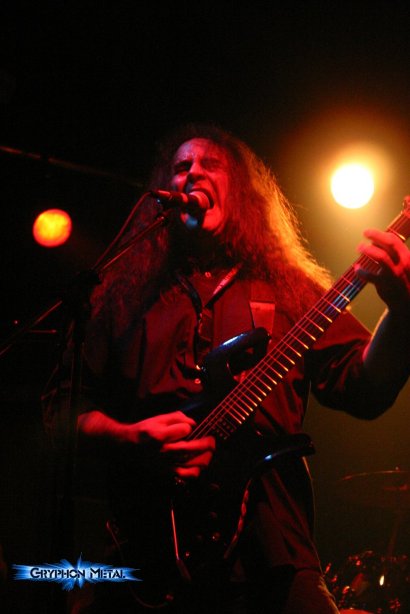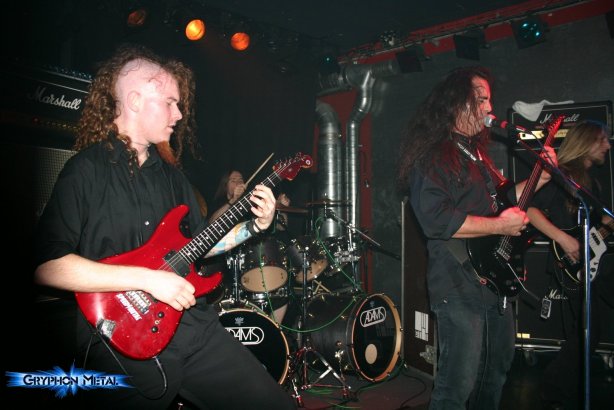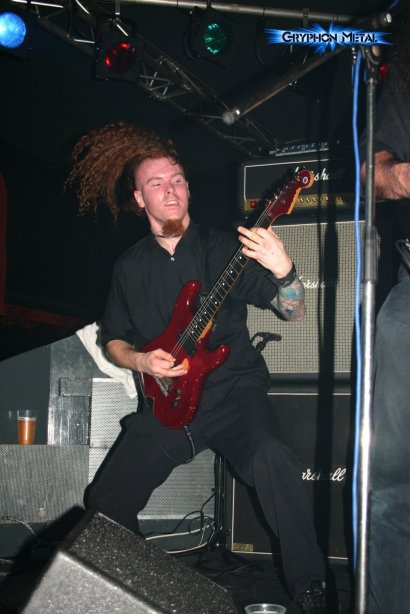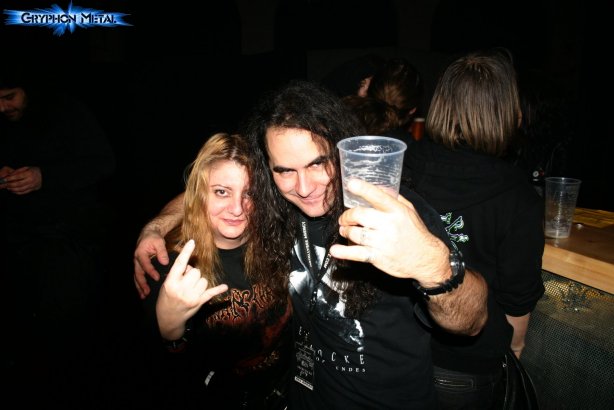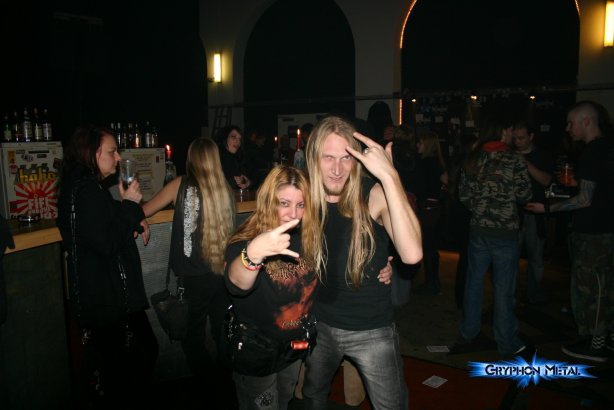 ---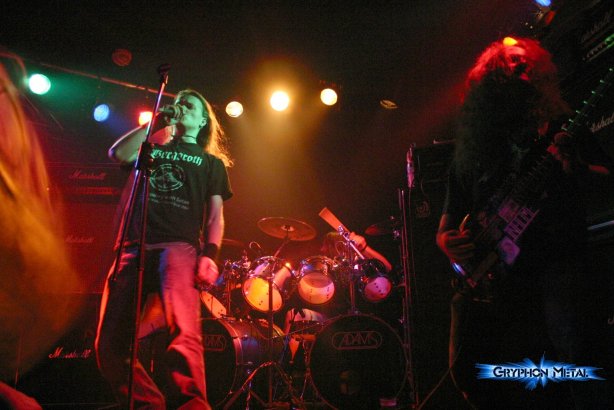 23:00 Pure, horror-glorifying Death Metal! Without Will Rahmer but with a solid Roger J. Beaujard (member in Mortician since 1991!!) and with Mr. Mendonca ready to play bass and Vald behind the microphone, Mortician start a memorable show. Actually we cannot say it is "Mortician" we attend now, it is more meaningful to say that we see a tribute to Mortician. It sounds different. Thanks to members of Akercocke, BRT and Brutal God, thanks to Beaujard's solid precision and Sam Inzerra's very good drumming, a long brilliant set is offered, a set which is loved by the crowd. The first rows are going nuts, methinks there are fans here who know every fucking note and every fucking word of the repertoire. The short grunting anthems to Horror and pure Underground Death metal, based on effective sick irresistible heavy loops, are killers. Nonetheless there is also space for some entertainment, in particular, Andreas Walt, from the local Brutal God, gives a great contribution to the general musical gore. Regardless of the fact that Walt sardonically seems still demanding and still not satisfied (he would gladly see our blood, still not happy with our sweat) , we have an hell of a response in this Foyer . Walt acts quietly, seems not particularly aggressive, yet is dry and commanding, we run the risk to obey him more than the whole Mortician/Akercocke/BRT malignant society. But each one on the stage (Akercocke will alternate and the show will end up with Peter Theobalds playing the bass) provides for passion and deserves our respect. It's pure solidarity and well performed grunting crude music, that spreads a special attraction. All what Mortician is, noise/spoken scary wicked samples included, has been celebrated. With tons of hornz, bangings and some moshing. Who was not here tonight truly missed a lot. Such moments cannot be described in words, i let the photos speak for me. if i am not wrong, among the tracks proposed (in no sequence order) we have Re-Animated dead Flesh, Chainsaw Dismemberment, Human Beasts, Defiler of the Dead, Cremated, Driller Killer, Zombie Apocalypse, Mortician, Embalmed alive, The Bloodseekers. Who knows when and how we will have another occasion to see Mortician again? But it will never be like tonight.
dalia di giacomo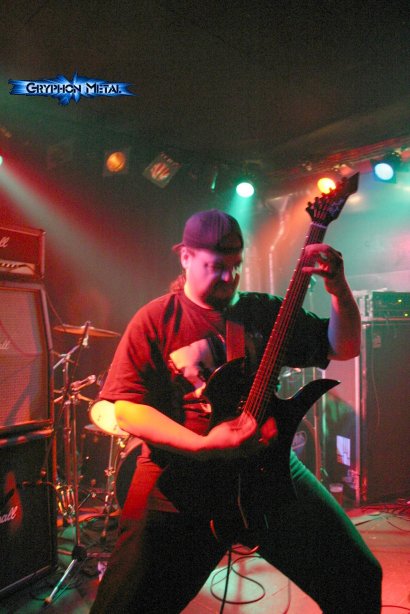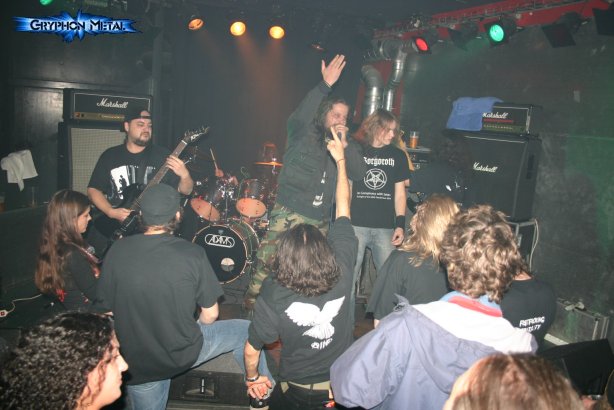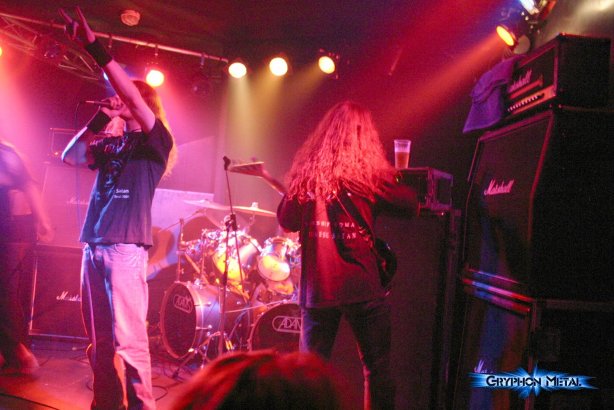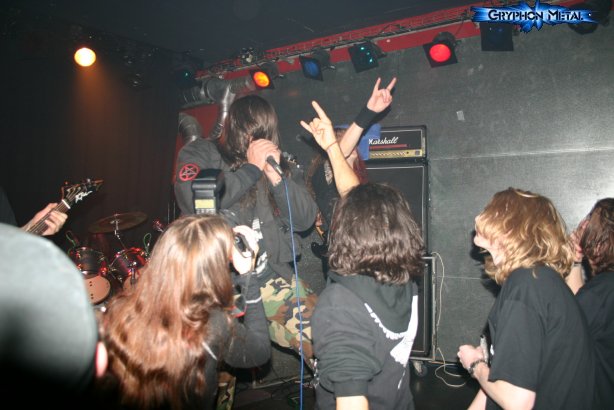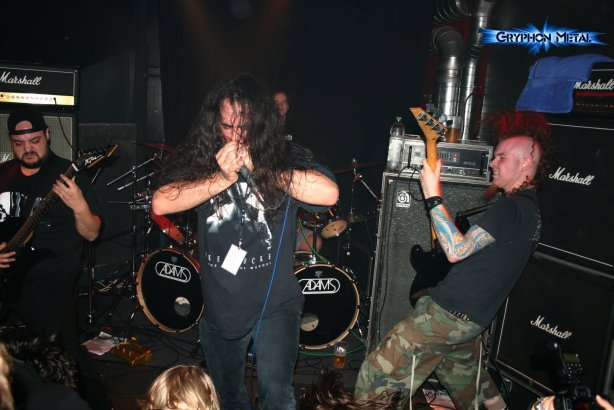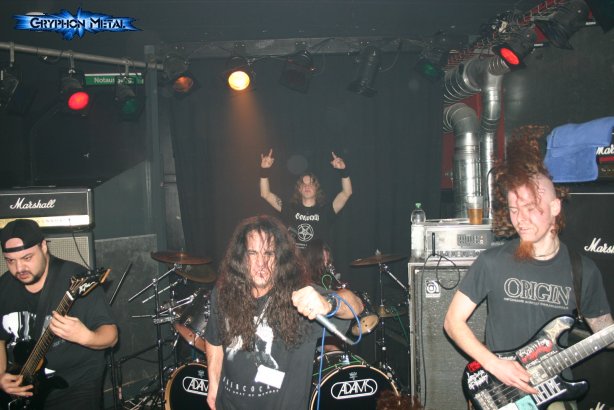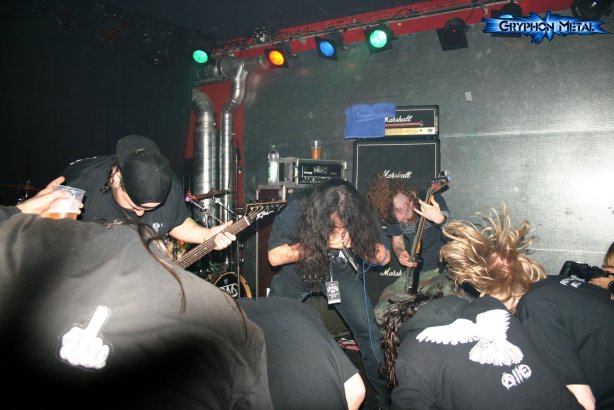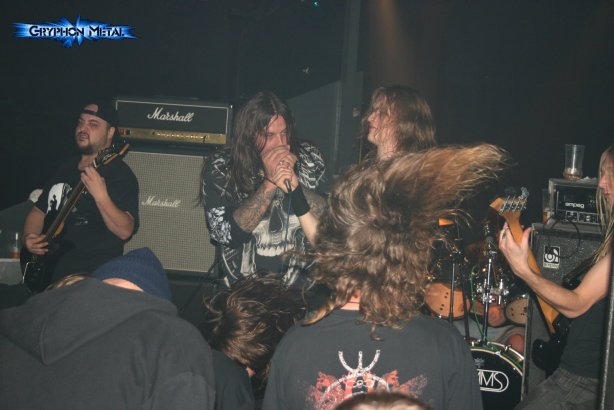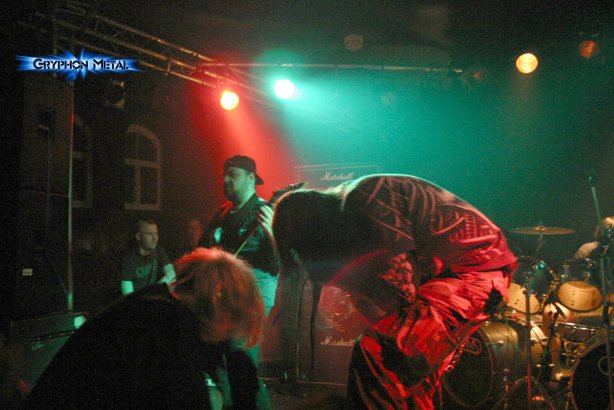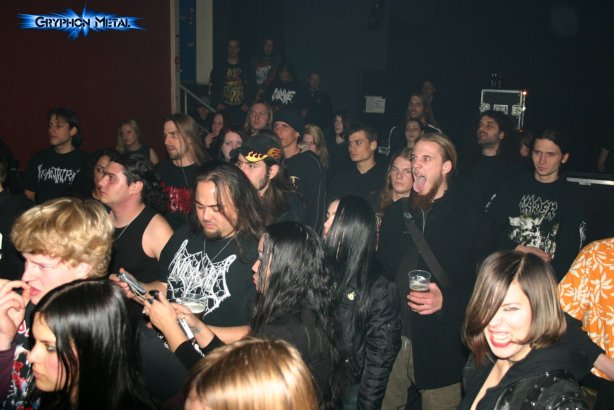 zum Seitenanfang

top - inizio pagina
---
© GryphonMetal.ch 2001-2005Niederrohrdorf - Switzerland contacts