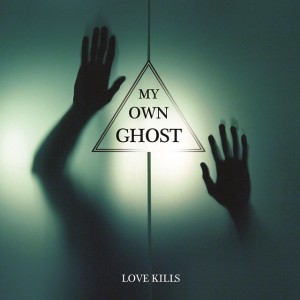 My Own Ghost
"Love Kills"
Secret Entertainment
Review by Salvo Russo
01. Crimson Ground
02. Lost
03. Waiting In The Wings
04. Crystal Ball
05. Bad Love
06. Beautiful Mistake
07. Silence
08. Free Fall
09. Pathways
10. Broken Mirror
11. Born In Fire
12. Mute
13. Intoxicated
Release date September 13th in Luxembourg and Finland and October 10th the rest of the world.
---
Websites

http://www.myownghost.com

https://www.facebook.com/pages/My-Own-Ghost/224687174322861
---
Line up
Julie Rodesch – Vocals
Fred Brever – Guitars
David Soppelsa – Guitars
Joe May – Bass
Michael Stein – Drums
---
Modern Rock goes to Gothic with Metal character.
This band is a great surprise for me! They come from Luxemburg and in my opinion, they are one of the best band heard in this year! The ability to blend great sound with amazing melodies is their secret!
Julie's voice is so perfect…great tunes and a velvet timbre create a special feeling into every song ; it's pure energy mixed to melancholic moods, in effect, I can't exactly label the kind of music they play, but believe me…it's useless! Turn on the stereo and pump up the volume, and let yourself be charmed by this album…
Modern rock goes to Gothic but not only…some pop sensations and …why not, Metal character!
If a famous artist wrote some of these songs, we would have said …it's a Top album!!!
What makes the difference comparing this band to the average quality of the most band lately heard by me, is the search of the groove; they take care of every little details for what concern the sound; great arrangement supported by a fair production that could have been even better…but I am sure that their talent will not remain unnoticed!
Let's talk about the sound; They are influenced by some 80's bands like All About Eve and all that kind of pop-rock influenced by dark and gothic! As I said before the sound may be described as Modern rock, I notice the perfect use of electronic loops mixed to powerful but almost never heavy structures;
They represent the point of convergence between all those who likes bands like Evanescence and those who loves classic pop-rock emotional artists, but I'm sure that they'll seduce also Melodic metal fans!

It's difficult to find poor songs…but we can surely underline tracks like "Pathways" ; it seems the perfect mix between ELISA(Italian pop rock singer) and EVANESCENCE!!!Melancholic sounds mixed to the warm in which Julie shows to be second to none!
Listening to "Broken Mirrors", it seems like something revived from the past modernized! There is a trace of wave rock that reminds me of Italian THE SHIVER; Another great shot is "Free Fall" ! This song is destined to be single thanks to its fantastic melody that is the proof that they work a lot to make great melodies and not only a great sound! The refrain is a rock anthem!
"Crystal ball" is pure emotion that comes down in the veins, in which I cannot but be amazed by Julie who is becoming one of my favorite singer ever!
"Silence" reminds me of early Delain, and it's another great track! I want still underline the charm of "Mute" that seems to mix pop-rock and gothic in a very amazing way; this melody is unique!
There's space also for the most heavy song that closes this album, it calls "Intoxicated"…I could define it like a velvet whisper of metal !velvet whisper of metal !
What can I say more? It's a super band with super ideas…they deserve your attention!

Rating : 10/10

Review by Salvo Russo