Through Progressive with confidence.
This is the project of Luca Giancotti, an album that is the result of many influences…from 70's prog to alternative..but also a touch of 70's dark approach.
The songs are rather enjoyable and the sound can remind of many important, famous bands…but the search of a personal elaboration of the songs is often the reason of some not succeeded songs…
I underline the good creativity of Luca that is able to go through progressive parts with an amazing confidence, but the melodies are not always at the top…the search for a personalized music is not always well made…
The production is almost mediocre, such as the essential arrangements.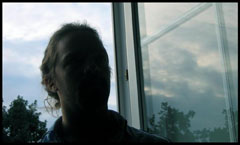 The songs?....I underline the good "Fluid Hollow" that is a mix of Rush,U2, Anathema and a certain kind of alternative rock near to the American scene.
The grove of "After the Wave" sounds 70's with an amazing personalization that seems to mix that typical style with a touch of melancholy given by Luca's voice….A good timbre that is perfect for this style.
We have a bit of Radiohead into the acoustic atmospheres of "Broken Glasses" before the conclusive "Crumbled from Stars", a very melancholic songs in which Luca shows his good attitude to a dark approach by appropriate progressive parts that give emphasis to the atmosphere, and thanks also to a very involving riff guitar.
The whole album can be appreciated if you like a 70's prog atmosphere mixed to a certain kind of alternative rock, but I underline that this album should have needed a better production . Also concerning the songs (in my opinion) many ideas could be revisited…
The next release will be the answer to my doubts.
rating: 6,5/10
---