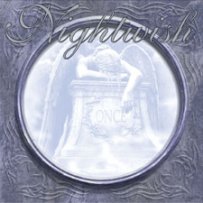 Dark Chest Of Wonders
Wish I Had An Angel
Nemo
Planet Hell
Creek Mary's Blood
The Siren
Dead Gardens
Romanticide
Ghost Love Score
Kuolema Tekee Taiteilijan
Higher Than Hope
Tarja Turunen - Vocals
Tuomas Holopainen - Keyboards
Marco Hietala - Bass
Erno Vuorinen - Guitar
Jukka Nevalainen - Drums
Where o' where shall I begin? Words cannot begin to describe this album. If I say it's the heaviest album the band has ever conceived, it wouldn't be enough. If I say this is the most diverse album I have bought, it wouldn't be enough. I am just utterly floored by the CD in so many ways. My jaw dropped just at the first song. Indeed, there is something to be said about each and individual track, I will describe the best songs in this reviewer's opinion.

"Wish I Had An Angel"
Oh my fucking G-d! Again, words aren't enough to describe this song, it's that good! This song is dominated by Marco's vocals and the slamming guitars. This song makes me want to go out and buy the loudest sound system for my apartment and for my car I want to crank it so loud! My favorite part of the song is definitely in the chorus. When Marco is singing/screaming there's some electronic dance beat in the background that blends perfectly with the guitars and the drums. The Keys are a little buried in the mix but other than that,
G-d damn this song is heavy!

"Nemo"
What a sweet sounding song! The video (clip) is just as marvelous as the song itself. This song is great to sleep to because Tarja's voice in this song sounds very angelic and almost lullaby like. The feeling I get from this song is like falling in love with someone at first site or coming to this realization. The guitars are heavy as they should be and the piano parts are perfect in the mix. The orchestral work on this song is done in so beautifully I can see why this song is being played on the radio across the ocean. If this song was heard by DJ's here (meaning U.S.)…oh man.

"Planet Hell"
The introduction to this song should be used for movies for dramatic scenes and such. It's %100 orchestral and chorus/choir work for the first minute or so. The drums gradually enter in, the orchestra stops then the guitars come in and start to kick your ass. I can see a pit forming for this song. This song again showcases Marco's vocal work but when Tarja starts…watch out! Some of her best work on this album is done on this song. Parts, that have a lot of vibrato in her voice. As for the drumming, there's a lot of double bass work and the guitar pretty much follows what this kick drums are doing. I showed this CD to a friend of mine who mainly listens to R&B and some classic rock, and he said out of the couple songs I showed him, this was his favorite. This is one of mine also.

"Romanticide"
This track has more of a guitar driven sound; from the very beginning and throughout the song itself the guitar is in the center. For the first twenty seconds or so it's guitar, bass, and drums but no keys and in that first twenty second I can see another side of Nightwish I hadn't known existed. A band that knows exactly what they are and how they change up there "sound" with a blink of an eye then go back and have that precision that they have being a band that has qualities of both Metal and Opera. In the first twenty seconds I hear a straight up metal band with nothing holding them back and then it switches to good ol' Nightwish with Tarja's vocals and landscape esc keyboards. The rest of the song is the nice combination of what I stated above. It's just all out thrash! And with Tarja's wonderful singing this song has a lot of attitude to it.

"Creek Mary's Blood"
If you don't know already, Nightwish brought a man by the name of John Two-Hawks. Mr. Two-Hawks is a Native American singer/musician that appears on this song. He chants and plays a "Cedar Flute" which sounds a bit different for a conventional metal flute. Hearing him play and chant still gives me goose bumps when I hear it. The rest of the song is mainly made up of acoustic guitars, light drumming, Strings, and Tarja's vocals. It has this melancholy/nature feel to it if you can imagine that combination. Towards the middle of the song guitars kick in but the song remains to be very slow going, something to savor every minute to.


Overall this is Nightwish's best album to date. It's the heaviest album and the most diverse. They have a fantastic orchestra playing on this album that is amongst the best I've heard in combination with Metal or with any other genre. Tarja's singing is top notch as usual and the debut of Marco singing (formally of Sinergy) which adds a completely different element to the band. WHAT THE HELL ARE YOU WAITING FOR?! Log off your computer, run the record store and either BUY this CD or reserve it (U.S.)!!! This is quite possibly the album of the year!


rating: 9.5/10