The evening went on with Hypocrisy.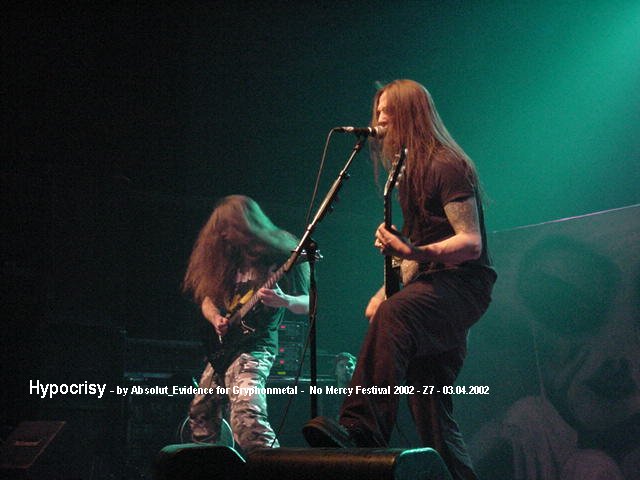 Clear, Hypocrisy are Hypocrisy and the crowd was thrilled, but singer Peter Tägtgren and co. had to show all their aggressivity in order to warm up the atmosphere again. Success for Hypocrisy though in a lower tone in comparison to Vader. I personally like very much some songs of Hypocrisy and other absolutely not, anyway I noticed a big self-confidence and a very good mobility on the stage. Impressive and restless, they proposed many of their new songs, hard like the name of the festival is asking.

Ohh..and now! yes Immortal.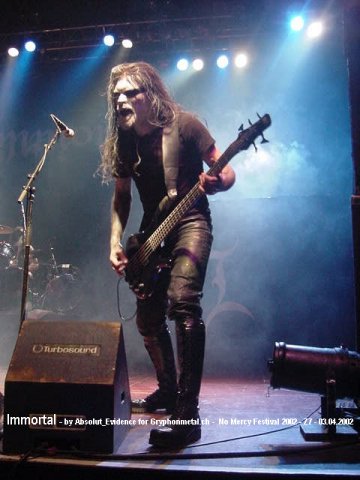 Immortal were waited all evening long by the crowd in the same way Dimmu Borgir were waited during the Metal Odyssey 2001. They ispire almost "sacredness" more than an invitation to a headbanging agitation. Anyway the crowd reached again super levels of enthusiasm. What can I say?
a) Music: wonderful , they played simply cool, in particular very good were the picking moments when guitar and bass played totally synchronized (during song Tyrants, for example) Particularly welcome were the songs "Tyrants" indeed, "Sons of Northern Darkness" and "One by One", they were hard enough though, with a touch of melodic moments, well suited to the late hour.
b) Show: very good, nothing was kitch, every detail good proposed. Attractive the show with the fire
c) Behaviour: Abbath has his typical manners that can sound sometimes too pride and distant , but the attention for the crowd was not forgotten and, at the end of the show, Abbath went down from stage in order to shake hands of many,many people. Their way to dress and their face painting doesn't seem artificial at all, at the moment you really receive the impression you are in front of the messengers of a kind of supernatural beings.
dalia di giacomo