review by dalia "gryphon_spirit" di giacomo____
---
Aggressive Hardcore/Crossover with a tone of PostNu and Thrash, enriched by some dark melodic passages. No Reason means great impact and awesome technicality. It is also a bit stressed and disturbed like our polymorph society, with the will of experimentation, but this is right what the band wants to communicate. A good production that the fans of the genre will appreciate. More fluid tempo changes and the total abolition of the (few) vocals in clear would have permitted to this 6 track-EP to shine even more. But, in its style, this is a satisfactory beginning for the Italian band from Trieste.
---
No Reason from Trieste, emblematic Italian town belonging to the international Alpe Adria region, where mountains and sea collide, when many cultures unite, still under an Habsburg flair. Everything "post", after. Trieste is post: the town after, both in social and artistic field, but all this actually means to achieve some results before others do. No Reason was founded in year 2000, then appeared the demo In Your Eyes and now they have produced this EP, that represents, with impact and a little drop of theatricality, "the day after" concerning Hardcore/Crossover and Nu (but of course with no trace of rapping) mixed with a wide insertion of Rock, Thrash and dark melodies. A bit in American style , a bit European, the EP No Reason tries new hybridizations. Post , after, what does it remain? Much aggressiveness, much angriness, much emptiness, broken feelings, the will to come back to more spiritual atmospheres where it all began. Frustration, dissatisfaction, disappointment:
"Dirty life everywhere running up on our eyes...people that uses so bad their brain .. and we can't escape this world of shit"
Eh well, No Reason with a dark/Gothic look and a diverging music express these symptoms. They put together what it seems irreconcilable. Tempo changes, dirty vocals, compulsive Rock/Crossover and hardcore frequencies, very good square drums, and vibrating bass backgrounds, raw lively guitars, short dark melodic moments are the weapons of their rebellion, the voices of their anxiety, between old feelings of sadness and remembrance and new American sonorities.

Masx, the opener, is imo the best song of the work. It matches the international standards, it delivers an excellent propelling drumming, impacting superb with a hyper heavy wall of thrashy hardcore guitars without compromises. 3:19 minutes of successful relentless mighty charge, only flaw : the moments of vocals in clear. On the contrary the brachial sometimes emphasized tonalities are well proposed, this consideration is valid also concerning the other tracks.


New Brand Generation is a very nervous dynamic uptempo, with heavy steam-hammering and rasping guitars, warmachine instinct with Thrash influences, but also with an interrogative tone as well as vocals which are a bit interrogative too. Both melodic sad bridge and outro , executed with an emotional guitar sound, give a three dimensional and sorrowful tone to the harsh and sour attack.
The same attitude is underlined in the following F for Fake, which is anyway much more varied, with deep bass solo insertions, acoustic drops of metropolitan fear, overdriven guitars, a valuable virtuoso solo and a great final melodic jump to escape. Valentine's Day is again nervous and compulsive: pushing and sudden tempo changes, vibrating strings (wide used by No Reason) are put under pressure, a "verve" of melodiousness smoothers the hypnotic distress and gives fundament to the cadenced passages. If you come from another fav style, like me, you need good 3 or 4 listening's to appreciate this track that has its fascination and its coherence due to the re-taken verse and refrain, but of course the fan of the genre will jump and flip a lot upon it immediately. Grains of Dust, beginning with digital effects, is another uptempo heavy punch where the angriness is shouted with inspired dirty vocals. The sudden change into a slower melodic acoustic moment or into a second one with a melodic solo are original, though they contrast too much the general skeleton of the assault, breaking it. Question of taste, but it is the purpose of No Reason to dive into a sudden morphing, from attack to smoother atmospheres.
G.un O.r D.rugs is a particular song between oriental chords, schyzoid vocal passages and raw attacking compression; drums and guitars are versatile and technically almost flawless. Short but incredibly groovy the pounding outro looping, cool way to end this EP.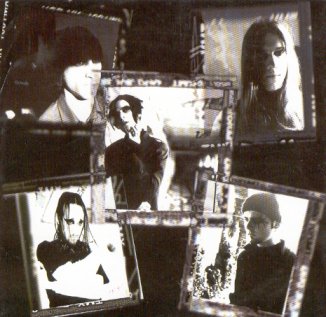 No reason are very interesting with very good starting points. they are talented, but their style should be less experimental and even more effective. Please the vocals in clear should be completely cancelled giving full space to the "dirty" brachial ones only, cause they are very cool. It is a brave idea, though a difficult one to be put in practice, to mix Hardcore/Crossover/PostNu with short dark melodies, but only if this idea is realized through more fluid changes. For the rest, No Reason are already on the very good way: they play well, they are young and enthusiast, the production is professional, more than satisfactory: instruments find their moment in which they jump out from the musical background right into your face, lyrics are engaged, the tray booklet then is totally nice, a bit crazy, absolutely post-artistic, it fully interrelates the flash-backs of memories and discontent of a stressed society.
The richness in tendencies and technique makes me suppose that the various members converge on No Reason coming from different musical educations, and maybe the dark part is after all stronger than one can think. Indeed there are important, though, i repeat, very short sprays of darkness. Consequently we have an enormous potentiality that No Reason are on the way to utilize with expressiveness. There is still much to do in order to set all this fully homogeneous and plastic but this is already a very remarkable beginning that the Hardcore/Crossover fans will appreciate, banging and jumping a lot.

Rating: 7.7/10