J. Lindkvist is the true revelation and the new engine of the band
This new album has been announced as a highlight of the year for true lovers of Melodic Metal, and if you like the genre…sure you'll enjoy it! After just one listening this new opus leaves a great impression and shows the band at its best.
Warning: for those of you who are waiting for an ultra-heavy album with unleashed rhythms, take care and know that the band develops more catchy and melodic songs than ever! The opening track Fools never die is a perfect illustration of this new orientation and reveals the lighter face of NR. In fact this new album can be considered as a "hit collection". I would even say that AOR is not so far all along the album: strong and catchy choruses on each track, heavy (but clean!) riffs all the time and most of all a great singer who's able to enlighten each song. Note that this singer is a member of the band since the Afterlife album done in 2000. This guy, Jonny Lindkvist, sounds like a good mix between Urban Breed (TAD MOROSE) Johnny Gioeli (A.R. PELL, HARDLINE) and Ian Parry (ELEGY). The vocal melodies are really well worked and his ability to vary the tones is just amazing! According to me, J. Lindkvist is the true revelation and the new engine of the band. His vocal approach is the true reason for this new orientation to a more melodic sound.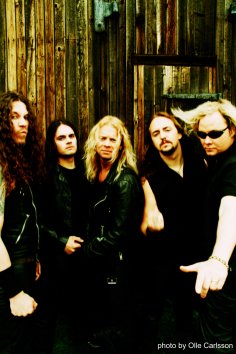 In the same time the band has reached a higher level of composition and the powerful production gives a strong impact to the songs. To list you a short track by track, know that Never trust  is a pure heavy Prog song with a fast rhythm but all in a classical vein. Not the best track of the album. Still alive and Something undefined are some kind of hymns in the purest German tradition (IRON SAVIOUR, EDGUY…) with great chorus and big choirs. These 2 songs are really catchy and will haunt your brain all day long! Our wasted Days is surely one of the best tracks, thanks to the perfect combination between catchy chorus and strong riffing: a real good one! Great guitar solo too.
Cuts like a Knife sounds exactly like the late TAD MOROSE with a strong chorus (once again…). Note that K.W. Olivius from NAGLFAR is singing the backing vocals on this one and his different approach gives a great result. Probably the darker song with an oppressive mood. A real success!

With End of our Rope NR tries to "surf" on the WITHIN TEMPTATION wave: keys with orchestral arrangements, a dramatic atmosphere, a great solo in the Malmsteen's tradition: once again it works well! Never ending reveals the heaviest face of the band and reminds me A.R. PELL or something like a modern version of RAINBOW.
Finally, Deliverance which is one of the strongest track of the album. This one develops an epic structure with a great vocal performance and an original guitar solo really inspired.

In fact if I had to give just one bad appreciation, it would be about the structure of the songs which are always the same way: verse/bridge/verse/bridge/chorus…
However, I insist on the top quality of this Grand Illusion and the great performance from J. Lindkvist on vocals. All true lovers of classical metal will enjoy this strong release, probably the best effort from this experienced band, so… go for it and play it loud!

      
rating: 8,5/10

Favourite tracks: Our wasted days, Cuts like a knife, Deliverance
Ellnas