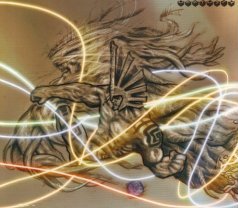 I am my own God
Forwhom the Bell tolls
I see
Come together
Breakfast Suite
Forbidden Look
Essence of its own
Turn your Face
Discovery of Obskuria
Die die my Darling
The World is gone
Tom Brehm – Guitar
Miguel Angel Burga – Guitar, Vocals [on Track 01, 02, 10]
Winnie Rimbach-Sator – Keyboards
Enrique de Vinatea – Drums
Carlos Vidal – Bass
Xtian Abugattas - 3D Sound-Effects
Matthias Schäuble – Guitar, Vocals [on Track 03, 04, 08]
Kristin Shey – Vocals [on Track 10]
Peter Thomas – Track 11 [Bonustrack: The World Is Gone]

Hippies, Vietnam, space race...
maybe it was a prophetical time.

This release is, for me personally, another challenge, cause it forces me on a genre i like to hate: Psychedelic (excepted some tracks by Pink Floyd). However, this soundtrack concept album (with many instrumental-only parts) is rich in occult science symbolism and philosophy which i like to find and point out. The project Obskuria has been created by musicians playing already in bands like Dragonwyck, La Ira de Dios, Treacle People und Karmic Society. Lands of 3 continents are represented in this project (Germany - USA - Peru), and 3 generations (60`s 70`s 80`s).
"Discovery of Obskuria" is marked by retro feelings of the psychedelic 60`s and 70`s, well mixed with wide progressive, and spiced with drops of acid jazz, rock and even blues. If the influences from Pink Floyd may seem the strongest ones, subtly lead Obskuria to The Doors, The Who, and to The Beatles too, just to name some of the mythical acts belonging to that period. We have six original own Obskuria tracks, one cut not played by Obskuria and four covers, one of which dedicated to The Beatles indeed, although we will see that Come Together is not developed as complete remake, being only a short impression. The listening is like a hallucinogenic trip, reinterpreted under modern canons, reorganized with a great playing technique. Pity the presence of passages (in I see and in the title track) that come out, at the long run, as monotonous. Strong feature is a lead protagonist hammond, that spreads both hypnotic and frightening carpets. Curious and amazing at the same time is that the overwhelming Hammond is very eclectic: it is sitar, distortion, lead guitar, pace underliner, experimentation and melody at the same time. However the other instruments are not covered and even when vocals in clear appear they are not submerged by these hammond wormholes. The pulse and string distortion is brought by skillful guitars and beating bass lines. Hopes of a past era are awakened but also fears, uncertainty, alternative anguishing ways to represent the horror, as for example visualized by Francis Ford Coppola`s Apocalypse Now. A bridge connecting the future is built between the 60`s and 2012, year in which major epic events for mankind are prophetized. What will happen on 2012? Will the stargates of the Gods open unleashing the Armageddon war? Will mankind increase its consciousness? Or simply will Earth experience this particular alignment with the centre of our galaxy without many consequences for us? Discovery of Obskuria contains a kind of "ticket" that allows the listeners to play the album on (or until?) 21.12.2012, because this work projects itself into 2012 winter solstice, when a new world is alleged to be forged through epochal forces. The trip becomes travel into time and space, and also explanation of the seed emerged in the 60`s. Other arcane element is the booklet with texts printed backwards mirrorlike. Another key point is, of course, the votive presence of The Beatles. Besides, above or below all this, Obskuria have created something imposing that will divide the opinions.


For whom the Bell tolls develops one of the most enjoyable tracks of the album. i think i am the enemy number 1 of covers, nonetheless, or right for this reason, i can appreciate well done remakes.
The short Come Together begins with a backward recorded intro and then explodes with the theme of the well known and sanctified song. It's only a very personalized "pearl of euphoria", it sounds more like an invite or an homage to the Beatles, being no true whole cover.
Breakfast Suite is the original instrumental track i like the most , that makes psychedelic bearable; it is simply intriguing with earworm linear yet naughty loops executed with intelligent variations, in pace too. Everlasting obsession, like a long nocturnal travel on a motorway. A true hypnotic three dimensional trip which rides an uninterrupted pulse. On the contrary, Essence of its own is very progressive, experimental and metropolitan . The technique reaches peaks of big skillfulness. Turn your Face turns to rock/blues
The titletrack Discovery Of Obskuria begins as slow-tempo embracing then a more lively pace that gets its neurotic peak of altered Rock`n Roll state together with many fluent anguished ups and downs, letting surface syncopated and/or delayed string picking under the hammond lead. Bass beating are very remarkable too. Only negative side is the initial part too monotone and protracted.
Die Die My Darling, originally by The Misfists, is a nice cover that will spread soon a sure attraction, although i prefer the cover done by Metallica.. This is also the only track with female vocals who duet with the male timbre.
The World is gone is a bonustrack not played by Obskuria . It is an original cut composed by soundtrack- musician Peter Thomas, presented as flashback from 40 years ago, that "shares Obskuria's vision" .

"Discovery of Obskuria" is not my cup of tea, but is really interesting, apart some moments of a certain monotousness, something on which i reflected. I rediscovered an era. Hippies, Vietnam, space race ...maybe it was a prophetical time. Immense changes with a unique music. "Discovery of Obskuria" strikes the brain awakening those prophecies. I suggest this work to those young rockers or metalheads who are really interested and motivated, while psychedelic lovers will surely find something to enjoy ...or to criticize. Fact is that "Psychedelica" lives again. There is always a chance left to survive, here where Mother Earth still is.
" On December , 12th of 2012, when the big count ends,
recent and ancient gods appear on earth to stake their claims."

Rating: 8/10