Athens 2004: the Olympic Games and Metal
Another hot and sunny day in Katerini, I sit here listening to Falkenbach and writing these lines. A few days after my return from Athens where I had the privilege to witness the 28th Olympiad in the city where it all began some thousands years ago. I wasnít very interested in going to see the Olympics mainly because I considered it to be a waste of money and time but how wrong I was! At the very first moment I arrived in Athens I saw many huge changes in the city, security guards everywhere and the town decorated and celebrating the games.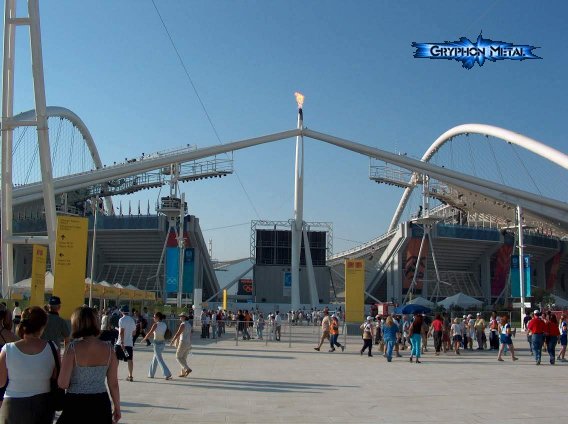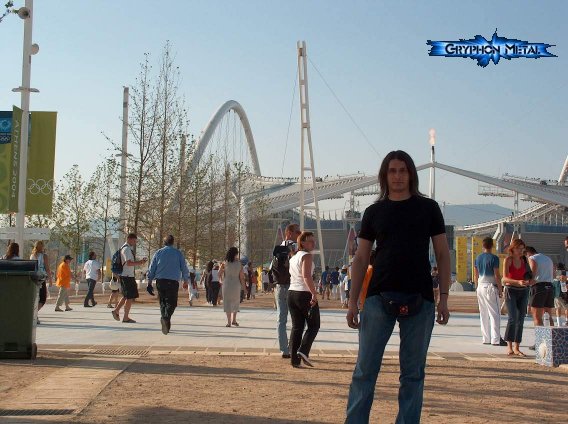 I had tickets for athletics and 2 basketball games. I read some articles on the internet saying that the stadiums are empty and that not many people go to the games but then I wonder how come I had so much difficulty finding tickets for a sport 5 days in advance. And anywhere I went all stadiums were full even to the less famous sports here such as baseball or hockey. The best moment of my short trip in Athens was when I arrived at the stadium where the opening ceremony took place, a truly excellent stadium that can take up to 75.000 spectators and the surroundings of the area were incredible. I would never believe it if I hadnít seen it with my eyes that Athens could create such magnificent facilities ,and a rare to us Greeks, organization. The second place I visited was the Hellenic Sports Complex, an area where many stadiums for many kinds of sports were gathered and I watched basketball games there between New Zealand versus Argentina and Italy versus China. Iíll let the pictures speak for themselves, I donít think I have more to add, I didnít have the time to visit not even half of the Olympic facilities because I had to be back to Katerini in one day (damn job!) but it was a day full of pleasant surprises. I only wish I could have more time to explore the city more in depth and certainly go to more sports but as I mentioned above no tickets could be found. Especially for athletics the stadium had about 60.000 people and the only seats left empty were the expensive ones, donít remember how much they cost but trust me, it was too much for my pocket!
Apart from the Olympics, August was a rather quite month with not too many releases from our metal community but September is very promising especially with the new albums of Megadeth, Dio, Cradle Of Filth and many more. Those of you who are lucky enough to catch Arcturus on their small European tour donít miss them. You wonít have the chance to see them live easily as the band consists of the best artists of the black metal scene and they have their own bands to support. For instance Hellhammer will visit Greece with Arcturus on September 5 and then on September 12 he will be here again with Mayhem. Arcturus is not a project but a real band, an all star band I would say and of course they are not new comers but have been around for more than 14 years now. La Masquerade Infernale has been described as the most diverse album in the metal scene, the epitome of avant garde and one of the best metal albums ever written. This was a small introduction to Arcturus for those of you that might not be familiar with their music.
Ok thatís all for now, those of you that are still on vacations enjoy your time, relax and of course listen to lots of music, heavy metal is the music genre with the biggest variety in sounds and styles that you can hear in any mood or situation.
Cheers!!
Dimitris T.