How many bands nowadays can create a mood that can carry its fans away spiritually and touch the deepest feelings of a person? Opeth are surely one of these bands and until today they have delivered us with many great studio efforts.
I always wanted to see if what i felt listening to their music could be experienced in their live shows as well. Although they visited Greece 2 years ago, but only in Athens, at that time i was unable to travel and see them. Later the band commented on that show as the best live show they ever did and i knew how wrong i was not to be present. This year i finally had the chance to witness them on stage and i really didnít know what to expect. They last 2 releases are very different from each other and many people said that the show will be half acoustic and half metal. Well, my advice is donít listen to anyone and wait until the show comes and always let the band surprise you. I didnít matter what they were really going to play because they have a wide range of powerful songs and they surely are aware of which tunes their fans want to hear.
I arrived at the venue half hour before the concert was about to begin and the place was very crowded. The gig must have been sold out in a venue that holds about 1.000 fans. Later i learned that the band had a delay in the airport and they arrived late so that was the reason why they did a long soundcheck until 9.30 although the gig was supposed to start at 8.30. It was very cold outside and we all wanted to come face to face with the promoters to get some explanations about the whole situation but finally at 9.35 the doors opened and at around 10 o'clock the show began.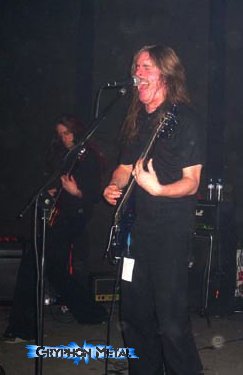 The band started their show with the glorious Masterís Apprentices and all hell broke loose in the crowd with people living a dream to see this band on stage teaching extreme metal lessons. It was really crowded so moshing was bit hard to perfom but some people managed it although it became too annoying for some others who were pushed very hard on the front bars. Anyway, apart from this everyone was enjoying the show. Akerfeld was doing long breaks during the songs and talked a lot to us. Maybe he had much to say or maybe he wanted to give time to his bandmates and to himself to rest a while and tune their instruments. That night we heard many Opeth classics such as The Moor, April Etheral, Demon Of The Fall, the title track from the Deliverance album and some other quieter songs which had so much feeling. Songs such as Windowpane and To Rid The Disease show the other face of Opeth, a face that reflects the glorious 70ís and all the legendary progressive rock bands that had risen up back then. Akerfeld is a very gifted singer, his changes from brutal vocals back to clean is incredible. He sings in a great way in both styles. His clean vocals are so melodic and have a personal style, he surely doesnít sound like anyone else. Peter Lindgren was amazing during the whole time of the concert, he is the person that might play some simple parts but he seems to enjoy them as much as if he had been playing complex things. He totally rules. Drummer Lopez was very cool behind his drum kit, he plays some extremely difficult parts but he made them seem like easy rhythms. The man knows his instrument really well and he is a great person as well. Finally i left Martin Mendez who is always headbanging and living the live experience to the full, he never stopped banging and he played flawless all the way until the very last note of the concert. They also had a session keyboard player who i donít really know who he was, a friend of mine said he's the keyboard player of Spiritual Beggars.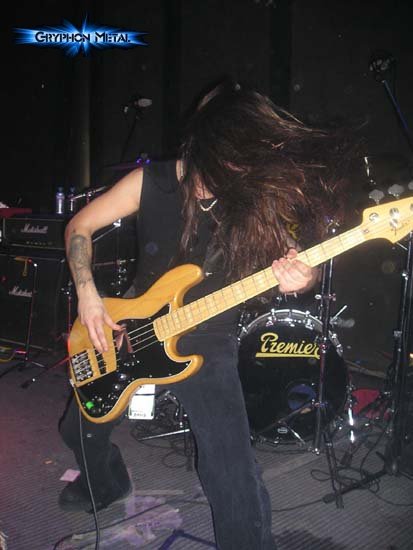 It was a magical night, everything was perfect. The band was in a very high form, their set list was very well prepared and the crowd was really good. You could hear every lyric sung by all the people no matter if it was a fast metal song or a slow ballad. Especially in the quieter songs the mood in the venue canít be described. This band offered us a majestic experience and i canít believe that there are any people who didnít like this show. Donít miss this band if they play somewhere near you. And to all Opeth fans who havenít seen them live yet, i must say that the feeling they create in their studio albums is reborn in their concerts. Definitely!
Dimitris Theodoropoulos