28.05.2003
---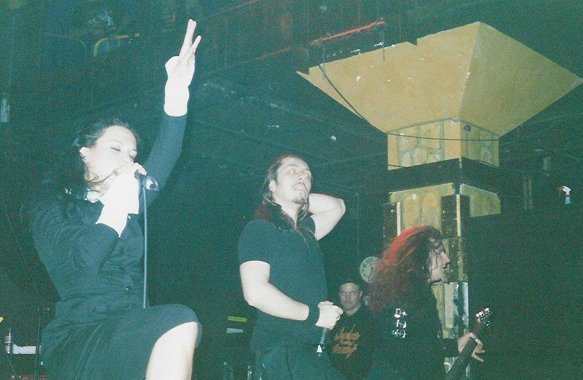 Beyond The Embrace, Lacuna Coil, Opeth + Anthrax
5/20/03 @The Quest and First Ave in Minneapolis Minnesota

PICS BY: © Matthew "Matt" Haumschild
REVIEW BY Matthew "Matt" Haumshild
The public use of these fotos
is strictly prohibited without written permission.
What a day! With this combination of bands you can't go wrong! It was probably a good thing it was on a Tuesday because if it were a Friday or Saturday night it would have been impossible for me to get in at First Ave. But I'll get to that later.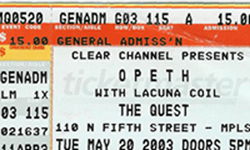 The Quest was packed! I hadn't seen that many people there since I saw Judas Priest there last year. I got there really early so I can get in the front for at least Lacuna Coil. Lots of people there all ranging in ages.

Beyond The Embrace.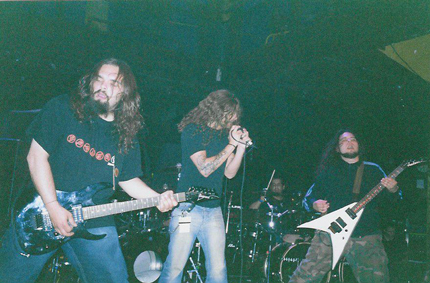 It was kind of funny at first. There intro music hit (the theme from Terminator 2) and…the amps on the left side of the stage, weren't even turned on. After the intro music was finished, the singer, bass player and one of the guitar players were just standing around trying to get the other two guitar players amps on…it was kind of embarrassing. Yes you read right, BTE has three guitar players. When they finally got the amps up and running, ten minutes later…they started into their set. They actually didn't sound half bad. The singer really reminded me of Jason Lee in looks anyway. Jason Lee has been in all the Kevin Smith films incase you didn't know. The long of the short of it…they sounded great however, they could have gone out without one guitar player, two guitars is more than enough also I'd like to point out that basically, the bass carried the majority of there songs. That is something I didn't expect from a band that had three guitar players. I bought their CD after the show, it actually sounds very good. I recommend checking out this band.




---

I am very fortunate to see this band for the second time. I love this band, anyone who knows me knows that LC is my favorite all around group. LC opened up their set with "To live is to Hide". Usually when I see pictures of this band live, Christina is usually wearing a red dress, tonight as you can tell by the pictures, she's wear this very tight short black dress with short black pants that go just to her knees with black boots. To die for that's all I'm going to say. The rest of the band were wearing their usual stage attire, which still looks better, then any band I've seen. LC is probably the best dressed and best looking band the world has to offer. Back to the music aspect! They came out and the entire band was grooving to the song! It was the first time I had seen Christina headbang! They sounded absolutely flawless! Regarding LC's set, they played mostly songs from Comalies and Unleashed Memories. This was only part which was a disappointment, they didn't play anything from In a Reverie or anything from their first album. I can live with that though! Christina also changed the way she sang the last verse of "Tight Rope". It sounded great. The songs they played included, "To Live Is To Hide", "Swamped", "Heavens a Lie", "Senzafine", "Daylight Dancer", "Tight Rope", "When a Dead Man Walks", "Humane" and that's all I can remember from the top of my head in no particular order. All in all, the band was great. You cannot get much better than Lacuna Coil period!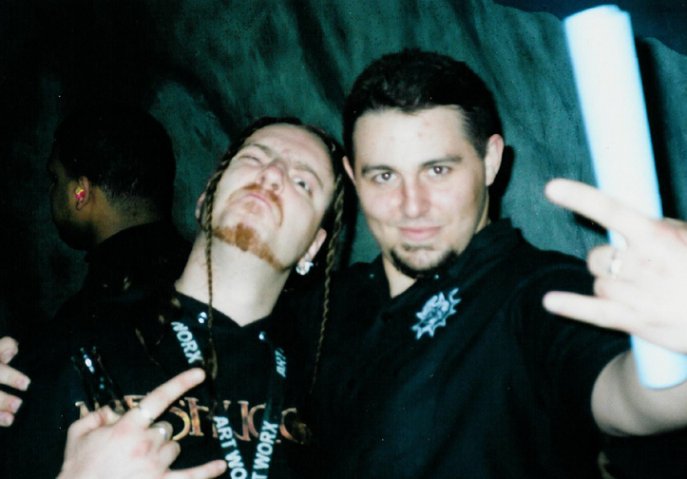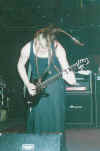 ---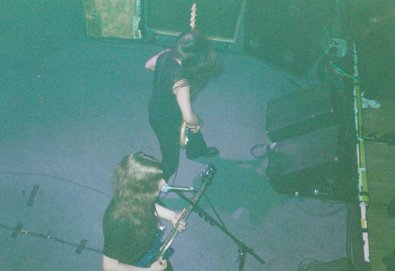 After I got done watching LC, I was exhausted! Can you blame me? I work behind a desk all day I'm out of shape! I walked upstairs to the balcony area, got a beer, watched Opeth tear it apart! Opeth played a lot of music I wasn't completely familiar with. According to the hardcore fans at the club I talked to after the show, Opeth played songs from Still Life, Orchid, and Morning Rise. Songs I wasn't familiar with. I can tell you they opened up their set with "Leper Affinity". They also played "Fair Judgement" and the title track "Deliverence". Opeth put on a stunning performance. My favorite track they played was "The Drapery Falls". Mikael Akerfeldt's voice was just flawless during that song. He had also mentioned that in July, Opeth is going to start touring and promoting "Damnation" in the U.S. they are probably going to do something similar in Europe. It was also Martin Lopez's birthday also, and the entire club sang happy Birthday to him, it was great. Opeth, there are few bands that perform at the level they perform live at. Opeth is also a band that is very hard to classify. Opeth is great, they put on a great show, if you haven't seen them. You must.





---
During Lacuna Coil's set, Andrea mentioned that Scott Ian from Anthrax was in the club watching the show and that Anthrax and Motorhead were playing 3 blocks away at First Ave. I thought that show was a week away, I was mistaken! Andrea invited the whole crowd to see Anthrax after Opeth was done. I went back to my car to drop off all the stuff I bought from the show, and proceeded to First Ave.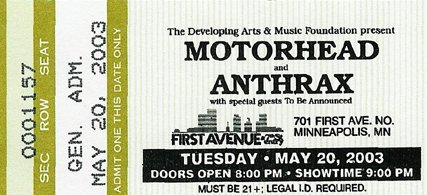 Anthrax.
At this point I was quite tired, and Lacuna Coil really kicked my ass, I was basically going to stay for Anthrax and go home. First Ave was packed too! There must have been 5000 people out and about that night. A few minutes after I got the club, Anthrax came on. This is my first time seeing this band live. I only own one CD of theirs, the funny part is, the very first CD I ever owned was "Sound Of White Noise". If I had known ahead of time, I would have bought extra film! This was the first time Anthrax had played in Minneapolis in seven years! The majority of people at the show were there to see Anthrax.
I am only vaguely familiar with their old material, actually to be honest; I wasn't very familiar with any material outside "Sound Of White Noise". Anthrax, basically came on and kicked ass! WAY better then I expected. I was expecting some 80's sounding metal. I was mistaken. Since I was 16, the generation that came before me were saying that Anthrax, were the "God Fathers" of Metal and thrash. I know why now. Anthrax is probably the most underrated band touring today. They have so much material to choose from, fans ranging from 16 to 35 were all there to see Anthrax. Anthrax played a spectacular show. They played a few tracks from their new CD "We've come for you all" which I think is out now. Anthrax's set comprised mostly of older material such as "Anti-Social" and songs from that era. I was VERY happy when they played "Only". I knew all the words to it, I physically haven't listened to that CD/song for two years. They also played "Black Lodge" for those counting. If you haven't seen Anthrax and you need a dose of fast thrash metal, there the best at it in my opinion without growling or screaming. I'm getting their new CD how about you?

By Matt Haumschild