ORPHANED LAND:"All Is One"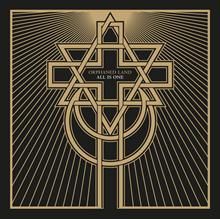 All Is One
The Simple Man
Brother
Let the Truce Be Known
Through Fire and Water
Fail
Freedom
Shama'im
Ya Benaye
Out Own Messiah
Children

http://www.orphaned-land.com/

https://www.facebook.com/OrphanedLandOfficial
Lineup:

KOBI FARHI - Vocals
URI ZELCHA - Bass
CHEN BALBUS - Guitars, Keyboard
MATAN SHMUELY - Drums
YOSSI SASSI - Guitars, Acoustic Instruments

Label: Century media
Year: 2013

like us at FACEBOOK http://www.facebook.com/GryphonMetal
A disc full of good music.
Orphaned Land returns to us without any compromise to what we know of the band. In other words, it sounds exactly as the listener expects them to sound like which is a good thing; for if you really like the band, you'll love this album. For those of you who are not as familiar with the band, Orphaned Land isn't the typical band you could hear anywhere. Orphaned Land is a mixture of Middle Eastern/Israeli folk music blended with elements of rock and metal. The title track and The Simple Man has that Orphaned Land sound we all come to expect from the band, along with excellently sung lyrics, crunching guitars, dynamic drumming, the bass playing that isn't just playing along with the guitar playing, etc. What I really dug about these two songs is what they represent. They're not the ordinary run of the mill style of songs and compositions. There's a lot of depth to them. If I had to compare it to another band, I'd almost compare them to older Dream Theater only less guitar masturbation and more emphasis on culture and melody.
In my previous paragraph, I eluded to Orphaned Land's sound: In this album, the band incorporates violins, a choir, and other hand drums making their sound very distinct. In addition to the instruments sounding they way that they do, the lyrics in Brother and Shama'im are sung like ethnic middle eastern music which is something that isn't found in modern rock or metal music. Aside from everything else, in comparison to metal music, there are not a lot of metal sounding songs on this record. But I would classify it as a disc full of good music that has something for nearly everyone. This is a traditional album for this band because they are a middle-eastern folk band with metal guitars. Our Own Messiah is no exception to this.

I was a bit amazed at the production. Everything was edited to perfection and nothing was over done at all. Frankly, I wished more albums had this type of mixing quality. Nothing is slamming to the point of annoyance; the singing isn't screaming through the mix, the guitars aren't over powering, etc. I am quite pleased at everything. Also, the marketing the band did on Facebook is worth something of note. During the recording process, they kept their fans in the loop on the progress of the recording all the way to the album release date. If a fan posted something, more times than not, someone representing the band would reply to it. I think that is a great public relations that every band should take note of.
This is a fantastic album. If you're looking for something that doesn't rip your face off and want to add a little flavor into your portable music device, get this album. If you've listened to other Orphaned Land albums before and like them, get this disc or download it. I give it my stamp of approval.

8.5/10

comment this review at FACEBOOK

http://www.facebook.com/GryphonMetal