Many of the "new-young-sharks" should listen to what this old veteran still can do
After more than 2 decades of career, OVERKILL is back with a 14th album named ReliXIV (read Relic 14). As you all know, the band doesn't live the most successful period of its career! As an old member of the thrash metal community, OVERKILL lived a real bad period in the 90's (remember EXODUS, DARK ANGEL, SANCTUARY, FORBIDDEN, CANCER, CORONER, NUCLEAR ASSAULT …).
However, our 2 old relics (ahahah!) DD Verni (bass) and Bobby "Blitz" Ellsworth (vocals) are still alive and back to severe kick your ass with this new release!!!!
Indeed after a 1st listening of the album I must say I was really pleasantly surprised. The opener track Within your Eyes is a good sum-up of this new vintage: after an oppressive intro you get caught by a slow and crushing riff which gets stronger and faster till all the artillery comes into the battle! A 1st track really energetic with many rhythm changes and typical vocals full of hate from Blitz. After this one you're sure the band is inspired and ready to kill like for the 1st time. A heavy one!
Then it's Love (no don't be afraid…). According to me, this one's a great step forward and shows a new face of the band: different sounds of guitar, new kind of vocals, and most of all a brilliant construction with many different rhythms (just listen to the great job of drummer Tim Mallare!). Those who think OVERKILL can't develop new material should listen to this one… they would be surprised!
Loaded Rack and Bats in the Belfry are in the purest tradition of what our New-Yorkers are used to. However the songs are more inspired than in the last albums and will remind you great releases like Horrorscope (1991), W.F.O.(1994) or The killing kind (1996)… trust an old fan!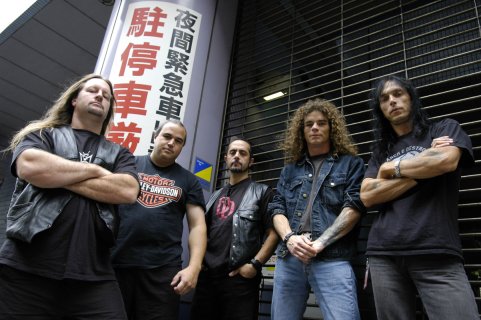 A Pound of Flesh is the best title for sure! No time to breathe, you're crushed from the 1st second by the massive sound of the guitars and the supersonic rhythm (once again what a great job by Mallare!). Everyone gets crazy: Blitz spits his guts just as if he was about to die while Dave Linsk plays killer riffs and solos everytime! Sure a pure killer track.
Keeper is in the continuation of the previous songs: after a first half quite heavy in mid-tempo it gets frenzy with a real fast section and a great chorus! Not the best but a good one really heavy and intense.
Wheelz and The Mark are good examples of what OVERKILL learned from the past. Indeed even if these 2 tracks are in a real classical vein (heavy mid-tempos) the band developed on each one interesting middle sections that they wouldn't have played (or tried) before. Especially on The Mark, the 2nd half of the track is really inspired and creates a great atmosphere.
Play the Ace is another highlight of this new album: like a trademark the first half of the song is really heavy with a slow chorus, then in the second half it's just pure frenzy: once again a real fast rhythm with a great solo by Dave Linsk.
Finally a funny track named Old School which reminds us OVERKILL did not forget their punk influences. A short song with a "drinking" chorus but a fuckin' great guitar solo!
In conclusion, I think this ReliXIV is a real good vintage and deserves a place in all metalheads cd-collection. Of course this new album won't be a hit or the new sensation in our community but, as always with OVERKILL, you'll be sure to get a pure metal album coming from the heart. I personally think that many of the "new-young-sharks" should listen to what this old veteran can still do…they would probably realize what is the real metal attitude!
rating: 8/10
Favourite tracks:
Love, A Pound of Flesh, The Mark, Play the Ace
---