"The monsters that are at our door"
KAIJU (kaijū, Japanese) Giant Beast.

JAEGER (yā'gar, German) Hunter.


"When I was a kid, whenever I'd feel small or lonely,
I'd look up at the stars and wonder if there was life up there.
Turns out, I was looking in the wrong direction."



The sci-fi action adventure "Warner Bros. Pictures and Legendary Pictures Pacific Rim." may be affected by gigantism and may be a kind of fusion between Gozilla and Transformers, spiced up by elements from other sci-fi movies, but it is a very
impressive film which proves that a good director makes the difference. Oscar® nominee Guillermo del Toro ("Pan's Labyrinth"), who directed the epic sci-fi action adventure "Clash of the Titans" and "Hellboy" and "Hellboy II: The Golden
Army" is indeed a very good filmmaker.
Pacific Rim is a film with colossal effects, some humour, tempo and action, it is worth to be seen in 3D.
The story shows an interesting development, the actors are satisfactory: "Pacific Rim" stars Charlie Hunnam (TV's "Sons of Anarchy"), Idris Elba ("Thor"), Rinko Kikuchi ("Babel"), Charlie Day ("Horrible Bosses"), Rob Kazinsky, Max Martini,
Clifton Collins, Jr., Burn Gorman, and Ron Perlman (the "Hellboy" films). The 3D effects are among the best ones i have seen till now.
The post-apocalyptic yet technologically advanced atmosphere builds up a strange sensation of war, decadence, mixed up with progress and victory. del Toro's behind-the-scenes team includes also Academy Award®-winning director of
photography Guillermo Navarro ("Pan's Labyrinth"). The film is able to be very brutal and ferocious with lot of action without being a true horror sadistic film.
The monstruous enormous creatures are a form of "Kaijus", coming from a kind of
wormhole which doesn`t open in the space but in the structure of our Earth. They emerge from a rift in the Pacific Ocean's floor, called "the breach", to assault the coastlines from Alaska to Japan and to Australia. They are sent as destructive
force (like they were biological titanic weapons) from an alien race who wants to invade the planet.
Guillermo del Toro explains: "You have the reptilian Kaiju; you have the insect Kaiju; you have the crustacean Kaiju. Now and then you have the sort of cephalopod Kaiju, the octopus or the squid, but not that often. Then you have the really completely
'out there' Kaiju. I wanted to represent some of those groups. I wanted the battles in the movie to occur in completely different environments every time, so the first battle doesn't look like the second battle and then the third battle is completely different than the fourth one. You can get more out of it."

These "behemots" who ascend the deep of the sea from another dimension unleash a cataclysmic menace to the human race. To combat them, mankind has just one possibility: to build (almost) equally enormous and ferocious units, called "Jaegers".
Jaegers are gigantic, fighting robots controlled simultaneously by two pilots whose minds are directly connected one another through a neural bridge, called "The Drift." Well, even Ripley fought the Alien Queen in a hydraulic exoskeleton, the Loader.
"What is compelling about Pacific Rim is that in order to drive that robot you need to be very, very intimate with someone,
instantly," Del Toro explains. "It's almost like forced automatic intimacy in order to drive a robot. So the pilots are very special. The pilots need to be people that are spiritually and physically very prepared. They have to be great
fighters, but they also have to have a personality that allows their qualities and their defects to be instantly seen by somebody else and not be ashamed of it, to be able to function."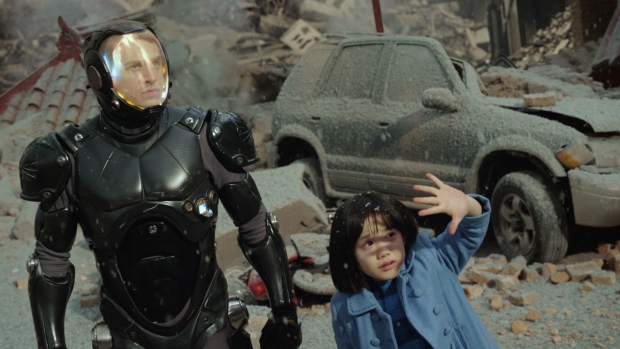 As even bigger alien monsters cross the portal at faster rate, showing adaptation for fighting the Jaegers better and better, the Jaeger program, under the supervision of commander Pentecost, is no longer seen effective and will be terminated. Only 4 remaining robots carry the responsability to stop the monsters and close the rift before it is too late.
The 4 Jaegers are: Gipsy Danger, from the USA; the Chinese Crimson Typhoon; Russia's Cherno Alpha; and Striker Eureka, from Australia. The battle aginst the monsters seems anyway lost until the two protagonist pilots— Raleigh Becket (Charlie Hunnam) , the former pilot of Gipsy and Mako Mori(Rinko Kikuchi) , a still untested trainee take the command of Gipsy Danger and join the battle as formidable duo... del Toro observes: "In the time the film takes place, we tried to show a little of how society would be altered and geography would change. There's a whole domino effect caused by these creatures showing up on our shores. We didn't want it to look too futuristic because I think what would happen is the reverse. All our technology would go to creating weapons to fight them, and other advancements would slow down."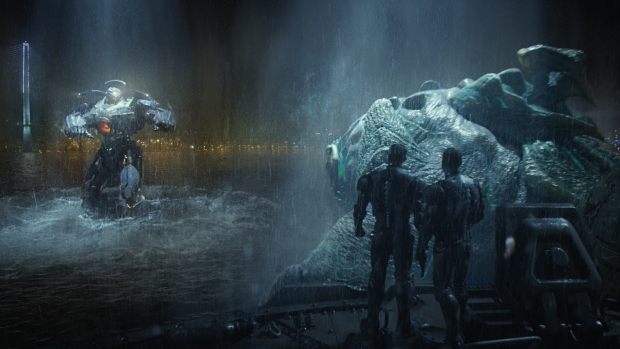 Great actor Ron Perlman finds in this movie finally again a good role with black humour. Ron Perlman portrays Hannibal Chau, who has profited from selling Kaiju parts on the black market. Perlman says "He's a pure hedonist; he likes to be
surrounded by rare, exotic things and has allegiance to no one and nothing except his own insatiable appetites. It was a delicious role to play because he is utterly ruthless and unpredictable."
del Toro says: "Hannibal is a pirate. I knew Ron would have fun with the role and let the audience have fun with it, too. He created a character I think they will love to hate."

In this movie, colours play an important role: Hannibal Chau's Hong Kong den is a colourful set, Shatterdome, the Resistance's fortress on the water is yellowish and somehow rosty and decadent; Hong Kong is represented as a war zone. Lake
Ontario is the white ici Alaska beach where Raleigh, in his defeated Gipsy Danger, comes ashore in the initial part of the film.
Moreover "Pacific Rim" was shot using the RED EPIC camera, the first time del Toro has used a digital camera.

Another positive thing of the film is that the magnitude of the events is well balanced by the personal stories of the protagonists.
Crazy characters are the two scientists representing, in my opinion, the two sides of science: the exact and the empiric one. Dr. Newton Geiszler will establish a mental connection with Kaiju brains and will discover the importance of the Kaiju genetic code, which is the only key that allows to enter the rift.

Crossing cultures and enhancing solidarity are vibrating messages, as they were in Emmerich`s movies too. Charlie Hunnam, who stars as Raleigh Becket says: "The characters in the film are at the eleventh hour, and the only way they can overcome this colossal danger is by coming together and forgetting all their petty differences, be it nations or creeds or backgrounds.
The one thing mankind has proven time and time again is that we can overcome any obstacle that we set our minds to, and I think that message will resonate with audiences."

del Toro says: "I want this film to be an inspirational adventure, like the movies I used to watch as a kid. It is my hope that after you see 'Pacific Rim,' you'll want to be a Jaeger jockey. No matter what age you are, you'll want to jump on board a Jaeger and head right into a Kaiju brawl."


Cinematography and imaginary alien invasions apart, this film lets me think one more that mankind can really find escape from its biologic limits only by building up colossal machineries or by using microscopic devices. Cars, excavators, trains, aeroplanes: in our everyday life surely we don't fight Kaijus, but we do want to be faster, stronger and mightier in cocoons of metal and motors. We are sorrounded by hundreds of
things that expand our biological abilities. The human brain is able to create and use artificial (and even lethal) organs as no other known species does or did. In my opinion, this is the true gigantic thing.



"We want people to be taken by the spectacle and the sound and fury", del Toro says, "but it is all meant to illuminate the courage of the central characters. Physically, the human beings are the smallest thing in the movie, but their spirit is the largest thing in the movie."
Pictures copyright © 2013 Warner Bros.