The band was in Athens to perform in the second day of the Athens Open Air Festival but after the cancellation of their day they decided to play an acoustic show in a small metal club in Athens. The official Greek fan club of the band was present there and it was those guys that provided the band with musical equipment to play. Four out of the five members of the band in a small corner of the club, the fifth member being the keyboard player who didnít have an instrument to join with the others. The drummer played on a tambourine or something like that. Also in the club members of Katatonia were present.
They did a short set of about 45 minutes with their instruments being very quiet due to the unplugged acoustic guitars and the absence of amplification but those 25-30 fans present there didnít have any complaint. It was a unique concert to see such a band play for so little crowd like a big company of friends. Before and after the show the band signed autographs and took pictures with us.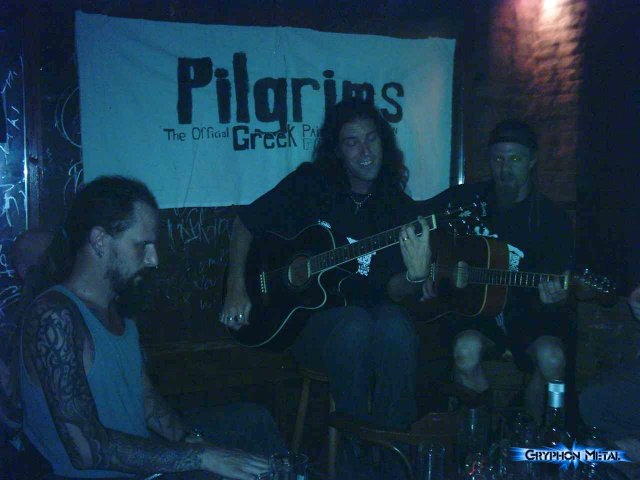 Concerning the show, as far as I remember, they played songs mainly from their last record "Remedy Lane" but they didnít forget their first album. The thing that I liked is that although they played a very quiet gig and with acoustic guitars they performed their heavy stuff as well. From their last album they did Ending Theme, Undertow, This Heart Of Mine and Second Love. They closed with Ashes from their previous album. In this gig I also had the chance to chat with Daniel and learn that "Remedy Lane" was actually written from a personal experience of himself and that their new album Be will get a release date for September. But the best thing that they said was that they will visit Greece in autumn for 2 shows and then they mentioned the possibility for another 2 dates a bit later for unplugged shows. I hope all goes well and they do what they said.
It was a unique experience, Pain Of Salvation is one of the most talented bands and one of the few bands that have only excellent albums until this point of their career. Thank you guys for offering us such a cool night full of wonderful music!