Superb combination of melodic, melancholy tunes with heavy, sharp and cold elements
Jelenes - First impressions on 'Paradise Lost' are that this album containing 12 tracks is quite short. Approximately 45 minutes. All songs are therefore short, only the last track is longer. However this shortness is not a bad point. Indeed right from the first listen these new songs sound powerful, sharp and dark, conveying a feeling of strength, energy well balanced with emotion and yes…enthusiasm! Other noticeable points are the ever present guitar sounds; whether lead or rhythmic guitar, this album is definitely guitar-oriented. Then the vocals (though personally this was the first thing that sprang to my ears) is the diversity of Nick Holmes singing. Aggressive, powerful, deep but also emotional, sometimes delicate, almost fragile, Nick's voice creates soundscapes with a lot of feeling and accuracy. Of course lots of people will wonder how the drums are. Well they're very good. Totally professional Jeff Singer has integrated the new musical ideas of the band. His drumming just fits and supports at the same time the new compositions. He's playing tight without 'fioritura' and not at all demonstrative, like a young, over enthusiastic though talented drummer could be. Jeff Singer does not fall into the trap of the 'newbie' who wants to prove himself. His diverse and solid experience guarantees a quality job.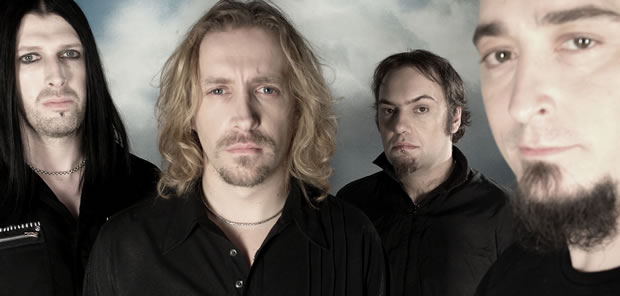 And what about the sound, the production? For the second time Rhys Fulber produced a Paradise Lost album. The result one must admit it is admirable. Though what we hear is NOT the definitive mix, the production seems excellent. All instruments, from vocals to drums, via guitars, bass, keyboards and electronics are perfectly mixed. They all seem to be on the same level. There are no dominants and dominated. Rhys Fulber achieved a real 'tour de force' for this new production.
Overall this album is certainly more homogenous than the previous one 'Symbol Of Life' and really accessible. Concerning the structure of the songs one can notice that they are simple and go 'straight to the point'. As said earlier the songs are short, so don't expect any experimental deliriums. Absolutely recognizable the identity, the personality of the band -though what we hear are new compositions- their interpretation bears the PL trademark. Paradise Lost offer us a superb combination of melodic, melancholy tunes with heavy, sharp and cold elements that will rejoice metalheads and gothic souls alike.
Typical unmistakable guitars in foreground
dalia - I agree with everything Jelenes points out! The grace, the natural flow but also the care put in this album makes appear these straight to the point and short tracks yearn for the sky. Paradise Lost X has a quite big amount of immensity inside, together with much Metal vibes and rocking Modern Gothicism. . The best elements of One Second, Believe in Nothing and Symbol of Life are totally re-interpreted and placed into the ambience of Icon, so beloved and never forgotten by the metal fraction among the die hard fans of this legendary group. The result is amazing cause the music is indeed always coherent in every song nonetheless so rich in "nuances" . Sometimes fragile, sometimes cold, sometimes transparent, sometimes incredibly heavy, Paradise Lost, as my colleague Jelenes has underlined, puts the typical unmistakable guitars in foreground. Aaron Aedy's powerful and energetic rhythms bite, strike and push again during the mighty bursts of energy as well as as propelling support . While Mackintosh's haunting lead guitar is arousing weeping or crude'n cutting emotions. Though, imo, Paradise Lost (X) doesn't top Icon , as metaller i can say that it is actually the best album after Draconian Times, at times even achieving to seriously compete with DT, without abandoning all the most Gothic and New Wave tendencies that followed afterwards. Like if involved into a bio-transformation even the Bin and Sol fans will admit "yes this is Paradise Lost!".
Diversity, but also and almost paradoxically homogeneity
Jelenes - Among this 12 tracks album the most noticeable ones to me are opener Don't Belong, Grey, Redshift, Accept the Pain, Shine, Spirit, Forever After and Over the Madness. However the more I listen to this new album the more ALL the tracks grow and grow in me. To present as synthetically as possible this new album, here are some considerations on 4 songs. As you will see, diversity, but also and almost paradoxically homogeneity, strength, emotions, melody are all present. This is PL in top form, inspired but above all this is simply and unmistakably PL.
Don't belong starts off with piano notes and keyboard layers which sound modern, Nick's voice floats, soft, melodic and natural creating an atmosphere of sad delicacy and coldness. This atmosphere is soon shattered by an aggressive guitar riff and heavy rhythmics that will stress the cold side of the intro and develop into a short metal part. Then back to the sad delicacy, now supported by all instruments that design a cold and dark scenery in which Nick's voice represents the only human element. Slightly Epic, this track is a strong and efficient opener with a nice guitar solo at the end enveloped by keyboard layers. A track that could really suits as a sci-fi, apocalyptic movie soundtrack.
Absolutely catchy, Grey will surely be a killer live! Energetic, lively, melodic with a touch of melancholy like PL are able to do, this is a very agreeable song that will remain stuck in your brain right from the first listen, thanks to its lively and melodious chorus. This is exactly the type of songs that lead the listener to participate into the effervescence the band is creating.
Accept the Pain has certainly the most Gothic 'personality' of all the songs from Paradise Lost X but is nonetheless a Metal song. This is a superb concentrate of the elements that define what PL are: Dark Goth, Metal, Melodic. Catchy in its own way, this track can have a good impact in a live situation. An important aspect of this song is the fantastic, well-wrought vocals part, that span different tonalities from soft, natural, also fragile to aggressive, deep and powerful notes.
Over the Madness, the closing track (and also the longest) will surely rejoice those who loved the heavy, doom facette of the band. The guitar here is the engine of the whole track. Heavy rhythmics, slow tempo, a song going crescendo in the emotional scale, which eventually bursts into a superb, refined, full of feeling guitar solo that will probably brings tears into the nostalgic people's eyes, and will definitely gives you the creeps. A strong, emotional, very moving song closes a beautiful new album.
Outbreaks of cult Iconian "metallic" soundscapes totally surface in exquisite songs. A combination that shows "spirit"
dalia - One of the most brilliant factors is that the sorrowful and dark atmospheres, captivating and addictive, are no longer so desperate now. A ray of light tears somehow the veil of suffering in pieces . Outbreaks of rhythmic heaviness and the cult Iconian "metallic" soundscapes totally surface in exquisite songs like Don't belong, Sun fading, For all you leave behind, Laws of Cause, Close your Eyes, For all you leave behind, Accept the Pain, Shine, Spirit, Over the Madness. The blazons in which the Metal reactivation is more enthralling. I'd like to remark the short but interesting presence of a kind of cosmic breath, a kind of exhaled respiration that closes Sun fading: it will grow noticeably among the symbols of metal, as well as a drumming with slight military call to arms features. Forever After, chosen as single though it doesn't reflects the whole album, and Over the Madness guest the female voice of Heather Thompson from Tapping the Vein. What i like more is that this nice female appearance becomes complementary to Nick's vocalism, without stealing nothing to the band, nor to Nick Holmes himself, whose way of singing is so mesmerizing and elegant. Heather just enhances a sense of sexual universality and angelic androgyny. Forever After is taking care about the club aspect of the album carrying on what Erased began but with more guitar moments. The melodic atmospheres are preserved in Grey, whose final is amazing, and in Redshift.
Don't belong is superb with its strength that grows tidelike, with its fabulous piano and orchestral strings so decadent and fascinating like Venice, with the pitiless lead guitar that hurts deep the heart with so an intense evil romanticism .
In the tight and lively For all you leave behind the essence of Channel for the Pain is completely and more enjoyably redefined meeting the Icon era. The icy but lively Accept the Pain rocks and rolls a lot in the wake of Rapture, being another hit of X, radiating also a sort of Draconian Time appealing . Shine wonderfully reshapes with pride the feeling of I am Nothing enriching it with more energy. The strong Spirit shows a modern Epical frame based on I Despair and Christendom facettes , with final guitar tunes that even remind of Forever Failure. Cool that in spite all this, Spirit sounds anyway so relaxed and unpretentious. Already in I don't belong but above all in Over the Madness we can finally taste a re-newed Doom instinct with a particular dissonant refrain . Over the Madness delivers also an harmonic almost Pink Floyd-ian final guitar solo which administers the last touch of balladesque sorrow.
Final aura of the opus: the cover art. Paradise Lost (X) is adorned by the awe-inspiring design by Seth <H>, unforgettable Septic Flesh master mind, the one who with its digital graphics supported bands like Septic Flesh (obviously), Rotting Christ, Heaven Shall Burn, Caliban and Chaostar, among others. The one whose influences span from ancient Egypt and Sumerian art to German expressionism and post-war expressionism passing through Leonardo da Vinci and H.R. Giger. His hard though romantic vision perfectly matches the icy transparent and heavy chords of Paradise Lost bringing us in a surreal world of bio transformation between man and woman, aggressiveness and delicate elegance, sky and water.
Everything is perfectly balanced: Gothic, Modern and Doom, Metal heaviness and melodies, graphics, orchestral elements, electronics, bass, guitars and drumming (though, considering the orientation of this album , imo Jeff Singer doesn't magnetize in the same way Matt Archer did, but it's understandable) . A pleasing and fresh combination of elements. A combination that shows "spirit" .
rating: 9.5/10
Jelenes and dalia di giacomo