PRO-PAIN "SHREDS OF DIGNITY" TOUR 2002
GIG AT KULTURWERK 118 - Sursee (CH) www.kulturwerk118.ch www.pro-pain.com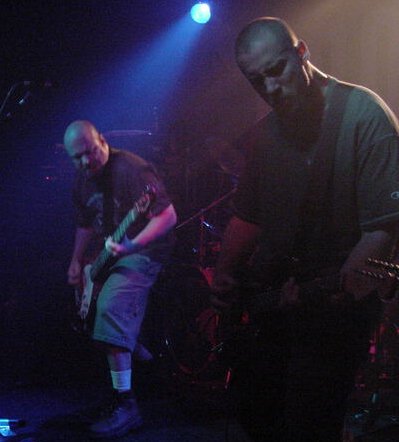 review by dalia di giacomo photos © by Stefan Vogelaar
The public use of these photos is strictly prohibited without written permission.
more photos are now no longer online and available only on demand.
---
Venue: Kulturwerk 118 at Sursee (www.kulturwerk118.ch). Date: 21/04/2002. A brilliant gig. Protagonists: Pro-pain + 2 support acts, "Against All" from Usa and "Px-Pain" from Switzerland.
The venue was crowded and people really good mooded. The audience , contrary to what one could think, was very diversified cause there were not exclusively hardcore fans , but also nu-heavy -and death-listeners. This is a sign of how Swiss audience is interested to good music (yes, cause, personal tastes apart, objectively, Pro-pain is a "number one" band), and consequently, no wonder if Pro-Pain themselves can count not only on a "die hard" fan base, but also arise the sincere interest of a larger spectrum of listeners, who surely are not disappointed in seeing them live. People at Kulturwerk have enjoyed every moment of the whole performance, me included! That's for sure.
First band on the stage was Against All. Hard and solid they have warmed up the crowd that showed to like their music pretty much. Though their musical schemes are not the more varied ones, their tracks are catchy and good structured and enough powerful. No mistakes were done, the engagement of band members was valuable, enthusiasm in playing even more. particularly good were vocals and a good self-assurance in playing guitars. Applauses, applauses and moshing and headbanging...!
Once Against All left the stage (let's say so), after a short break, the second band was on the stage: result- crowd really excited cause they were the local heroes: Px-Pain is their name and are one of the most active independent bands in Switzerland. They show a very good experience and indeed have already played with well known acts like Slayer, Biohazard, Sick of It All. They present an absolutely aggressive music, full of power, with many tempo changings, cause, though being a "bonecrushing" metalcore, the schemes proposed are absolutely varied. Not always in my opinion the result is very "harmonious". In particularly drums sounded a bit too much high and sharp, but the ability and the highly positive impact of this music on the people is out of discussion. Just another confirm of how incredibly good young Swiss bands can be in every genre of the so called metal scene. Vocalist Dani knew how to add fuel to the fire (not by chance "Add Fuel To The Fire" is the title of their last MCD) (www.px-pain.ch) . The thrilling moment of Px-Pain performance was when Gary Meskil himself appeared on the stage to perform a short but intense duo with Dani. The hit! It was clear that these three bands , also because touring together, are considerably in agreement: they share a similar musical style but it's not all. They still find authentic joy in playing together for their fans, co-operating, joking, laughing, listening together . Very often, members of a band appeared on the stage when the other band was playing, otherwise they followed the performances near and among the crowd, many of them headbanging and moshing among their fans. This nice solidarity and friendship among acts, including the big headliner, is not very common to be seen, and therefore it deserves to be remembered, underlined and described.
Gary Meskil and Px-Pain
In an excited atmosphere finally Pro-Pain!. The power of their sound and their rhythmics was totally high quality. Veteran experience is not water, and the metalcore legend fully came up to everyone's expectations. No one got disappointed. Gary Meskil and co. developed their gig with inexhaustible energy. Really hard they played tracks from their new "Shreds of Dignity album" but also many from previous releases, without that people was getting tred at all. Neither was the band, cause breaks were short and song followed song with implacable rhythm. Aggressive and strong voice, energic bass tunes, perfect mixed heavy metal, hardcore - trash catchy tunes, even some good lead guitar solos : these were the ingredients of the success. No one single weak moment, supercharged attack. Particularly appreciated was track Fuck It. Acclaimed by the audience, Pro-Pain ended their gig with an encore and the greetings to fans and supporting acts. I will use one single word- wonderful!



Setlist:


Stand Tall -
No way out -
the Shape of Things to come -
In for the kill -
Casualties of War -
Gone Fishin' -
Life's Hard -
Get Real -
Fuck it -
Draw Blood -
Fed up -
Shine -
Make War not Love -
Political Suicide -
The Stench of Piss -
Foul Taste of Freedom -
State of Mind -
Switchblade Knife -
Pound for Pound.

zum Seitenanfang

top - inizio pagina
---
© GryphonMetal.ch 2001-2004Niederrohrdorf - Switzerland contacts