Dear metalheads, what do you think Rage have prepared , after the well known "Welcome to the other side"?. Something softer? Something heavier? Ok here is the answer: the already mytical trio (Wagner/Smolski/Terrana)has prepared for their fans, and for all who love an intelligent kind of heavy/power metal, a real fantastic firework of virtuosity mixed with a touch of mature sadness. This is a very engaged work that has nothing to do with the consumer listening model: use and then throw away. It is not an easy album cause it shows countless virtuoso playings and for being fully appreciated in all its shades and tones it needs surely a second listening, oh but how much this attention is worth!. Catchy powerful refrains and riffs are supported by a big musical competence and ability. Time to grow for the power metal , a way that many bands have aleady undertaken. Here Rage balance absolute self-confidence with instruments with power, melody, and melancholy. Nevertheless a certain wish for experimenting new horizons is not ignored. Songs are also supported by a very good background soundscape which fill up the empty spaces with a touch of orchestral accompaniment where strings and electronics merge in an agreeable discretion without covering the heavy and aggressive guitars which remain under spotlight. I'd like to add a big praise for drums which suit to the ambience, resolute, full-toned without beeing too sharp.
So, this album represent also an artistic unity for the 3 Rage members (one coming from Russia, one from America, and one from Europe) who combine their experience with an excellent result in their straightforward metal chords.
And some general but significative news: Rage have recorded "Unity" together with Charlie Bauernfeind in the Blind Guardian Studios near Krefeld. Hansi Kürsch (Blind Guardian) and DC Cooper (Silent Force) can be heard on "Unity" at the background vocals. The artwork has been created by Joachim Luetke. At Luetke's site (www.luetke.com ) you can also download beautiful Rage-Unity screensavers. Last but not least the White Russian Opera Choir perfects the album.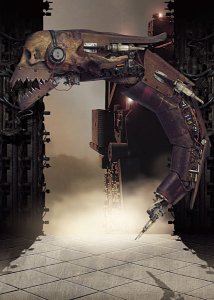 Now the tracks:


ALL I WANT
Impressive opener . An anthemnic visit card for the whole album: from the beginning motor roaring and the heavy almost militar drums supported then by the entrance of angry guitars , Rage express immediately their intentions. Full of power and with a hammer catchy refrain "All I want" is a cool song. I must say that not all notes are so fluent as those ones of the refrain, cause in this song there is a big room for a certain experimentation. It could be less elaborate and maybe the result would have been even better. Anyway "All I want" presents a very high technical level. "Our" trio cleverly shows, already in this first song, power and instrumental ability.
INSANITY- valuable song, fast,strong,with changes of tempo, but melodic enough, maybe less technical than All I want, but more catchy , a genuine intelligent power/heavy metal. Good solo and good vocals.
DOWN - Typical heavy/power of best nature. Implacable, aggressive and heavy guitars, uptempo killerriffs and solos are the leading characters of this song. Every tone and every beat is good articulated , perfect balance between catchy melody and rhythm. "You're going down -I see you going down" often says Peavy with clear but angry voice.
SET THIS WORLD ON FIRE - Beginning with a fretless bass and an acoustic guitar, with slow and melodic tempo, one could think that the moment for a romantic and gentle ballad has come: illusion, cause very soon the energetic trio attack us with another fast song where the instrumental ability is out of discussion and vocals are enriched by an agreeable chorus. Solos and riffs are countless. Absolutely catchy and powerful. The scheme is that one of a typical power song "à la let's go and let's win" but without being annoying and boring. On the contrary another anthemnic song of first class.
DIES IRAE -An awesome song , a little bit anomalous here, cause a chorus in a almost medieval-church "dies irae- amen" style was not to be expected . This song is enriched by a good rhytmic progression. Catchy, tasteful, sometimes monumental.
WORLD OF PAIN - Like the title let us imagine, we are here in an pessimistic atmosphere "à la sorrow", energetic with a touch of sadness, melancholy and regret which don't affect the rythm.
SHADOWS + LIVING MY DREAM- Practically the short instrumental Shadows is the intro for Living my dreams. An almost orchestral beginning with strings and piano, very slow and sweet that soon turns into the sad but aggressive Living my dreams, where ,embedded in the usal implacable environment, the sad and sweet refrain let us remind that we have a heart. Here tempo changes are many ,and many are the vocal shades as well. On the whole, here every metal kind of guitar sound (and maybe some new ones) can be found and every of them perfectly merged. It is the song I prefer.
SEVEN DEADLY SINS -Another fast song, here some guitar riffs remind me somehow the last and best Helloween.
YOU WANT IT, YOU'LLGET IT - Also in this song guitars remind me Helloween, the usual valuable guitar solo is making precious the song which shows us a sad anthemic refrain
UNITY- Completely instrumental and I would underline experimental . Nervous guitar sometimes accompanied by piano, extravagant rhytmic, many different solo styles and new guitar sounds. It cannot be labeled in a precise musical direction cause it shows many influences, can only be heard and appreciated especially if you like musical virtuosities.