19-20.08.2003
---
ROCK THE BOCK Open Air - Schaffhausen (Switzerland)
Schaffhausen City - Mosergarten - 16th AUGUST 2003 - www.rockthebock.ch
INTRODUCTION AND ...WATERFALLS
PICS BY: © Stefan "Absolut_Evidence" Vogelaar and Ann "Blob" (sayjustwords fanzine)
REVIEW BY dalia "gryphon_spirit" di giacomo
The public use of these fotos
is strictly prohibited without written permission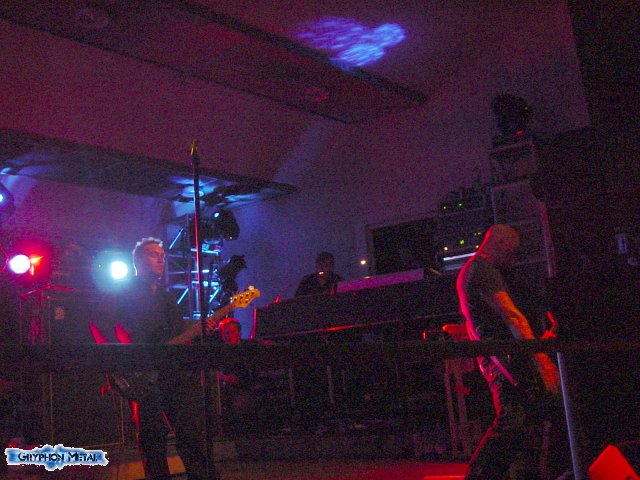 INTRODUCTION...AND WATERFALLS
Another fantastic summer day here in Switzerland: warm, sunny; fortunately some rainshowers of the previous days have cooled a bit the high temperatures which were around 35-36° and have been raging on the territory for so much time. But if the weather- temperature is slightly cooled, the fever at the GryphonMetal camp is reaching really tropical degrees : we are together our new staff member from Italy Sara De Vita, we have as guest Ann "blob" of the Sayjustwordsfanzine from England , we will have our first stand, and obviously we will attend a Paradise Lost gig. As journalists and fans we are obviously very excited. We have to join the festival area before the doors open cause we will have to build up the stand , being this time a part of the festival component. We are very proud and grateful. So let's leave rather early from Niederrohrdorf in order to reach the beautiful Schaffhausen, our hearts are beating faster. But , from the moment it's Schaffhausen, could you ignore the Rheinfalls, the biggest waterfalls in Europe? Only few km's away from the city? Right, you couldn't! so let's refresh our ideas and get a bit of piece of mind while looking at the gorgeous waterfalls! GryphonMetal metallizes everything, waterfalls included! Though a kind of shameful sense of vertigo took the sottoscritta merciless while going upstairs on the way back from the Rheinfall terrace. Ok i admit , it's the PL effect...er..what? er...well no i really suffer of dizziness but only stairs make me feel dizzy. Whatever! Stay metal everywhere!!!


from the left: me Gino , my son (and Stefan's) Adelchi, Sara and Ann

Stefan - pic by Ann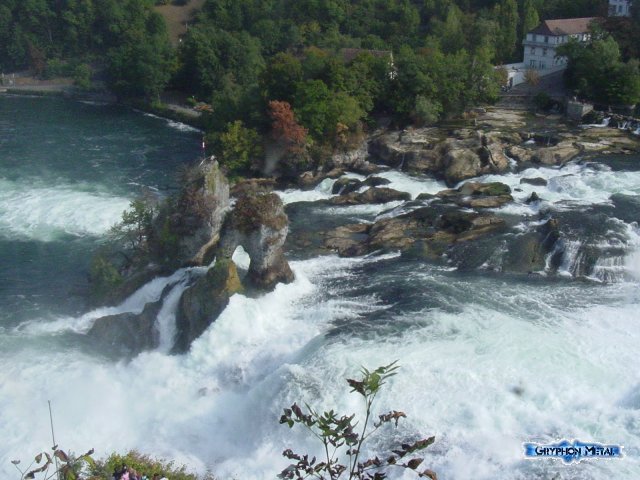 Just before 11.00 we join the festival area. We are in Schaffhausen, in the green Mosergarten, where often music open airs are guested. the stage is obviously the Muiskpavillon, a very beautiful and perfectly equipped prefab which sees concerts of every kind of style. The green park place, with gorgeous trees, is sorrounded by old houses and buildings . And immediately it's hard and serious work for the stage. Everyone of the Rock the bock team is working professionaly on the stage, for the service, or for stands. it's a strange sensation to live the preparation of a festival. No crowd, everything seems so empty , but you know that is just a question of "minutes" and the place will be animated: we are there for audience and everything must be ready in the more effective way.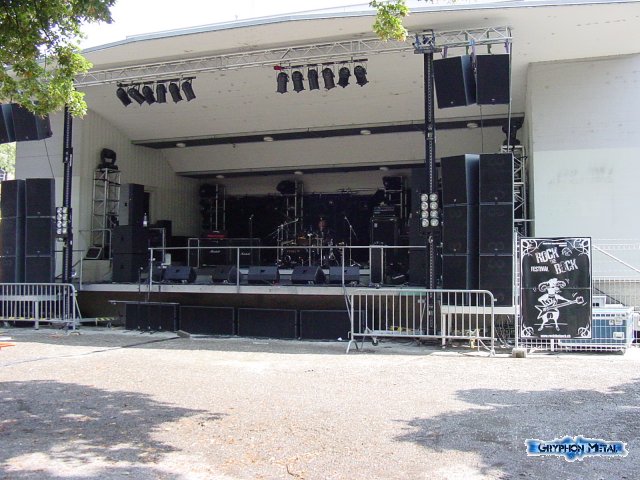 me and Adelchi - pics by Ann -

Adelchi, Stefan and me
---
MINES
www.hardrock.ch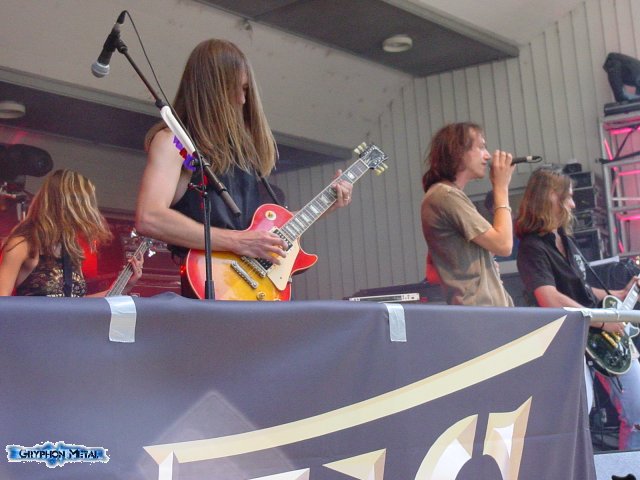 13: 55 Doors have opened and the first band listed in the bill of this open air is on the stage. To tell the truth there are few visitors , more people is expected for the late afternoon . But the band is good mooded and with extreme professionalism begins its show with great power and is able to attract the attention of all people on the place who are moving near the stage cause the music is good. Well it's rock and indeed the festival couldn't take a better name, we will listen to rock till this evening. Paradise Lost have nothing to do with the rock presented in this festival: they will crown a rock festival then playing basically metal, finally!! anyway you can see all this like a kind of evolving path, from the roots of metal till one of its more interesting expressions. Mines are playing a fresh Rock'n heavy that has so many flavours from the 80's, supported by crunchy guitars, passing from a mid- paced rhythm to a faster one; good solos; clean voice able to stand out over the instruments. The sound quality is excellent, but in Switzerland it's very difficult to have bad sound settings. the atmosphere begins to take shape and to be painted by joyful colours. Mines naturally greet Schaffhausen and the organization of the festival. One of their catchier songs is Sabrina and in general they play well with enthusiasm under the sign of Rock'n Roll with very lively sounds and chords. And lively are all members of the band that show ,good mobility , entertaining capacities and self confidence . Some of them went down the stage playing around shortly among the people. They will enter the studio really soon, so in few months, there will be a release from them. Applauses,and, from our side, best wishes! GryphonMetal will guest their signing session













by Ann "blob"
---




Ann, me and Sara wirting autographs on the shirt of two nice girls of the crew
---
SCARLET SUICIDE www.scarletsuicide.ch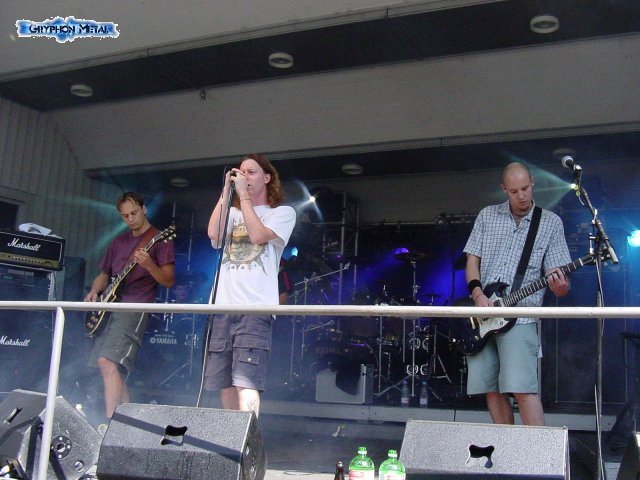 15.11 greetings to schaffhausen from Scarlet Suicide. Slowly more persons are reaching the Mosergarten but still the park seems empty enough also because many are sit around the tables drinking and eating comfortably and this place is bigger than you can appreciate after a first impression. A bit alternative, melodic with Deftones touches and grunge flavours, Scarlet Suicide propose sweet and rhythmed notes supported by a heavy soundscape and hammering drums . They can indeed also become faster. The voice is agreeable. They show a good guitar coordination. Long and distorced sounds are not missed, always careful an precise. I see this band compact enough with not monotonous songs. Among the tracks proposed Black Bird.





---
THE BODY SNATCHERS www.thebodysnatchers.ch.vu
let's say immediately that i don't like them, i'm indeed already a bit tired about all this quantity of rock , but both for professionalism and for enjoying myself i like anyway some interesting expressions coming from this style moreover i am in the best mood i can be , so let's celebrate rock but, i really have my problems to hold my attention on the Body Snatchers though they seem welcomed and appreciated a lot by the audience, that, in the meanwhile, is finally increasing . The band is lively and confident, their songs are so much influenced by Rock'n Roll,they are sometimes stoppy-starty, but i find them a bit too nervous too, with a kind of occult frenetic attitude , and indeed they also speed up but, at the same time, they don't want to be that much fast, and this creates a kind of tension in their songs. Drums are dry , showing a big use of cymbals. Their stage -acting is energetic, some rhythms remind me of punk and ska, mixed with a bit of thrash. Their tracks impact however very good on the crowd : many are dancing and applauding- "Merci, merci vielmal !" We are gifted also with an ass to the wind , and when the band finally closes the show, i breathe a sigh of relief : for me it was the real torture. Personal tastes apart , i don't see however that big artistic weight . If you go right now to their website you can read how they present the rock the bock , so you can get a part of their phylosophy

"Time to ROCK THE BOCK,
and the sock off your cock!
While you steer the beer
In through your head
And out near your rear!"

so let's rock the cock and good bye, ok?





---
GUTTER QUEENS
www.gutterqueens.com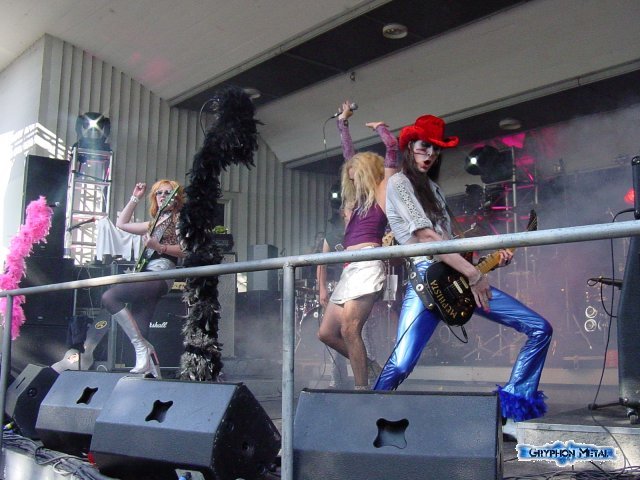 17:34 here they are : the "Glum Rock sluts"! Ann finds them funny and is entertained in seeing them on stage and tells me " ah this kind of bands are not existing in England only!!", laughing! Eh no indeed ,Switzerland presents this wild Glam Rock act that is beginning to be known also abroad and who knows , maybe one day Gutter Quens will conquer definitively England too! They call themselves "Switzerland's wildest Rock band", and, to tell the truth, they don't disappoint the expectation. The thing i have noticed the most during the gig, from start to end, is their great energy, they are tireless , and for sure it's not easy with this "transvestite" look in this warm afternoon (ehi but 2 of them are women clear? two really pretty girls) . They play a rhythmic Rock , catchy, basically mid-tempo placed , not much elaborated and honestly not that innovative, a bit repetitive too; may i say easy listening? But it's funny, with good starting points, with the search of a careful stage acting too. Anyway the best moment of the show was the last song which is a cover of Joan Jett's mythical Love Rock'n roll. Applauses and applauses! 18:39 final group greeting. GryphonMetal is very glad to guest them for a signing session.













---
THE LOMBEGO SURFERS
www.lombegosurfers.com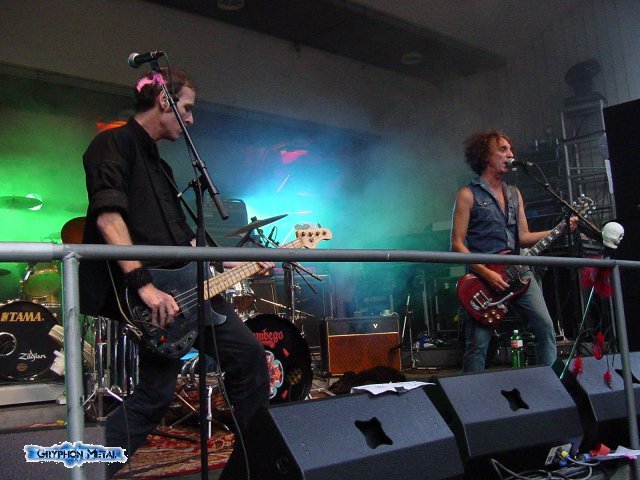 19:30 oh well, this is more than Rock but really art! while i was anyway desperate, fearing an anaphylactic reaction to this massive dose of Rock , The Lombego surfers come and help the persons in need of some music of class with their chords à la Marlboro country, meant in the best way, with their passages full of wide horizons. Rhythm and sweetness, persuading loops, round bass notes, lively guitar, classic notes and enjoyable exotism. The sound is well balanced. Guitar solos are not missed. Melodic and hammering this act is successfull in elevating the rock to a wave of emotion. Excellent are their instrumental moments, while, who prefers heavier things, can enjoy their harder tracks with punk insertions. Very good, fortunately! and at 20:36 the encore is called.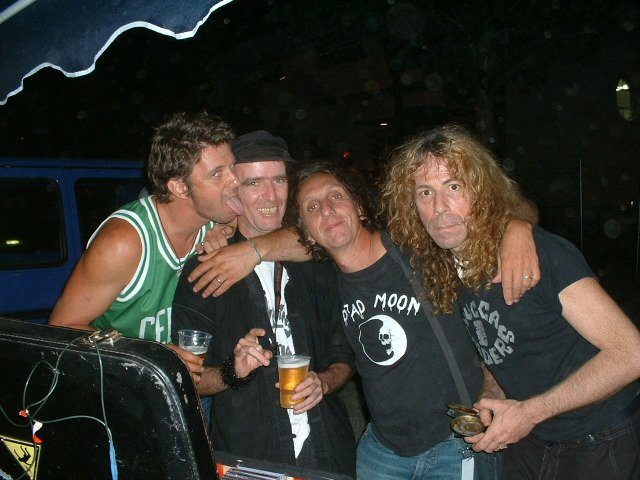 by Ann "blob"
---
PARADISE LOST
www.paradiselost.co.uk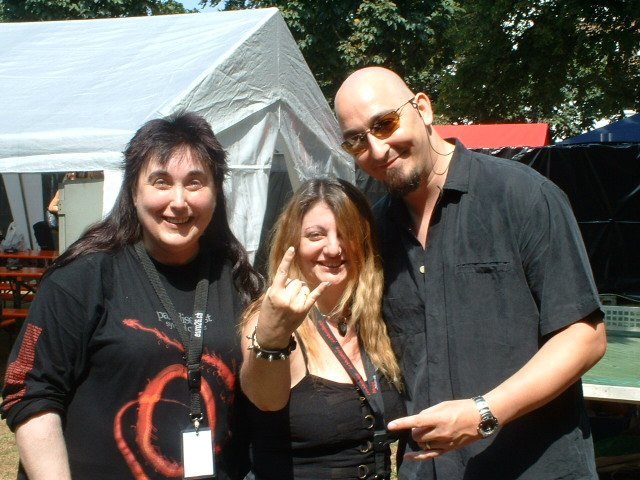 Ann, me and Aaron Aedy!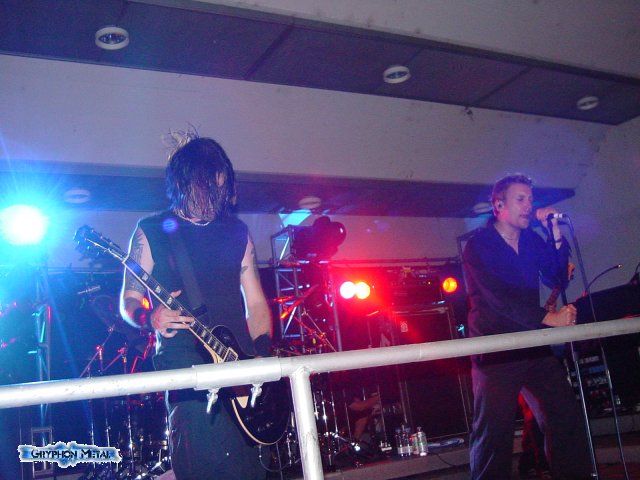 20:36 the clou moment of the evening is arrived: Marijan, the organizator of the festival, is greeting the audience from the stage: "willkommen zum Rock the Bock !!" -welcome to Rock the Bock!- in his speech one can realize his joy in having Paradise Lost in his musical event, and this event must surely look nicer for him if you think that today is his b-day! Like enchanted by a kind of magic the place is right crowded now. Marjan invites everybody to come nearer to the stage . 300-400 persons , arrived during the late afternoon and first evening just only to see PL, are suddenly standing there in the place, in front of the stage. The classic song - happy birthday to you..." is tuned and sung for Marjian, who, touched and smiling, thanks crowd, crew and bands saying, as last thing of his intervention, simply "enjoy Paradise Lost!" and hearts beat faster!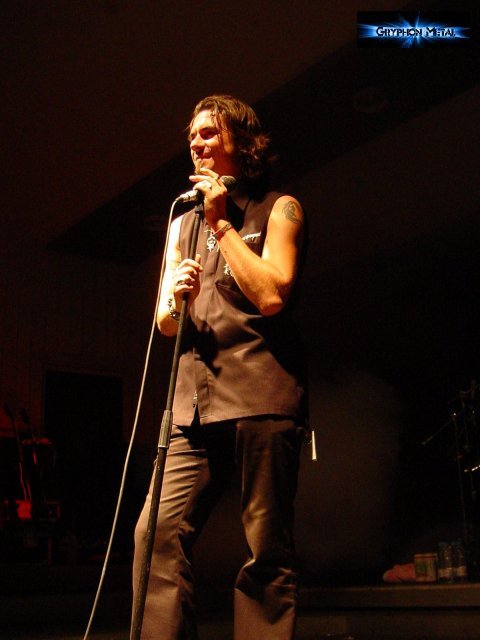 Marijan Prstec
20:30 very dark intro. Paradise Lost take the stage and are welcomed with a lot of applauses , people is really waiting for them so much! The Rock the Bock becomes warm more than when it was under the sun rays of the day. "Vielen Dank" says Nick and the band starts off with Isolate. Energy and feeling. And indeed feeling , warm and pathos are the key words of this PL concert. The stage acting full of energy is even strengthened , and, in comparison with the latest gig i saw in Milan at the Day of the Border, which technically was almost perfect but a bit cold , this one promises at once to be intense , played even heavier , with a lot of passion and feelings indeed. Though this concert will have its imperfections, Pl transmit their soul and show that they are finally able to get again pleasure in playing and singing . Yes, tonight we realize that the bass sound is a bit too strong, we have a short sudden change of volume (during Say just Words) , some songs were played in an exceptional way some others show some problems, but all these things are really little if you see them in the general frame of a concert who is simply brilliant. Proceeding with order, after Isolate (Symbol of Life) we enjoy Mouth (Believe in Nothing) , people is banging, the bass sound is too pronounced anyway it turns even into a cool thing: firstly it doesn't disturb any ear and secondly you can appreciate what a great work is doing Steve live, anyway the sound is balanced soon so that in the next songs the bass sound is set very well. We go on with Hallowed Land (Draconian Times), Nick is concentrated, his voice stands up to the instruments .The general headbanging is going on and on, while Aaron and Greg are putting on the stage all the energy they can. They don't spare themselves. So much is lost (Host) is launched extremely heavy with Aaron providing a lot for this heavy look. Nick announces then Mystify (Symbol of Life) as a song for the ladies. Greg's guitar is extremely sensitive and weeping. Great technique shown by Aaron, like always. Well i have the impression that during the final part of this song they slow down more than expected, but we will see that many songs will be presented in a bit different way than usual , in the search of new sonorities and ways of porposing the songs. And now.. Perfect Mask (Symbol of Life)! Like in Milan this song rules played live! Yes, yes, . wonderful: exact drums and great engagement from Nick. Well executed again, Perfect Mask towers over some other tracks like Isolate. Obviously the crowd is in rapture banging dancing (dancing a lot indeed), singing along. Nick now announces " Ok... this is Symbol of Life" and shortly afterwards "clap your hands!" I'm amazed cause this time the song is played in a more melodic way, without that much rhythmed "train -like background", pity that the hammering heavy outro too was not executed that heavy. Here Greg's guitar is perfectly calibrated without the brusque insertion i heard in Vevey last March . An unmistakable piano intro sparks off another wave of enthusiasm cause it's the turn of Enchantment (Draconian Times) executed in an excellent way. it is the sign that the spirit of Icon and Draconian Times is still burning in this band . Paradise Lost are acclaimed for this Enchantment and Nick tries to hide a certain satisfaction. The gig goes on with Erased (Symbol of Life) and dancing-banging effect reached again. And it's time now for Forever Failure (Draconian Times) . 20:16 "go!" and Say just Words (One Second) is launched, the following Self Obsessed (Symbol of Life) is sung with much participation. Nick then announces "from One Second album..- and a voice is asking for Embers Fire - ...Mercy" Mercy is proposed in a very delicate way with a certain search towards new modules. "Thank you" and applauses! and it's time for the cult As i die (Shades of God) . 10:33 the encore is called with satisfaction "Zu-ga-be! Zu-ga-be! Zu-ga-be!!" 2 mins later the band comes back; Greg is applauding shortly the audience, Nick says Ok! . And we start again . It's small town boy the opener of the encore. played like it was in Milan: heavy as hell, but no matter how good and heavy Small Town Boy (Symbol of Life) is proposed, it's only pop for me and pop remains, though the incredible Paradise Lost-ian ability to change the face of this song is undeniable . People anyway is jumping and singing: -run away, run away, run away!-. Like Nick would say, "ok!" but i feel better when The Last Time (Draconian Times) explodes, excellent!! enthralling! Everyone is involved and, most important thing, we stay high, there is no loss of charge. third song of the encore, and last song for tonight, sigh!, and guess! right! One Second (One Second) ! One second is too magic, too romantic , again is the song that closes a PL gig. Lee is able to launch heavy bass sounds giving a double bass drums sensation . Perfect, this One Second is one of the best i've ever heard if not the best. Applauses and approvals, the band goes away . We remain here fascinated, happy and a bit sad, again, like every time after a PL gig. laughing also about the funny moments: for example when Nick showed a big pink towel saying" what towels the organizers gave to us! pink!" , or when our Stefan "Abs" shouted "Aaron , great gig !" and Nicks answer to Stefan that Aaron has not time for making conversation, cause he has to work!, or something similar. Whatever, hearts were simply beating ...faster!
around 19:00 GryphonMetal has guested Paradise Lost ' signing session.
isolate
mouth
hallowed land
so much is lost
mystify
perfect mask
symbol of life
enchantment
erased
forever failure
say just words
self obsessed
mercy
as i die
----------
encore:

small town boy
the last time
one second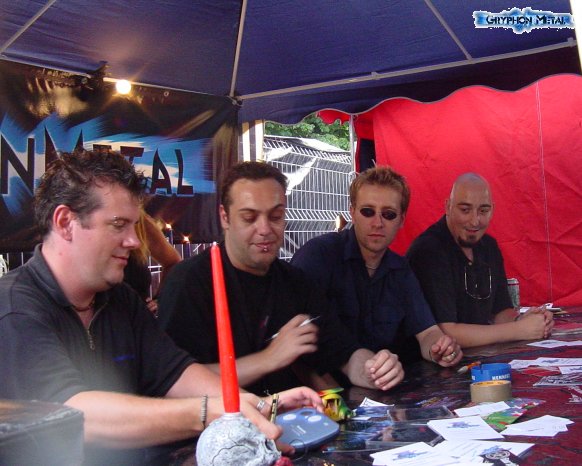 ---
and now some nice pics taken by Ann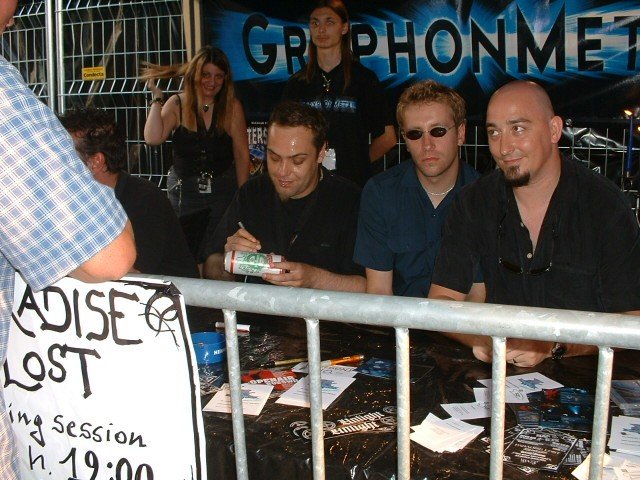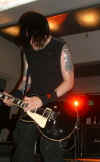 ---
group with Peter and his friends, Sara, Gino, Ann and me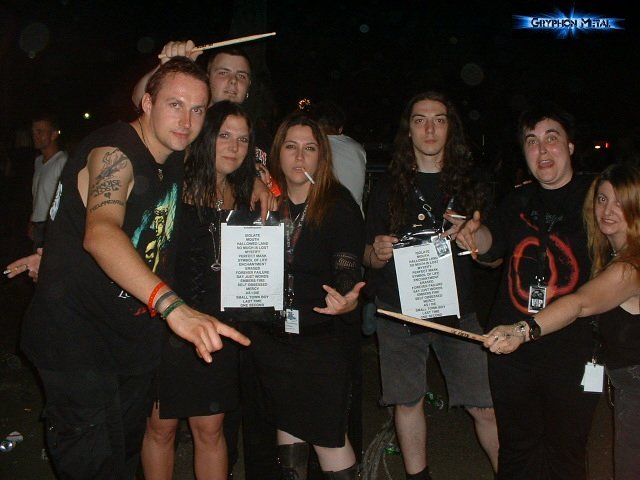 THANKS
GryphonMetal thanks gratefully :
Marijan Prstec of the Rock the Bock organization and crew
Andy Farrow and Vicky Langham of the Northern Music Company management
Paradise Lost
Gino Chiarizia (Spellcraft) and Sara De Vita (thank you guys for the banner too, it looks super)
Ann "blob" of the Sayjustwords fanzine
our son Adelchi (you were really clever and helpful!)
Mines and Gutter Queens
all fans who reached the Rock the Bock
see you soon!
---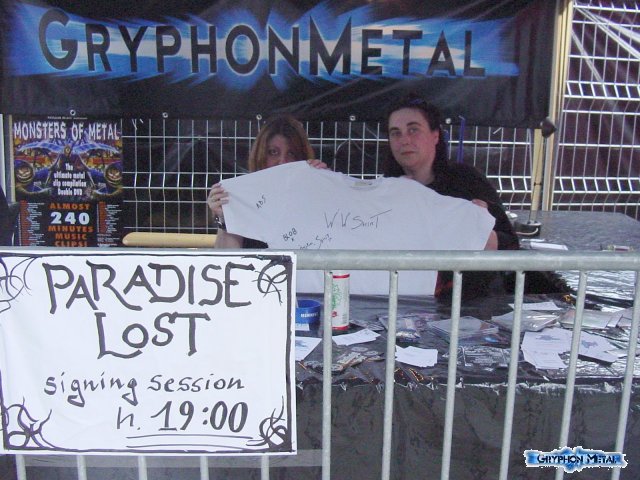 the WW shirt has started its way on the road