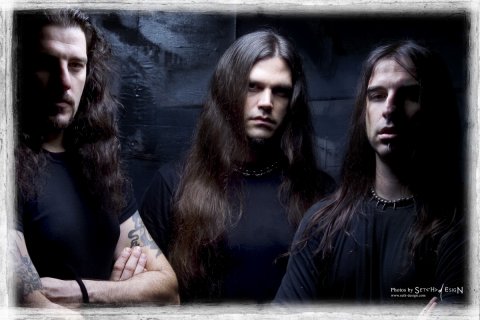 Sanctus Diavolos is an excellent album from an excellent band: the 9th full length album of Rotting Christ. If , in my opinion, Genesis, was already formidable and one of the most solemn, obscure (though not canonic) yet enjoyable expression of Black Metal, this Sanctus Diavolos maintains the very high standard, being even more complete. if Genesis was remarkable due to the mentioned solemnity and its choirs enriched by enthralling hook lines, the follow up Sanctus Diavolos is fulfilling all the expectations. If we make a comparisons between the 2 albums, we can notice that something has chanced, something not, this means obviously evolution in the continuity. Sanctus Diavolos showcases the same solemn, mysterious , almost church-like timbre of its predecessor, showcases the same fascination and heaviness, showcases the same flexible deep vocals, oft able to bite sharp in the flesh. it offers the same touch of calibrated epic tones and the formidable male and female choirs. On the contrary, the main difference is that Sanctus Diavolos is more lively and dynamic (up-to-dated without sharing too much with the industrial mania), while Genesis was more hieratic. There is hybridization, which is anyway more oriented towards Death and even Thrash, like in the track Serve in Heaven , or towards a Gothic sorrow, like in Sanctimonious. Fortunately Sanctus Diavolos is giving to Industrial and modern sonorities only the duty of underlining moments of refined hypnotic-nightmares. All this is a confirmation that Rotting Christ's Black style, is one of the most warm and winning variation of the genre . Related to this, it is important to say that, like already noticed in our Genesis review, Sanctus Diavolos too can appeal to a large target of Metal listeners, but without making any compromise or any sold-out operation. The Greek band is faithful to its style and convictions, gifting us again with a vision of music and contents that are serious and enriched by a reasoned mysticism. The rhythmic section is brilliant and full of temperament, changing from gloomy bass sonorities to clawing chords. My compliments go also to the lead guitar - sounds, so unpolished and raw and genuine, at times sharp enough , at times more weeping, following a bit the style of the early 90's. With all these ingredients the atmosphere is certain, cause Rotting Christ once again give us shivers and emotions. Once again Rotting Christ underline their world with the use of different language-stamps, balancing between what is modern and what is ancient concerning lyrics too wit h that breathtaking touch of Latin. Finally the discrete carpet of keys act as adhesive enhancing the atmospheric approach. Personally i'm very sad for the absence in the band of long term members George (Keys) and Costas (Guitars), i think all fans salute them, but the strength of Rotting Christ has an indomitable soul: it's true that the stylistic approach, the darkness and the value of the work is absolutely not affected.
All tracks are valid and outstanding, the whole material of the album can be enjoyed. We just can take our pick starting from the resolute and fast opener Visions of a blind Order ( that features a special guest lead guitar appearance by Gus G. -Dream Evil, Firewind-) through which Rotting Christ attack us without prefaces, and introduce us into occult long notes and violent intensity with vocals which are simply burning like they were truly infernal, ; till the end of the album where we reach the hypnotic and melodic title track Sanctus Diavolos , with its varied drumming between tribal and Black, the church- like solemn choirs, the abyssal vocals, the modern sound techniques. Walking this path we meet various "facettes" united by common denominators: the more epic Thy Wings Thy Horns Thy Sin and its sublime female choirs , its desperate aggressive melody; then we listen to the cadenced Athanati Este [ΑΘΑΝΑΤΟΙ ΕΣΤΕ] ,with its heavy metal appeal, an unforgettable lead guitar, developed on a catchy effective loops. Tyrannical is very evil , obsessive, with machinegun-like passages, exploits hypnotic modern techniques. You my Cross is very close to Death and somehow even to classical Black, nevertheless providing a recurrent whirlpool of insane hypno-fear.
SANCTIMONIOUS IS A JEWEL OF PAIN AND MOURNFUL SORROW. A GREAT EXPERIENCE ALSO IF LISTENED REVERSED
Sanctimonous is a jewel: slow, extremely melodic, nevertheless terrible and imposing, with the mythical choirs that go under the skin making us cry. Quintessence of atmosphere and gothic cello -violin desperation and mournful sorrow, and from the moment that we want more, it comes: the lead guitar, that raw weeping sound that kills you. And if the main passage, like at times happens in other songs, seems to looks a bit repetitive, well it doesn't disturb at all, cause the ideas within the single tracks and in all album are countless, this recurrence that surfaces from time to time, is calibrated to make the atmosphere and the pain and the ecstasy only bigger and bigger. Sanctimonious is a great experience also if listened reversed, where you realize that the main melody is almost reversible, ALMOST a "palindrome" , and the atmosphere around surprises us even more.
Serve in Heaven is a remarkable change of register cause its based on a death-trashy attack, optimal for a banging orgy with melodic changes of pace. Shades of evil shoots another malignant assault of fire, in line with the more modern Black requests. Doctrine is another surprise with hook lines that remind to Celtic flavors, supported by a tight rhythmic sequence in which the choir is included. and from nowhere the lead guitars sting, while the vocals are called to interpretation of prolonged typical blasphemous tones, with final long obsessive, abstract subconscious menace, so distorted, as it were seen through a prism of glass.
Yes, excellent \m/
rating: 10/10