The album has a number of songs no band can match with, and the performance is on the level most of today's bands never will be.
Truly productive and ever-evolving mr. Townsend returns with yet another Strapping Young Lad release, only a good year since his last Strapping creation "Alien", an album which was (and still is) considered by many as one of the best extreme albums ever created. So powerful, relentless and glorious it was, one might think the band will hardly manage to create a worthy successor. Lest we forget Devin Townsend is also at the helm of his solo project at the same time, plus being an occupied music producer. It is logically hard to comprehend the time schedule he has in order to pull all of these things off. It is likely impossible to accomplish such task in such a short time, unless if there is great passion for the work one does.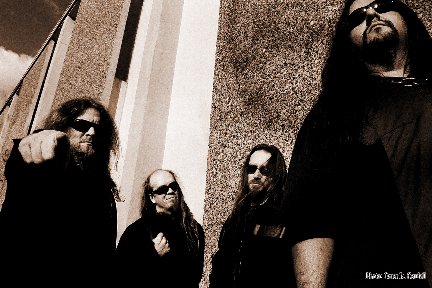 Clearly, "The New Black" is an album created with great passion and sincereness. Strapping Young Lad uncompromising and infuriated as ever, but with an even more conspicuous ridicule demonstration as their answer to the current state of music industry (they hate it, of course). The presence of humor was always quite obvious in all their releases, yet always the anger and hatred prevailed with it's dark intention, preventing their music to become overly droll and comedic. Well, with "The New Black", their satire is much more exposed, not only lyrically but completely. Almost the whole album has this goofy feel, with it's clownish rhythms, parodic vocals and light operatic intermezzos. Of course, the production and songs arrangements could have hardly been better, but still, the album sounds, ...er, fun. Surely, it is supposed to be perceived as a fun and an amusing album, but by it's title one could easily be under impression that "The New Black" would be a dark, heavy, spiteful Strapping album, not a hilarious metal Musical. However, apart from too jocular brass section on "Antiproduct" and various musically engaging parts throughout the album, some songs still maintain their prime basis of hatred and aggression. For example, "You Suck" is a typical Strapping City-era hymn, yet the main chorus plainly sounds more hilarious than pissed off. Tracks like "Monument" and "Fucker" are also similar in the vein of being entertaining, yet the heavy pace and malevolent atmosphere are strongly present, creating a fine storming movie-soundtrack with intelligent vocal passages and very impressive guitar and keyboard arrangements. By listening to the "Wrong Side", the comprehending of great quality is hard to avoid, with it's perfect correspondence between superb melodies, aggression and overall song construction. Yet, "Hope" is a retrospective through their debut album times, only highly progressed, respectively. Speaking of being retrospective, again, "Far Beyond Metal" is another heavy metal parody, which was previously included on their official live recording "No sleep till bedtime", however, somehow it doesn't sound as spontaneous on the album as it did live back then. With "Almost Again" the album gets more serious and almost melancholic at some point. The song has a different melodic feel right from the beginning, sounding a bit Beatles-esque (like many other vocal parts on the album), but boosts into a furious speed/black metal soundtrack (reminding of Devin's Physicist-era, only better) with immense airy atmosphere. A feeling I'd wished to be more frequently heard on this album. In my opinion, "Wrong Side","Almost Again", and "The New Black" (with it's prelude "Plyophony") perfectly illustrate the album title "The New Black", while I would expect something more from the album's opening track "Decimator", which doesn't come even close with it's strength to the the previous Strapping Young Lad intros (especially "Imperial" from the "Alien" album).
Strapping Young Lad put another milestone in the history of metal with "The New Black". The album has a number of songs no band can match with, and the band performance is on the level most of today's bands never will be. I should not waste any time by describing the sound and production of this album, which is even better than on the "Alien" album, which was already superb. The sound is so clear and sharp, yet deep and heavy. It is perfect. The only thing that bothers me (subjectively) on this album is the lack of seriousness within the lyrics and melodies, which descends these great individuals to a mere super-mortal level, instead of being deservingly acknowledged as the living gods of metal.
No need to mention - THIS IS A MUST HAVE!
rating: 9,5/10
Favorite songs: Wrong Again, Almost Again, The New Black
Artur Felicijan
12.06.2006
SYL live:

06.06.2006 France Lyon Le Transbordeur *
07.06.2006 France Paris L'elysée Montmartre *
08:06:2006 England Portsmouth Wedge
09.06.2006 England Castle Donington Download Fest
10.06.2006 France St. Malo Omnibus *
11.06.2006 Belgium Vosselaar Biebob *
12.06.2006 Holland Amsterdam Melkweg *
13.06.2006 Holland Tilburg 013 *
14.06.2006 Denmark Copenhagen Lille Vega
15.06.2006 Sweden Hultsfred Festivalen
17.06.2006 Finland Seinajoki Provinssirock
* with MAROON

---