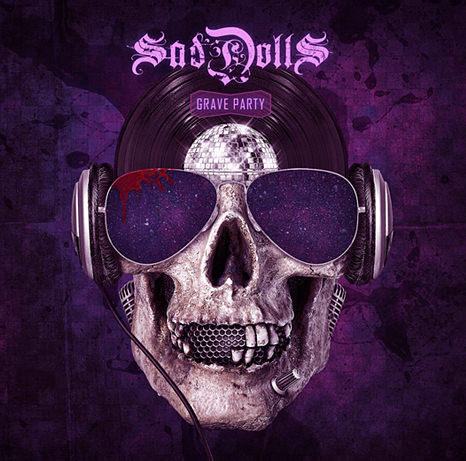 SadDoLLs:
"Grave Party"
Inverse Records
1. Rave to the Grave
2. Lady Cry
3. Terminate Me
4. Bleed Sister Bleed
5. Dancing Shadows
6. Suicide Girl
7. The Last Valentine
8. Creeping Skies
9. Angels Making Love (In the Dark)
10. Sexy and Undead
11. You Make Me Feel Like Nothing
12. On the Road 66
https://www.facebook.com/saddolls
Line-Up:
George Downloved – Vocals
Paul EviLЯose – Guitars
J.Vitu – Guitars
G.B – Bass
Dennis M. – Drums
Discography:
Dead In The Dollhouse E.P (2007)
About Darkness (2009)
Happy Deathday (2012)
Grave Party (2014)
The band has also studio collaborated with members from bands like Scar Symmetry, To/Die/For, Mandragora Scream etc. The new album "Grave Party" will feature Skinny Disco from the Swedish band "Deathstars".
The new era of Gothic & Modern Metal is here!
This is what I expected from SadDolls! This album came after 2 years from the good "Happy Deathday"…
A couple of songs from that album made me think that this was not the classic Gothic Lovemetal band Finnish style, they were searching for something more, and now I have the proof that I was right!
George & C. elaborated a certain kind of sound that seems to blend the sound of Deathstars, Gothminister, and early Him, (may be the old fans remember songs like "Dark Secret Love" or "Borrellus")…In this album I can hear the essence and the approach of that style, but SadDolls modernized it in a very great way!

I cannot say that this a masterpiece but in my personal opinion, they have improved a lot comparing to the first album…
So let's start talking about the songs…
The single "Lady Cry" (the band recorded also a great video of this song SadDolls - Lady Cry) can be considered a good example to describe the sound of the band, but in my personal opinion it isn't absolutely the best song….the next one "Terminate Me" is too much catchy for me; An amazing intro introduces the charming electro gothic atmosphere based on a very involving refrain ;
"Bleed Sister Bleed" is another "shot in the deep darkness" some Finnish gothic shadows that could remind of the best 69 eyes seems to join Scream Silence (German Gothic band) , and it's in!
"Dancing Shadow" is pure electro-gothic industrial; another great refrain goes along with a great arrangement and George can alternate some rough and clean vocals! A very good job!
"Suicide Girl" seems the classic decaying gothic song written for passionate gothic girls…a very great song;
The structure and the chorus are just a perfect recipe of gothic and macabre passion….
"The Last Valentine" represents the best connection with their recent past…even if the song gets many electro gothic elements; it is fundamentally a modern gothic metal song!

"Creeping Skies" is exactly the best example of what could be Early Him in this era! This song takes inspiration from that style but it shows an amazing modern approach under all points of view…
"Angels Making Love" is pure gothic style that seems to mix Type O Negative shadows with 69 Eyes…a great interpretation made by George emphasizes the good arrangement.
"Sexy and Undead" is modern gothic mixed to a sort of "essential industrial"; The claustrophobic refrain is very involving and the band seems to have found the recipe to make great arrangements….
"You Make Me Feel Like Nothing" seems to be a mixture among goth n'roll…industrial, and electro dark into a very heavy dark timing …
"On The Road 66" is a dark electro ballad…even this may be a "forced" definition for a song like this…Majestic and charming but also deeply gothic...
"Thirteen" closes this album; It's another gothic song with some electro elements ; it doesn't get (for me) the same captivating mood that I explained for the other songs.
What can I say more? This album is great…and I can't but compliment with George & C, the new era of Gothic & Modern Metal is here!
9/10
review by Salvo Russo