10/09/2002 Pics by : © Matt
Slayer - Soulfly - In Flames - Down the Sun
at
Roy Wilkins Auditorium
Saint Paul Minnesota United States
07/09/2002
DOWN THE SUN
The first band on for the evening was Down the Sun, I didn't know who this
band was prior to the show so most of the info I had was from fans standing
next to me in line. The local radio station boasts that they were the first
Radio station in the US to play this band's "Medication" song. Since I try
to avoid radio all together I was at a disadvantage. They were also just
signed by Roadrunner Records a few months ago. The first thing I noticed
about this band, I don't know how many drummers read concert reviews, but
the drummer had a customized hardware rack for his drums. You would have to
see it to know what I am talking about. The band consisted of 6 members: 2
singers, sample player, Guitar, drums, and bass. On occasion the sample guy
would come from behind his rig and sing with the other two male singers. The
music it self, wasn't too bad. I don't have any complaints, except I would
like to see them in a club and not a auditorium. Towards the end of their
short set, it just started to sound like noise with drums. It's worth a
listen anyway.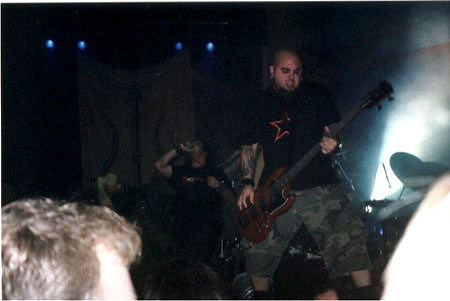 IN FLAMES

Inflames came on after Down the Sun got their stuff off the stage. I was
very eager to see them because I knew that they were going to play new stuff
off their new album for which I haven't heard anything from yet. Inflames
came out on stage wearing all white "worker" outfits which is interesting
considering the majority of the fans at the venue were wear black. I suppose
they just wanted to have the same colors as their new album. In flames of
course, played their signature songs: "Bullet Ride", " Colony", "Space", and
of course "Only for the weak". They also played three of their new songs.
The new stuff was pretty good I thought. Some fans were disappointed, but I
wasn't.
A lot of people had no idea who they were,
but many of the "New"
fans liked them. The only disappointment I saw was the fact that they played
such as short set! They sounded better then I thought they would in an
Auditorium of that size (5,000 seat). I thought they sounded great.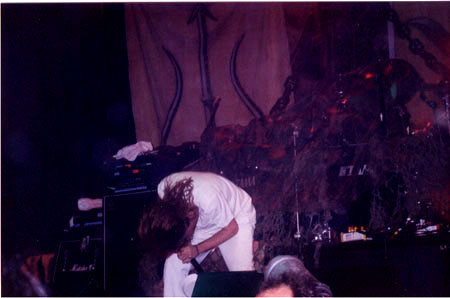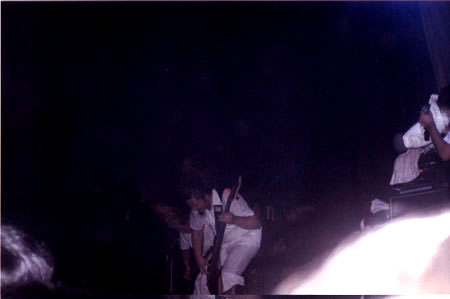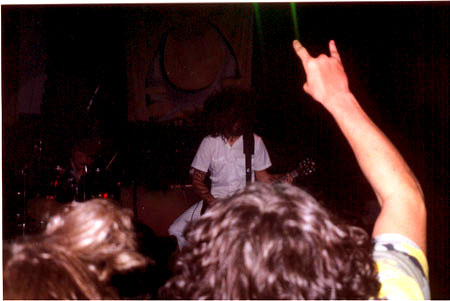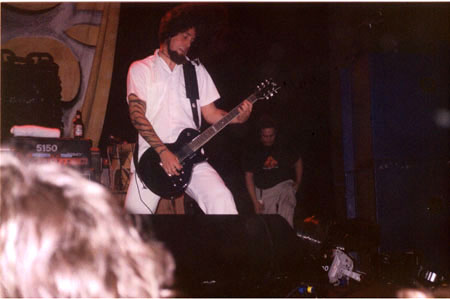 SOULFLY
Soulfly had their usual stage get up of all camouflage.
What was new was
Roy's drum kit.
This time he had more drums! He now has a two kick drums and
a bunch of other drums near his hi-hat including ribbon crashers to that
respect. I've seen Soulfly at least four or five times. This was a very
typical Soulfly show. However, it just seemed as if they actually put on a
show and not just go up on stage and play. Soulfly played three or four
songs off their new CD and they also played two Sepultura covers, they
played Roots and Refuse/Resist. "Roots" was the second song of their set. A
lot of people liked it and after their set, everyone rushed to get
merchandise, it was crazy!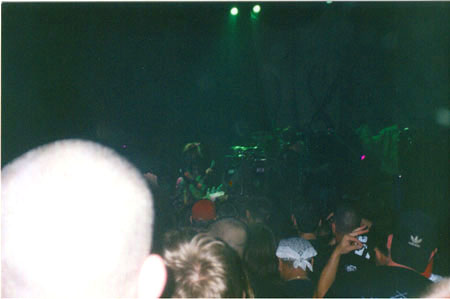 SLAYER
Slayer had the best stage banner/background or whatever you want to call it.
And all over their stage props, they had spray painted "666","God Hates Us
All" including that background drop. With that, they had like a black light
on the drops and the background and it was just awesome. Everyone should
know by now that Dave Lombardo was the drummer for the show. They opened up with the title track off their new album "God Hates Us All" but then, they
went into "War Ensemble" and the whole crowd went nuts! Slayer sounded great
as usual. They played a lot of songs off their latest album, which was
strange because when I saw them almost a year ago in Phoenix with Pantera,
they only played "Bloodline". Slayer put on a typical Slayer show. Some
people say that if you see Slayer once, you've basically seen them play as
good as they can play and it's the same thing over and over, but for me,
this was the second time I've seen this band and this was not the case.
Their stage presence was better than ever and they just keep getting better
and better. Their was a HUGE circle pit during "Chemical Warfare" the
majority of crowd of course went just to see Slayer and everyone got their
money's worth.

Roy Wilkins was packed that night. The last time Slayer was in Town they
played at a club called "First Ave" (http://www.first-avenue.com) which is
the club that made "Prince" popular. From what I heard, they sold out that
place in two hours. Seeing this from a scholar of music business, I was
thinking that since, Slayer, the band that never waivers, was loosing fans
and their CD wasn't selling so swell. September 7th changed this. They went
from playing in front of 1,200 people to playing in front of (at least)
3,500 people.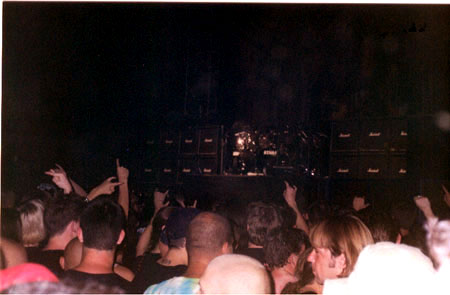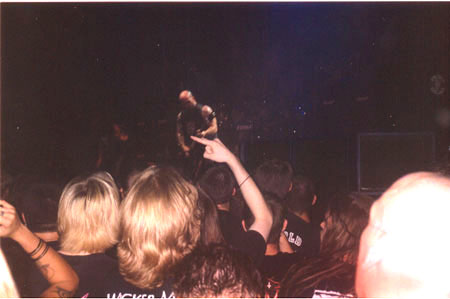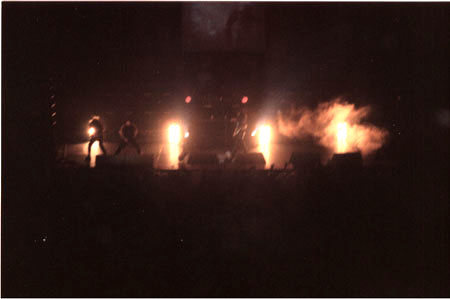 That night was a huge success for Slayer, Soulfly, Inflames,
and Down the Sun. It was a great show!
In the next few months, Slayer and
Soulfly will probably tour Europe,
not together, but do yourself a favor and
go see them both; it's well worth it!

review by Matthew Haumschild from USA

---