Sarea
"This is Not Goodbye"
Review by Matthew Haumschild
01. Conform With Me
02. This Void
03. Downfall
04. The Catch 22
05. Shattered
06. The Chase
07. Home
08. Into The Flood
09. Hope
10. Burn
11. Twenty0ne
12. Egoblivion

---
Websites

http://www.sareamusic.com

https://www.facebook.com/sareamusic

https://www.facebook.com/doolittlegroup
---
Line up
Chris Forsberg - Vocals
Calle Larsson - Drums
Johan Axelsson - Guitar
Alex Dzaic - Guitar
Johan Larsson - Bass
Martin Persson - Keyboard
---
Cleaner and modern version of the melodic Death Metal.
This is what you need to know about this band first and foremost, they are from Sweden! Why on Earth would I even mention this? Because this goes towards credibility of this band, Sweden is the home of the some of the greatest metal bands on the planet. So when I even make mention of the fact of the bands geographical origin, I am in-fact paying homage to bands like In Flames, Dark Tranquillity, Soilwork, Opeth, Drain STH…take your pick the promotional group that was marketing this band likend Sarea to the above bands (excluding Opeth and Drain respectively), so I had to listen and make judgment for myself and for you…the listener.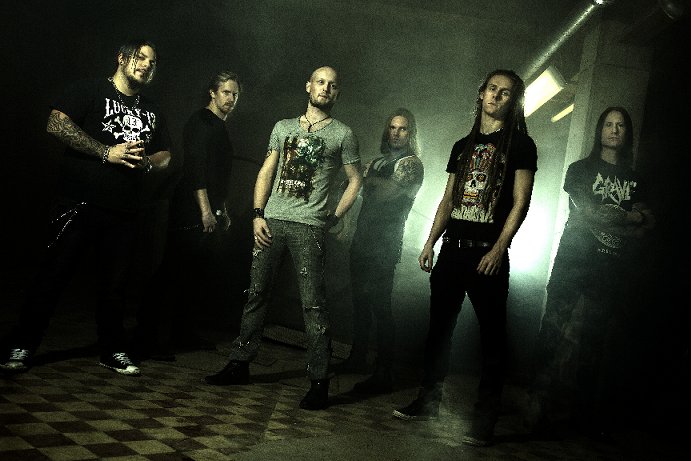 What I noticed first:
For some reason my iPod scrambled the song order of the album, so up until I began writing this, I haven't listened to the song in proper order, but this is what I can tell you, this is quite important. Production is so important when an album is properly created. The most listenable and marketable songs are in the first 5 tracks. Conform With Me, This Void, Downfall and The Catch 22 are similar in sounding and are actually comparable to newer In Flames (post Re-route To Remain) than the latter; with modern sounding, higher pitched screams and howls and with hints of melodic-death metal. The Song "Hope" actually reminds me of "The Chainheart Machine" era Soilwork. Which is probably the best compliment I can give to any band.
I kept listening:
The bands sound is best described as a cleaner and modern version of the melodic death metal from the region from whence they came. I probably wouldn't put the band in the same league as the bands mentioned above, not to put the band down at all. The guitar solos, drumming, and singing are actually really good. Not enough bass though! On another note, the album really flows in terms of song order and feeling that it gives the listener, when listening to the album from cover to cover, it really is a complete album.
Production:
I would love to have a chat with the engineer, producer, and masterer, the hi-hats are clipping in nearly every track. The cymbals just sound like crap! The snare could be so much better too! I think it might be to over compression? I can especially hear it in "This Void." The ride is clear as a bell in "Twenty0ne" but overall the mix for the drums is inconsistent for my knitpicking. The synth could have sounded a little better as well in certain spots in terms of sound quality, nothing to take away from the person playing them.
Overall:
I liked the album a lot. It took me a few listens to like it, which is typical of a 34 year old who has set a high benchmark for new music. I do feel like this band has a lot of potential if someone like Andy Sneap, Juan Ortega, or
Fredrik Nordström worked with the band for their next album. Sarea could really be something.
Rating: 8/10
Review by Matthew Haumschild 29.10.2014