SENTENCED: "The Funeral Album" sentenced

recorded primarily at Finnvox and Tonebox studios (both in Finland), and mixed and mastered at Finnvox. Producer Hiili Hiilesmaa, who also worked with the group on their last two albums, 2000's "Crimson" and "The Cold White Light". A farewell DVD, entitled "Buried Alive", is planned for release in early 2006.
"And Jesus says, we shall piss on upon your graves

" ?? What the hell

...
In case you don't know already, this is Sentenced's final album. They aren't breaking up, they are just ending their recording careers together as a group. Which to me sounds like a break up but hey, tolerance only goes so far right, or could it be that the band has ran out of ideas. Who knows the real reasons for it, the band members do have families that they have neglected so if that is the real case then it is honorable to do this. It's too bad though; this is a very good album! This definatly follows in the footsteps of "The Cold White Light" sonically and lyrically. Any hard-core Sentenced fan will love this album.
The first track is hard to resist. "May Today Become The Day" sets the tone of the upcoming metal season like you wouldn't believe. It's has a very hard-rock feel to it that's bound to make anyone smile. It's definatly a radio song with catchy lyrics that anyone can sing to and the guitar riff gets stuck in your head like the most annoying song you ever heard. This is my favorite track of the whole album although there is a problem with it though. They've used the words "Plunge into the grave" already in another one of their songs umm…how about some new lyrics boys?
"A Long Way From Nowhere" sounds like something that was on their Crimson album, it's a mid-paced song that has words that sing very well into it, another song anyone could crank in their car. "Ever-Frost", Sentenced somehow has the habit of picking the weirdest songs on their first single. The song is completely original although if this song could be on any other album it would be on Frozen. Another song with catchy lyrics although I do question exactly what Ville is actually singing, is he singing..."And Jesus says, we shall piss on upon your graves"?? What the hell is the supposed to mean regardless it's a heavy song well worth listening to.
"Drain Me" is a very interesting song for those who do pay attention to the lyrics. The guitar lines are just brilliant but the lyrics are the highlight for me, "I don't need a reason to hate you, I don't need a reason to break you, just keep that mouth wide open and drain me my darling, drain me my darling, I don't even care if you want me, I don't even care if you need me, just break that big white smile (I think that's what was said), and drain me my darling drain my darling" Damn! Who knew that Sentenced could write like that! It's a nice break from the usual "Killing me Killing you", killing thyself lyrics that the band seems to be known for. It's a funny song, well worth listening to and singing as loud as humanly possible.
Too bad the band is breaking up but hey, life is good.
Sonically it's great, I could not ask for a better sounding album for this style of music. I could hear everything. Bass, all the drums, guitars, and vocals they all made a very good presence. The mix was wonderful. This is the perfect example on how contemporary-gothic albums should sound like. This should be the standard on how CD's should sound. Too bad the band is breaking up but hey, life is good. Go get it, it's a great buy and possibly album of the year.
rating: 9.5/10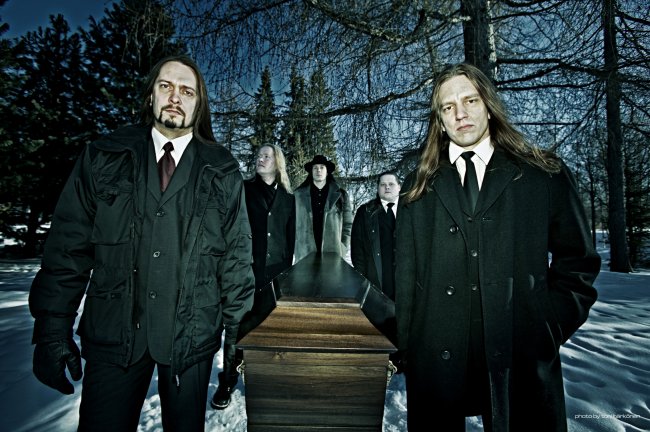 I've rarely heard a singer with such a bad voice in the genre. This guy is just irritating which is really sad because the rest of the band are fairly decent musicians . Especially the guitarists.
As you all know SENTENCED will be dead and buried after the 2005 summer festivals. Due to personal reasons the entire members of the band decided to split. However before they retire SENTENCED decided to offer one last album to their fans, the well-named The Funeral Album. Personally I must recognize that this band has never been a favorite and my 1st impression after a short listening was really bad and I was ready to show no mercy on the review!
Indeed it's a real pain to see a band playing quite well but who has released an album which is musically unoriginal and brings nothing new to this over-saturated genre (I'm talking about the atmo-goth-depressive-whining genre!).
Indeed this album gives the impression to be a sort of "ragbag": the music style is quite stereotyped and classical with melodies already heard many times before and many songs sound the same all the way through.
Now here is the 2nd deep reason of my bad impression: Mr Ville "wrong key" Laihiala. I've rarely heard a singer with such a bad voice in the genre. His raw voice doesn't fit at all with that kind of metal. This guy is just irritating and his interventions are often done with an unsteady voice which is really sad because the rest of the band are fairly decent musicians and do deserve your attention. Especially the guitarists.
Indeed you'll surely notice the excellent guitar work done on this album! Those 2 guys (Sami Lopakka and Miika Tenkula) are really talented to create cool riffs and great solos in such songs as "We are but falling Leaves", "Her last 5 Minutes", "Despair-ridden hearts" and the great "End of the road"( it's interesting to notice that this last song contains the only good vocal melodies of the album which are sung by a female choir!!!).
Anyway, a wonderful work has been done on this album by those 2 guys. I would even say that the guitar work on many songs is just irresistible and saves the album from failure. That's the reason why after several listening to this Funeral album my opinion was a bit less severe. However, excepted those rare moments of pure maestria you just get bored with this laboured and whining music and this damned wrong singer once again!...
Well, I feel sorry but I don't have much more to say about it.
However I really insist on the great job done by the musicians and the great melodies in the 4 songs mentioned above (particularly the mighty "End of the Road").
R.I.P.
Favourite tracks: End of the road, we are but falling leaves
rating: 6,5/10
Ellnas