The hyper-heavy powerful quadriga
The War within is the fourth release for the Massachusetts-based quintet, and the title seems already to express the tension and intensity of the music delivered by the ten tracks, among which we can find 3 ones which are simply brilliant and one fourth superb: the outstanding quadriga, that makes this CD run and fly, is formed by Inspiration on Demand (6), Eternity is within (9), Those who cannot speak (10), and finally Ghosts of past Failures, these last 2 ones being for me the best tracks so far.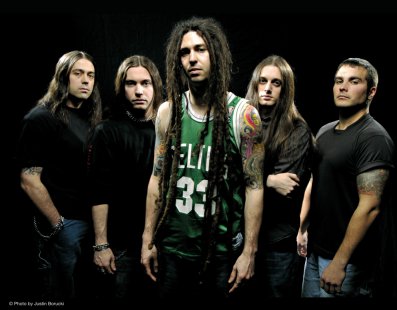 Those who cannot speak (10), and Ghosts of past Failures as the most enthralling ones, those which summarize the vision of this new work. Shadows Fall, considered the breakout band of year 2003, invited to the Ozzyfest 2003, consequently confirm their own ascent, and in general, the ascent of the NWOAM. Many comparisons are offered and heard, starting off from Killswitch Engage and landing to In Flames and Soilwork, but, in order to cut it short, i like to take in consideration only two measures that are class to me: Lamb of God and All that Remains. Shadows Fall often equal both bands in hyper-force, as well as they like to produce melodies and short but incisive acoustic passages, so typical of All that Remains. On the contrary, the distinctive own side of Shadows Fall , now more mature, is the "melange" between Metal and Rock, where the aggressive Metal - side lets discover influences from Thrash (like in Eternity is within for example) to classic Heavy Metal. Some connection with In Flames can be actually found in the soundscape, but they aren't for sure the most important detail. So Shadows Fall can proudly take part in the American family of those acts who have definitely burst out onto the world scene showing the frontiers of a new hyper- heaviness and being so intelligent to hold tight the fundamental streams of Metal genres expressed in European taste. A new caterpillar-crafted dominance which can be appreciated in "The War within" too. Moments of brutal but never blind heaviness intertwine with harmonic melodies and well projected loops. But, at times, Shadows Fall conceive this vision as conflict too. A conflict of parts that collide causing a couple of tracks to be condemned to a certain roughness and harshness, with too rude passages and not perfectly completed starting points: in particular this is mainly the case of the opener The Light that Blinds which i see like a small stumbling block positioned in the beginning of the album , in spite of the good melodic acoustic guitar work of the very intro . But, after this first hurdle, the album starts off proceeding higher and continuously better, introducing and revealing the more than appreciable second part, which begins with Inspiration on Demand , that is more than very good. This track delivers 3 features: " panzer-like", tight ,bangy, rhythmic hook lines, and then rock'n roll-y loops as second factor, and finally the melodic insertions propelled by a lively lead guitar, able to go up and down the chords with dynamism and to propel nice virtuoso rock-fashioned solo's. This track is immediately catchy and addictive like its "brothers fellow-tracks in superheaviness". Here they are: Eternity is within breaks everything on its way, thanks to a thrashy relentless galloping, climaxing into an armour-plated brutality and gloomy melodies. In other words: a super killer. Those who cannot speak shows an acoustic beginning like the opener but, this time, the blasting force follows the right musical verses. Catchy yet powerful loops that take no prisoners run after sad melodic phrases. In these tenth song too one can notice once again how sincerely outstanding the strings are, and how much pitiless the rhythmic session is.
The Power of I and I doesn't excel as originality but it's a good track that constantly stands guard, followed by the dominant Ghosts of past Failures that offers everything what a metal heart needs from filigree's to super laden riffs. Enjoyable, grasping and melodic as it is ( even delivering few Spineshank's sonorities), at times fully brutal but always charming even in the middle of the most fierce massacre, it doesn't need to envy other metalcore/NWOAH bands.
The brachial raw vocals are always top notch, the same we can say for the care in sound. In conclusion, all in all some ideas do still need to be refined, while some others are optimal already. The War within is a version with personality of this formidable new stream. Stay Metal!
rating: 8.7/10