review by Dimitris "Heartcollector83" Theodoropoulos____
---
Sickening Horror were founded in January 2002 by George Antipatis (Guitars/Vocals), Ilias Daras (Bass) and George Kollias (Drums). Kollias is also the drummer of Nightfall and probably the best Greek drummer. Sickening Horror's sound is American Death Metal with brutal vocals and extremely technical music. The guitars and bass play incredible parts and the drums are of a very high difficulty level. This is their first promo cd and consists of three excellent compositions full of energy, brutalism and progressive elements. The tempos change in a way that you don't expect them and the structure of all three songs has been worked very well. They state as their influences bands such as : Morbid Angel, Cannibal Corpse, Cynic, Atheist, etc… Having seen them once in August 2003 live I must say that they were great and I remember the audience gave them an enthusiastic feedback. Guitars parts have also been played by George Bokos (Nightfall,Obsecration) who later left the band. The three songs of the Promo are :
The Most Discursive Expression

Through Blackness It Crawls

Sub Sounds Of Decomposing Images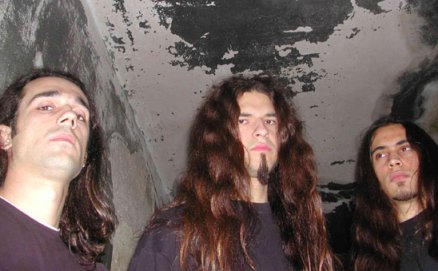 I find it meaningless to discuss each song separately, they are all of the same high standards and the band's technical abilities are excellent. If I had to chose one song for been my favourite I'd say the third one which I liked a bit more than the first two. The promo cd is free and anyone who is interested in ordering it from the band has to pay just the shipping costs. Sickening Horror is a new very talented band and you must watch out for them in the near future. I am sure we will hear much more from them and they are among the very few bands I heard with such interesting compositions. The production of the promo is a plus to their music and allows each note to be heard very clear. Check out their website at www.sickeninghorror.com
If they continue to write material of such quality they will conquer the Progressive Death Metal scene. Here we are have the first taste of new born big band. Trust me…they will be one!