An album ready to be at the top of the Dark Metal scene
Sensational big hit for the Dutch label Karmageddon!!!!! Slumber are a band from Sweden , and this is the long waited debut....that is out after 3 years of hard work since they formed!
After 2 good demos , this is the first full-length and I can't but admit the very big potential of this Swedish band , that plays dark metal mixed with a touch of doom and progressive death! There's a special kind of atmosphere in very song they play characterized by the intensity with whom they're able to express their deep feelings and thanks to their good technique, and also the ability to create good structures their every song seems a travel into the soul, and even if not always I appreciate the use of vocals...it's impossible not give value to the musicians that have been able to create an album ready to be at top of the dark metal scene!
"Rapture" opens the album...and the darkness begins to fill the atmosphere!!! Female choirs and growl vocals are mixed into a music that remind me Before The Dawn, Dark Tranquillity and not only....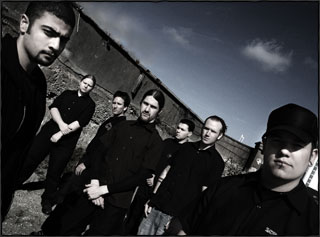 "Conflict" begins in TO DIE FOR style, but the songs evolves itself and seems like if Katatonia , Dark Tranquillity and Therion would have created a song together!!!!As I said before I don't appreciate the way to make growl by the singer that sometimes seems too much monotonous....
Death and Gothic are perfectly mixed n the following song..."Where nothing was left" in which the sadness is expressed with pain and intensity! Very good guitars riffs notes and a great rhythmic session are able to get progressive metal elements in their music...
Progressive death metal meets gothic in the following song....just the title-track, characterized by a nightmare atmosphere full of obscurity in which the band plays with an immense sadness with a piano that is able to touch the soul while the rhythmic session makes the sadness! What a great album!!!!!!!!!!!!!!!
"Distress" is another jewel of progressive death-dark metal in which the band shows its attitude to create music by the soul....but not only! All these musicians get a very good technique.
"Dreamscape" is another sad composition ..melancholic goth-metal and a touch of doom-metal in which I notice a great keyboard and guitars work...and it's a shame that the vocals are not able to give more intensity to this jewel of song!
The latest track of this album is the most crying of all! It's full of sadness expressed with the perfect meet among all instruments, it's a tear from the soul!!! I'm sure that this band will be to the top of the European Metal scene soon, and if you're a melancholic soul....you can't but enjoy an album like this!