I don't

know if many of you will get back alive from the moshpits supposed to be created..
The new album of these German Deathers finally gets it into my cd player and confirms what I almost didn' t dare to hope! They made it! Rather furious going forward music that captivates and shows what qualities the musicians are able to bring at the surface. The songwriting is logical, the melodies and the arrangements fit perfectly together and so the way to a very good album is easier to be taken!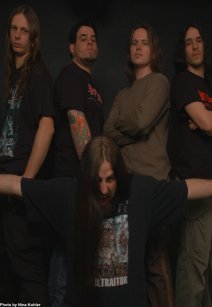 The Swedish influences, that can be heard in the songs, don' t take the freshness from them, but make sound the whole harder and how shall I say... in a way mighty. The speed is almost every time pretty high, and at the rare moments of rest, the listener still is taken by the catchy grooves and still high remaining energy of the compositions. A very clear and powerful sound makes the whole thing going easier, so that every instrument can be well heard and is allowed to spread its own energy to the maximum. Perhaps the only little thing to be blamed is the lack of that little bit of individuality that makes you recognize a band from the first few tones heard. But in this music genre I think this is an almost impossible thing reserved to the very highest "elite" in Swedish influenced death metal.
If am right informed, Soul Demise will attack the stages of many festivals in Germany as for example the Party-San Festival near Erfurt. If their shows are only the half as energetic and powerful as the music, well, I don't know if many of you will get back alive from the moshpits supposed to be created..
This is a band that has improved a lot in the past years during the former outputs. If they continue this way, Soul Demise can become one of the rather often named bands in the European scene. I am pretty sure they can make it, and I hope they' ll get once there, where they want to, because they simply deserve it! Enjoy!!
rating: 8.5/10