SOULFLY
"Archangel"
Review by Matthew Haumschild
<![if !supportLists]> 1. <![endif]> We Sold Our Souls to Metal

<![if !supportLists]> 2. <![endif]> Archangel

<![if !supportLists]> 3. <![endif]> Sodomites

<![if !supportLists]> 4. <![endif]> Ishtar Rising

<![if !supportLists]> 5. <![endif]> Live Life Hard!

<![if !supportLists]> 6. <![endif]> Shamash

<![if !supportLists]> 7. <![endif]> Bethlehem's Blood

<![if !supportLists]> 8. <![endif]> Titans

<![if !supportLists]> 9. <![endif]> Deceiver

<![if !supportLists]> 10. <![endif]> Mother of Dragons

<![if !supportLists]> 11. <![endif]> You Suffer

<![if !supportLists]> 12. <![endif]> Acosador Nocturno

<![if !supportLists]> 13. <![endif]> Soulfly X
---
Websites
https://www.facebook.com/SoulflyOfficial
---
Line up
Soulfly is: Max Cavalera – Marc Rizzo – Tony Campos – Zyon Cavalera
"you're one of us, be proud"
I suppose I knew this but I hadn't realized how solid of a line-up Soulfly has on this album, at least when it came to the first three names on the list above. All of which are accomplished musicians who have sold a number of albums and had legions of bands they played for prior to making this album. No disrespect to Zyon by any means, he's still young and he has a long career ahead of him. This is the first Soulfly record I've purchased since "Primitive" an album of which I didn't like in the least. Soulfly's first album is now considered to be a classic by many in the metal community and it still holds up all these years later, "Primitive" not so much. I was living in Phoenix and I saw a classmate of mine at the Conservatory of Recording Arts and Sciences go off to the studio to intern and assist in recording that album and tell us the tales of recording that. I would decide to wait and hope Soulfly would come up with something with better recording quality at the very least. Fast forward to…15 years later or so I finally got around to purchasing (pre order really) this album after reading Max's autobiography. I must say, the band sounds a bit different than what I remembered.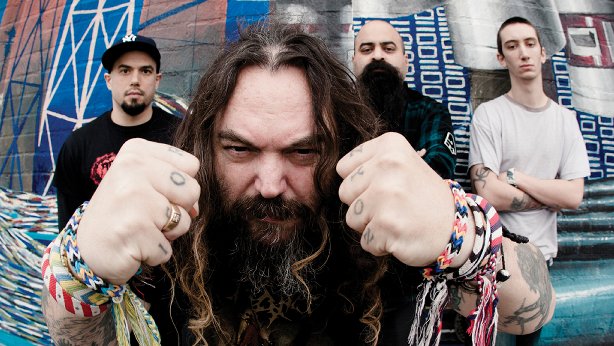 "We Sold Our Souls To Metal" is a song I wish that had came out when I was a teenager. It has all the elements of the perfect metal song performed by one of the most prolific writers and performers in metal history. The line that always reels me in is, "Fuck you all, we don't belong" and "I don't need your politiricks, we live our life the way we want" it screams angst! I've probably listened to this song 50 times by now and it still sounds awesome. It's one of those rare songs where it makes the listener believe that they belong. The sense of belonging is very strong in the world of metal because people who listen to metal typically do not easily conform to the norms of the outside world. This song says, "you're one of us, be proud" I haven't heard a song like this in a very long time, if I could, I would tell every person who listens to metal or had really been into metal, to listen to this track, it really reels the listener in. It's fast, it's brash and the solo or the post chorus to this song is fantastic as well!
"Archangel" hits really hard artfully along with the atmospheric guitar courtesy of Mr. Rizzo in the beginning. What I really like about this song, aside from how it begins, is the arrangements. Arrangement is the most overlooked portion of music. Most people don't even realize a song actually sucks because the songs treats people as complete idiots. This song doesn't do that, it creates at atmosphere of doom beautifully. The solo of the song couldn't fit better with the track, it's a no wonder why they chose this track to create a video.
"Soulfly X" I should have mentioned this to him when I spoke with Max, I really wish he'd just come out with an album that's full of these songs and then market them separately. It's such a beautiful song. It's got that awesome campfire worldly vibe to it. Those of you who have no idea what I am talking about, Soulfly (not just Max) comes out with an "acoustic jam" on every album, but it goes deeper than that, there's musicians that play unique instruments from all over the world in a spiritual-like jam session and it sounds AMAZING. There have been ten of these songs already and they are all excellent. Next week, I'm going to buy the rest of them.
How did the rest of the album sound then? Honestly, every track sounded a like to me. Dark, heavy, biblical, a sense of doom, aggressive and really not too bad as mentioned in the first paragraph, I'm being honest in saying I haven't listened to much of Soulfly since their second album but after listening to this album I wouldn't mind revisiting the rest of Soulfly's catalog. I want to make a clear distinction, Soulfly is four members, not just Max. Max is the voice and the brains behind the work however, Marc Rizzo always puts on a masterful performance (from what I've heard between this album, Cavalera Conspiracy, and Ill Nino from back in the day), Tony Campos is completely underrated and this is the first I've heard Zyon. The only thing I would complain about is the snare drum sound, I just prefer a bi more lightning than thunder in a snare drum but that's personal preference. I await to hear more of him in the future .
Yes, the album is worth listening to and buying! 8/10
Matthew Haumschild