Seven years, but every second was worth it, because "Oath Bound" is a classic, a monumental epos
Oh yes, that's it! Seven long years have passed since Summoning from Austria have taken us to the Middle Earth. Seven years, but every second was worth it, because "Oath Bound" is a classic, a monumental epos. Ten out of ten points are the minimum for this milestone.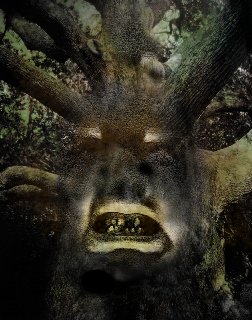 "Oath Bound", this is a musical trip to the tales of J.R.R. Tolkien, namely "The Lord of the Rings" and "The Hobbit". The concept isn't new, since "Minas Morgul" (1995), every release of the two creative heads Silenius (well-known from Abigor) and Protector is based on Tolkiens legacy. But "Oath Bound" is their biggest step yet to perfection. Summoning stands for another way of Black Metal, no blasphemic lyrics, no blasbeats, no freezing winter. No, Summoning stands for epic poetry, melodies and harmonies full of life, of passion and emotions. Fanfares, trumpets, flutes and many more "old" instruments are sounding, the gates to the Middle Earth are open, and the listener enters a different world, far away from our modern civilization. With a whispering, cawing and fascinating voice, Silenius creates imagionations of secret tales, strange creatures, a never ending fight between good and evil, about dark times, about better times to come, about peace and war, love and hate. There is no drumming in the usual way, it's a kind of tribal, like the rhythm of a march, pounding and exciting. The atmosphere and the mood of this album changes a lot of times, from melancholy to hope, from light to darkness, sometimes pushing, then again hopeless. And these melodies, ladies and gentlemen, these melodies… it's a fantastic symbiosis of the guitars and the keyboard, well, it never really sounds like a keyboard, it sounds like real instruments, orotund, majestic, transcendent, taking you away, far far away… Together with the rhythm, a total hypnotic melange emerges. The whole album "Oath Bound" is calm, this is an opus which you can only really epicure when you shut down all the lights beside of some candles, open a bottle of good red wine and just let the music take you away. "Oath Bound" is a heroic, proud and pugnacious statement of two individualists, who will go their way 'til the end. It's impossible to pick out a single song, this album is one piece of great music.
The ultimate detail about "Oath Bound" are the burly and touching choirs, full of spirit and full of energy. By the way, the lyrics of the song "Mirdautas Vras" are completely in Tolkien-language, in the language of Mordor. If Tolkien could hear "Oath Bound", he would be very glad and very proud of it, because this is the musical conversion of his written visions. The transformation of letters into notes. This album contains as good as seventy (!!) minutes of imaginations, of worlds and lives. Honour and respect to Summoning for this creation! Epic Black Metal has been re-defined with "Out Bound". I have nothing more to say but get this album, listen to it, and kneel in front of your hi-fi system and drown deeper in the Middle Earth… well, I have to close now, I have to go and get all Summoning-releases…