SWITCHBLADE: "
S/T [2009]
" www.switchblade.se www.denovali.com
More than three years after the release of the s/t [2006] album, Switchblade entered the GRÖNDAL STUDIO (The Hives, Breach, Fireside, etc, etc) with KARL DANIEL LIDEN (VAKA, Dozer). The basic live tracking was done in 3 days and the band literally lived in the studio and worked very long days. Then it was time for guitar dubs and vocals over at the smaller/less expensive VERSION STUDIO. Almost 3 days was spent there as well. Then it was back to GRÖNDAL for a few hours for some piano and Hammond organ recording. The album was mixed at KARL DANIEL LIDEN'S own TRI-LAMB STUDIOS. The album was mastered at TONTEKNIK by MAGNUS LINDBERG (CULT OF LUNA). The 49 minute long composition is divided in 3 parts.
It was very difficult to find an application to this CD.
The more I try listening to this CD, the more I am thinking that perhaps I was the wrong person to review it. Or the right person? Switchblade is a doom metal band from Sweden. I was unaware they had doom metal bands up there. However, in the interests of expanding my horizons, I decided to give it a shot.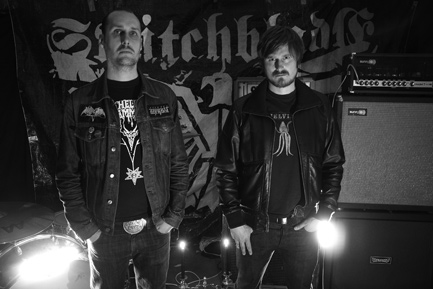 The more I listen to it, the more I try to picture this band's music. It's as about as black as one could get. Black the colour black, to say this music is dark is an understatement, it's purely black sounding. I picture a very very dark or blackened room of charred remains with this CD playing. The songs go extremely slow, so slow that…now keep in mind, I've listened and I've played a myriad of different types and styles of music, this was the slowest music I've ever heard.
Further listens, gave me the impression of Black Sabbath. I had always heard that Black Sabbath originated "Doom Metal." What did I know, I was a teenager when I heard that term, and at nearly 30 I hear it for, technically, the 2nd time. I would compare Switchblade to the earliest form of Black Sabbath, minus the rocking parts.
The problem I had with S/T is that I couldn't do anything to it. In other words, I couldn't drive with it on, ride a bus, walk around Minneapolis, bike really fast, work out, see this played at a party, see this band live, imagine the crowd reaction. It was very difficult to find an application to this CD. Although, I can appreciate the art in this disc, and I have no problems with sound quality or anything, I just couldn't do anything to it.
If you're really into doom metal, buy this CD. If you like really slow, music that is beyond dark, buy this CD. If you want to go into a mosh-pit, run a treadmill, or throw in music as you're picking up your date, don't buy it.
rating: 4/10