15/09/2002
METAL KONZERT at Wärchhof - Luzern (CH) 14 -09-2002
presented by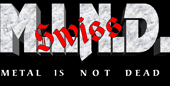 with
TANKARD
BITTERNESS
VORACITY
Here we are again at the Wärchof in Luzern, little "big" death/thrash cathedral of the German Switzerland, where the Swiss Mind team has organized a metal concert of great interest. The season begins again and this evening: the Wärchhof will have as guest the cult band Tankard from Frankfurt. Tankard have planned many dates in Europe and the performance in Luzern is included indeed in their agenda. The scene of Luzern and neighboring cantons will not miss this cool event, one can meet even Metalheads coming from the Italian Ticino. Around 21 o'clock the venue is getting crowded. Voracity(CH) and Bitterness (D) are the acts that will open the concert. The atmosphere is electric enough and i know that the Wärchhof audience, good judge and longing for class metal music, will receive the bands with warmth and with the firm intention to spend an unforgettable night dedicated to the best thrash/death sonorities...and washed with a good bottle of beer, for sure!
VORACITY
www.voracity.ch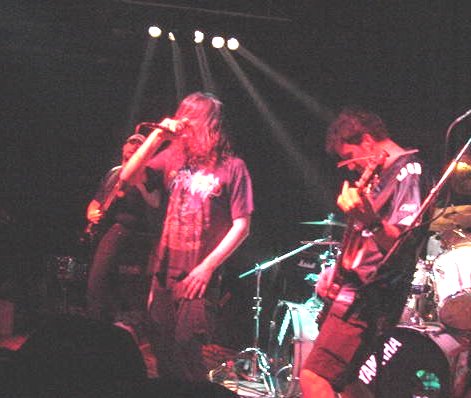 Voracity are well known in the Swiss scene, we are speaking about a young band that begins to gather very good consents . Coming from Uri, in activity more or less since 5 years, they play an Old School Thrash that doesn't sound old fashioned , but , on the contrary , fresh and persuasive. I've heard already about them, but today it's the first time i can see them, therefore i'm very curious. The concert begins, people move from hall to the stage room that in few minutes reaches almost the maximum of its capacity. I appreciate so much the Wärchhof audience, cause here people comes exclusively for the love of metal and for the joy to be together with friends. The first bands on the stage are not seen with haughtiness, as if the headliner only counts. Here every act is followed , supported, and if the music is ok, everybody will listen with very attention and practically more than half of the crowd will begin to headbang powering in this way the mood of the band. And if the band in question is already known and appreciated, like Voracity, well and that's it! and the enthusiasm spread contagious. The thrash moshing grows more and more underlining the heavy but rather catchy music which invites to long headbanging's with good loops ,riffs and tempo changes. There are chords that are close to the earlier periods of the Thrash historical bands , embedded in a more up-to date musical taste. And this thing makes Voracity music attractive, in particular at the eyes of the young generation. Tonight in the audience , you can find metal veterans together with very young girls and boys (boys in particular) , who are discovering a world with incredible passion: a world that is new and full of musical suggestions for them. Eh no, metal is not dead, and here is bursting with health . And while Voracity guitarits push energetic and rather speed music , singer Guido is completing the mixing with his good angry vocals . Among the songs proposed, Lydia and Between the Extremes are really hammers. . The encore is called, and the high voltage of the evening is sorrounding everyone.




SETLIST: MANIPULATION . THRASH - DISCO MUTANT - INNER DEVIL - SILENT HILL - LYDIA - BETWEEN THE EXTREMES - ARBOREAL - NYKTOPHOBIE - SHADOW SEARCHER
---
BITTERNESS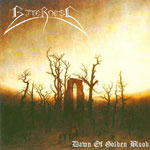 www.bitterness.de
www.iguana-audioproductions.de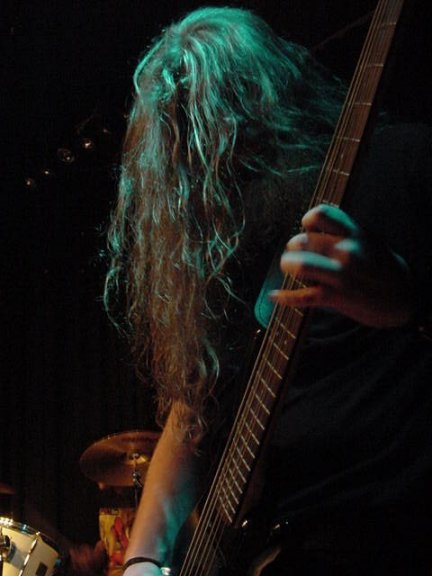 The German Bitterness have now the task to go on firing the concert. They have recently released their album Dawn of golden Blood and soon they will take part to the V Metal Forces festival together with Harmony Dies, so i can imagine that this evening can represent for them a kind of test. The first thing that is hitting me, is that they are only 3 , guitarist and voice Frank, bassist Sebastian and drummer Andreas . Well it's not so sensational, though we are more and more used to 5 or 6 members acts, but the cool fact is that in 3 they are able to let out sound grenades and engaged music anyway. First thing to say, in comparison with the music presented before by Voracity, here the tone is much more death oriented, so that we could classify their music as death/thrash, good mixed together. Second important particular, Sebastian is playing a a 6 strings bass, and with a valuable self-confidence, showing to master the "monster" rather good. The bass work is awesome and extremely important for the whole rhythmic. The passages and chord changes on the bass are fast and we pass from really deep sounds to higher ones. Third particular: the drummer is doing a maybe even more awesome work, and i realize very soon how basilar is drums support in this band. Practically drums are filling up every space that could be left empty but without resulting boring or too much invasive, and the rather bass sounds produced by these drums join perfectly the general musical picture of Bitterness. And after many tracks that would convince to the headbanging philosophy an old monk, it's with the overpowering Sentenced to live, a mix between Death, Heavy and Rock'n roll, with a kickin' ass refrain, that energy explodes again, followed by the cool escalation of emotions, where the vocals are angrier than before. This Escalation of emotion has a touch of doom inside and brilliant distorted guitar sounds and not by chance lyrics begin with "Sadness is what i feel..." , proposing a subtle feeling of sorrow, making the color of the concert a little bit severe . In general Bitterness can propose violent rhythms as well as more melodic ones. Vocals provided by singer, guitarist and lyrics writer Frank Urschler are not the strongest ones, sometimes instruments overwhelm his voice, but when he puts right energy in his timbre, he fully gets the situation under control again. The very long haired Sebastian is headbanging rarely but wonderfully: this is a thing which would be able to throw Amon Amarth vikings in a sour yellow envy. And while Andreas is a force of nature, Frank proves to be a good guitarist
playing very good riffs and a virtuoso solo, done with agility and in Mackintosh style. Dark, heavy, gloomy and severe with terrible death propulsion which can be easily switched on or off, with thrash chord drops, Bitterness have played a really god gig. I would not forget to mention the beautiful melodic bass intro of Dawn of Golden Blood . Is there something wrong with them? well another guitar would not be bad, a stronger voice would be hoped and i would suggest more mobility and dynamism on the stage. The well deserved encore is acclaimed anyway.
3:50 Bitterness leave the stage and Tankard's shadow is in the air! Prepare your beers and heal your necks in a hurry!







SETLIST: GATE OF DIMENSIONS - HATE - DAWN OF GOLDEN BLOOD - SWEET - SENTENCED TO LIVE - ESCALATION OF EMOTIONS - CONFUSED JUSTICE - T.H.R.A.S.H. - DEATH - THE COURSING - SLAYER
---
TANKARD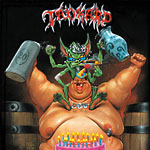 www.tankard.org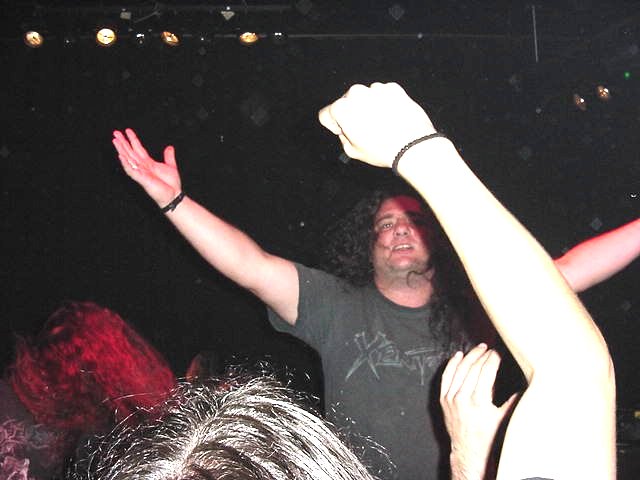 The room is crowded more than you can think, everybody is waiting for the Gerre and Co., 5 boxes of beer are already placed on both sides of the stage, drums and guitars are ready, microphones too, a plethora of more than enthusiastic headbangers too. You could cut this euphoria with a knife. No "smoke effects", here no one cares a flying f*ck about effects of any nature, being trash/death implacable proceeding and the charisma of the artists the only effect wanted so bad.
00.18 total darkness: a loss of electric power is throwing the whole room into the pitch dark, drummer Olaf already sits behind the cymbals, people doesn't doubt that the problem will solved very soon , but the moment is surreal and the level of excitement is growing even more. Who knows if Tankard will play in the obscurity?? Stupid question: 0:21 and the electric power lights us up again. No time to lose: Andy and Frank jump on the stage and the first notes of opener Alien burst with incredible energy, Gerre gets on the stage too and...it's ovation! I have seen so many times well acclaimed bands but what i'm experiencing now is breaking every concept i had about acclamation. Music resounds tireless, and an authentic mountain of enthusiasm sparks off , and from now on you have always to picture the gig with this incredible atmosphere. Maybe it's rather normal that Tankard match this ardor, anyway it's a great spectacle . Beyond any considerations i join the general fascinated sabbath of headbangers who are praising so much Tankard for their music and sympathy. Gerre has brilliant qualities as front-man as well as entertainer . But attention, don't think that his sympathy can spoil somehow the aggressiveness of Tankard's music, ah no! Than he is able to strike a mighty sense of strength. With an incredible crowd support, the gig articulates and develops with agility , freshness and nice moments. For example? For example when Gerre warmly greets Luzern, or when is announcing the track "we need money for f***ing beer", when invites the crowd to applaude a Luzern FC football fan, whose name is Andy: "Applaus für den Andy!!", when he finds then the time to present Queen of Hearts dedicating this song to princess Diana, and when presents Nation over Nation as song against every racism and nationalism, or again when he tells how much cool is to play in Switzerland after so much time, or when beer is distributed to the first rows (if we can define them as rows!) or when he is emptying a bottle of beer on his head, when he and the band have so much fun in watching all the numerous stage divers, when good mooded they accept in general fans jumping on the stage and headbanging near them. And when he seems to Gerre that the enthusiasm instead of being 300%, is dramatically sinking to 299.99% promptly he asks severe "Luzern , was ist los??!" (this is to say: what's happening).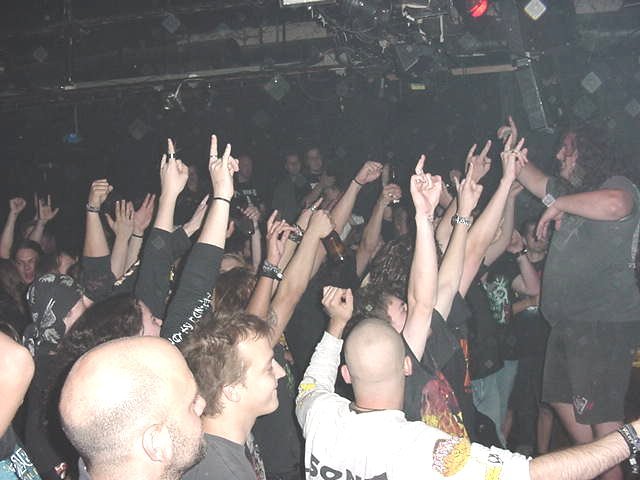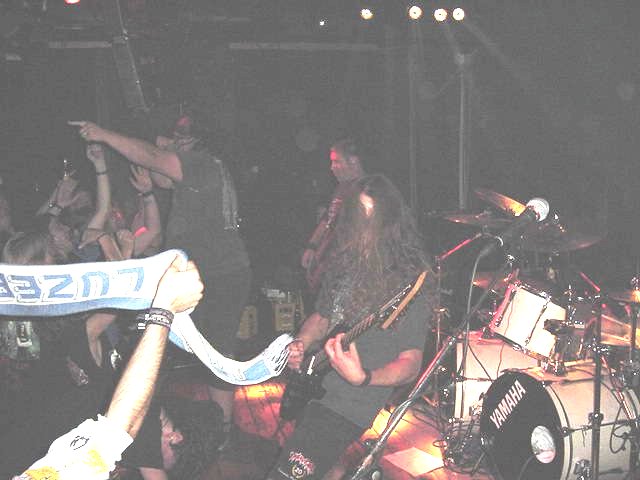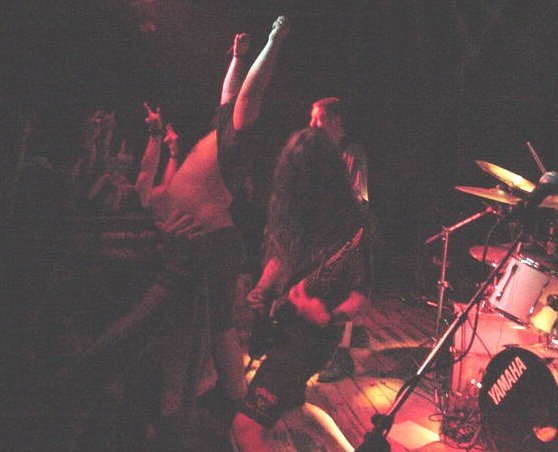 Under the technical point of view, Tankard are delivering one of the best shows i've ever seen. There is high energy to the riffing and drumming. They combine speed-thrashiness with catchy loops, offering absolutely first-rate quality metal full of fast parts, galloping intermezzos, thrash-y moments, headbanging riffs with lyrics that are more engaged than it can seem at a superficial listening. The band is dynamic and irresistible, mobile, agile, self-confident. What would you expect after 20 years of motivated career? And still they are fresh, happy in playing for the audience, mixing fun and precision. From opening to closing, their gig is vital and exciting. maybe the beer drunk by the band during the performance is really to much, but... i mean, it's their choice if they want to wash their "alcoholic metal" with plenty of good Swiss beer. Practically every track arouse admiration, being Freibeer one of the more acclaimed though. Drums are powerful and pounding, Gerre's vocals are very strong, bass and guitar provide for screaming sounds and heavy passages. Tempo changes are exact. Though some song can sound a little bit repetitive, nothing spoils the extreme confidence and the cool attitude of a band, whose setlist, instead of being read, is trampled on merciless , if not washed with beer and destructed anyway , exception done with that one near the drums. What does it mean? it means to me, that they and their music on the stage are a complete unity, so extreme is the self confidence in what they are doing.





The most involving and magic moment for me personally? Oh yes it is a fantastic one indeed! It's when i'm helped by Fabio of Swissmind to get on the stage and Gerre is lifting me making me whirl on his shoulder for a moment. Maaan what an experience!!! I let you imagine! (thanks Fabio and a lot of thanks to Gerre, whose sensibility towards his audience is really unique).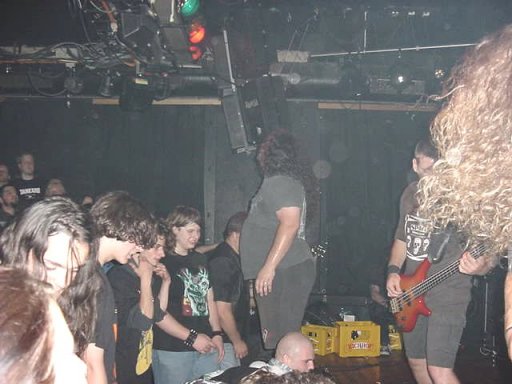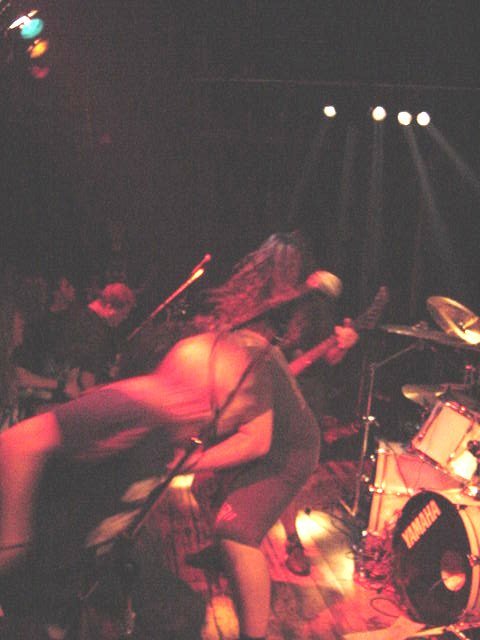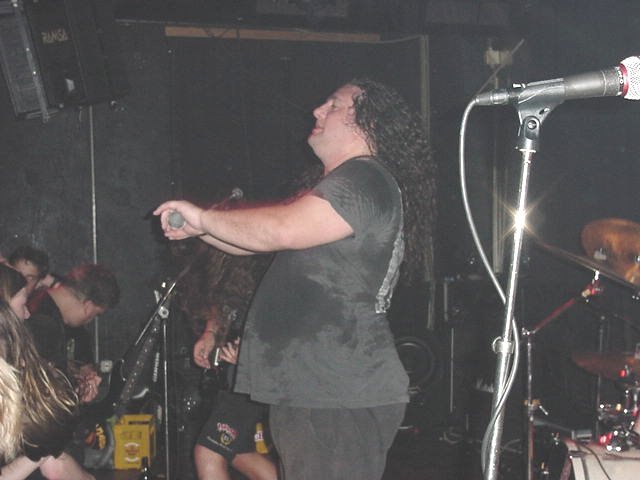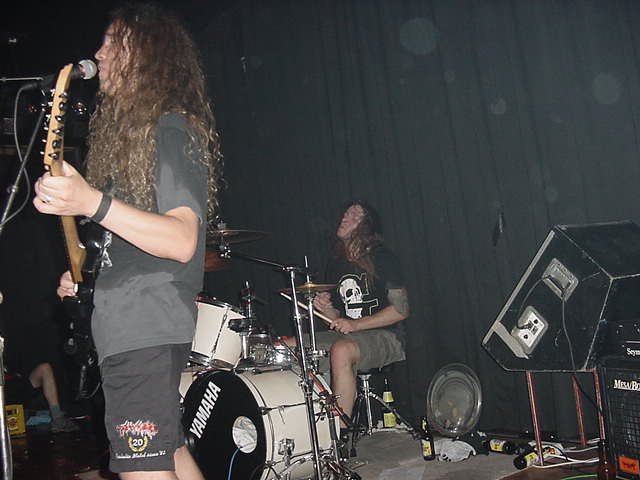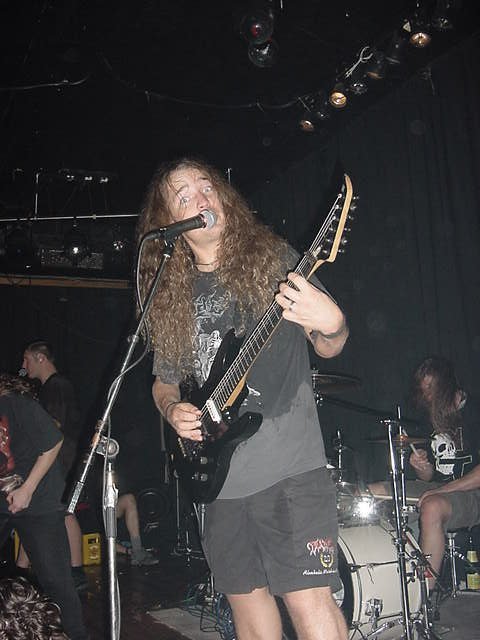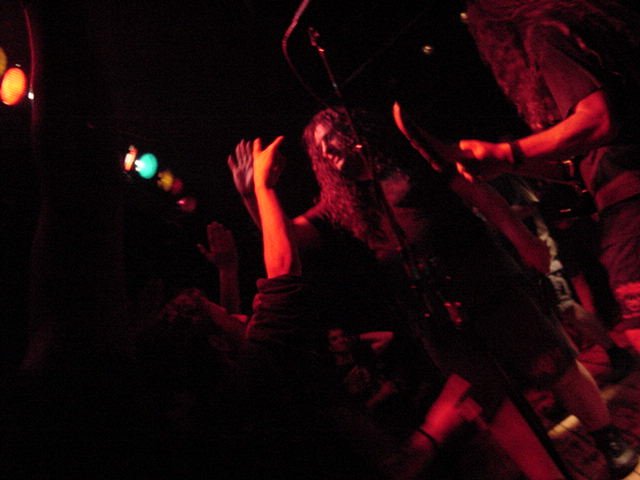 The gig is ending much after 2:00 in the night, with 2 encores. Though being late at night noone is really tired. Gerre, Andy, Frank and Olaf, at the end of the show, are greeting personally so many fans. It has been a super brilliant metal show. Or, better said, it has been, in the true meaning of the word, a megaparty. PROSIT! SALUTE!
SETLIST: ALIEN - DON'T PANIC - NEED MONEY FOR BEER - MERCENARY - QUEEN OF HEARTS - SPACE BEER - NATION OVER NATION - DANCING ON OUR GRAVE - RECTIFIER - MANIAC FORCES - RUNDOWN QUARTER - THE MORNING AFTER - ZOMBIE ATTACK - ALCOHOL - SUNSCARS - CHEMICAL INVASION - FREIBIER - POISON - (EMPTY) TANKARD
dalia di giacomo

---