Gaswerk! in Winterthur. One of the Swiss emerging venues. It's the first time i'm here, and why?. Cause here this evening , The Mission and special guest Votiva Lux will play. Oh just a moment,... it can sound strange, knowing my personal tastes, that i've chosen this concert, but not only the musical genre is important for me (and for Stefan "Abs" too of course) but the event in itself, and this evening Winterthur is guesting an event indeed, much more important that it can appear at a first superficial moment. Firstly of all The Mission have a historical career in the Rock scene that must be considered; secondly the Mission live line up includes Rob Holliday as added live guitarist. To be honest i shouldn't write any explaining more: whether you like it or not, Holliday from Sulpher is one of the best and original guitarists in the scene, and his "Sulpher style" is unmistakable. You can recognize it among millions. Sulpher are a real revelation in puncto Heavy Industrial, and if you see them live for sure you will never forget them. Question is how such attitude can match in a concert with The Mission, who have a more rockish-de icate style, even gothic from time to time. That's what i'd like to see and this simple thing makes this concert technically important for me. My big personal esteem for Holliday and Sulpher apart.
And third point (last but not least) the special guest: oh yes every supporter in this world is a "special guest" , sometimes a "very " special guest. Probably the real meaning of "special guest" is lost on the way, imo. Votiva Lux, on the contrary, are really special guests tonight: they will open for The Mission only 2 times (so it's a special, and not a continuous appearance concerning this tour) , moreover Votiva Lux have a special importance for Wayne Hussey, i presume. They are one of his favourite bands and they are working together for a common project. So special guests: they support only few times in a significative but discrete way. They cooperate strongly with Wayne, nevertheless they are not presented in all sauces in all dishes and every moment. Result: this concert has something special beyond the music style. Ergo, hic sum, et hic manebimus optime. Or something like that!
A couple of words concerning Gaswerk! practically the venue centre (backstage excluded) is a big room that can hold 200 or even more persons, in neo- industrial style. Its ceiling is very high , arches define the room on the left and on the right of the stage. At the opposite side of the stage , the back wall presents a thin loft, and high, just under the ceiling , the black veil is cut in order to let appear a silver full moon, starring in a blue sky. Black veils surround the whole room , occupying all the empty spaces of the arches, giving to the venue a cold essential look, based on black and white. Full moon : very related to Votiva Lux music.

Well, nothing to do with metal. But good music is good music, and , considering that metal itself doesn't disdain sometimes pycho space electronic chill out moments, why not? Let's attend this gig, that seems to be a bit different. Votiva Lux are an italian band that were called, if i remember well, the "Italian answer to Pink Floyd". They come from Bologna , if i have understood well (curious isn't it? though we are all Italians there has not been that great communication between me and Giulio ..., by the way i'm still waiting for a kind of setlist. should i know all the tracks of Votiva Lux? though this cooperation with Wayne Hussey is remarkable? do me a favour!my chill out is a good death charge! ) . Anyway let's not digress à la Italienne. Psychedelic space rock : in this way we could resume their music and, above all, it is instrumental. They hit the stage at 20:56. the venue is good crowded, though only few persons seem to be the typical m'era luna gothic guys. And we are carried away nicely, but indisputably in another dimension. Far, in the space , stars, unknown planets , galaxies, satellites, neutrins and pulsars are dancing a cosmic dance before our eyes. Our mind flies away at the search of space frontiers, or simply deep in our personality at the search of psychic borders. The music is really cool and well performed, though the stage acting is one of the most static and cold i have ever seen. Anyway it's not easy to produce live this kind of sounds and it's clear that Votiva Lux , whose look is totally normal and sober (no astronauts , thanks all gods) fix everything on their musical hypnotism . Echoes effect, distorted sonorities, some rockish guitar drops, good romantic melodies, everything supported by resolute drums. If i have understood well (you know ..among us Italians...) they have presented only one track from their last work Solaris (by the way a cool CD really) and the rest, from previous albums. I'm happy like a resurrected Christ that i cannot give you a single damned title, but well you get what i know, or what i get in my turn. Another explanatory particular: the last song they have proposed, whatever it is , it's very boring. Pity! cause the rest is really good. ...and my dear metalheads, if it ever happens that you need some space psychedelic chill out , keep in mind Votiva Lux cause their music deserves it. If they are well considered by Wayne Hussey there will be a reason... all in all a good concert that has not warmed up that much, but has gifted everyone with an impossible ethereal dream
Ah, before i forget: another explanatory particular . Starring in the middle of the stage there is a device called teremin (or thereminovox) , which has been one of the points that has captured the most the attention of the audience, as source of "space magnetic" noises and echoes . Giulio Sangirardi has left , from time to time, his guitar in order to play this object invented by Lev Teremin in 1920, whose valve circuit is connected to a short vertical antenna. Sounds vary bringing nearer or moving away the right hand from that antenna, while with the left hand rules, through another antenna, the intensity of the sound. And Giulio masters very well this technique, that i see live for the very first time. 21:21 final with psycho effects which mantain themselves, the band leaves the stage for a minute and comes back in order to set all sound sources off.
Applauses "thank you very much . see you!" says a bit dry Giulio. Space ...off.
21:55 it's the moment for The Mission to hit the stage. Darkness. Intro. Ah ...but this is yes! what an intro gosh! This is an intro! Nothing less than Masked Ball by Jocelyn Pook. Yes the chant of the scene of Fidelio from the movie Eyes Wide Shut directed by genius Kubrick. I'm in rapture cause i like such a track and even more thinking that is a backward setting of the chant of 2 real priests of the Othodox church. The result , like Pook was saying, is diabolical and mysterious, simply fascinating .
Wayne Hussey is on the stage followed by band mates Ritchie Vernon (bass), drummer Steve Spring, and of course Rob Holliday. 21: 58 we start off with the atmospheric and drum powered Crystal Ocean. Wayne Hussey begins playing the synth, while bass and drum propell the rhythmic kick, till finally the guitars enter the soundscape.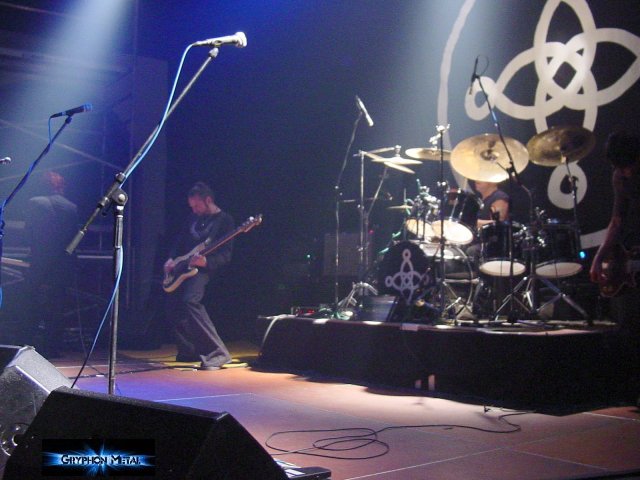 Vocals impact well, one or two notes are not perfect maybe, but this will be the only flaw in Hussey's singing the whole concert long. Rockish with some gothic flavour, and, above all melodic. Both guitars are well synchronized, moreover everyone can begin to understand that Vernon is in perfect shape and will give a brilliant kicking ass performance. Effective and in form is Holliday's playing too. You know what is impressive?, it is the different kind of style, the different kind of sonorities that Holliday is playing tonight. Totally different from Sulpher's stuff, but anyway, his style, his stage acting, and his look is still unmistakable "Sulpher". And this is nice. Hussey's and Vernon's look and style integrate with that one of Holliday, complementing each other: 2 different poles bounded by harmonius guitar phrases. Nothing is disturbing the atmosphere, typical for The Mission, but, at the same time, noone is loosing his identity. A good mix of experience, romanticism and energy well underlined by lively lights.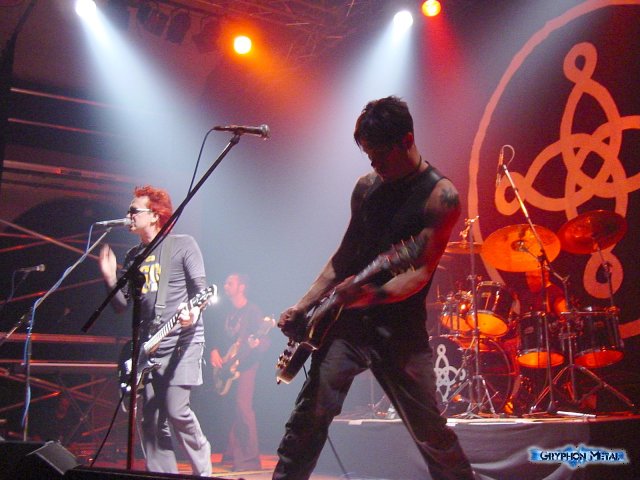 We go on with Angelina, based on bass sonorities which support the clusters of guitar sounds. Rob is adding strength , being sometimes the real lead guitar, and energy to the picture. Wayne masters easily the stage with experience and good taste, letting free the vibes of his vocals and his measured gestures. But ehi the bass player is making a super job, with good mobility, and the bass is almost always alternatively played with fingers or plectrum. Applauses cannot be missed from a crowd that begins to dance, enchanted by this romantic scenery which fortunately is providing also some heavy crunchy riffing.
"Thank you very much !" says Wayne to the audience announcing the next song. And with Garden of Delight and in particular Slave to Lust , which has a heavier intro, the crowd becomes more and more enthusiast. Drums are quite massive and the bass, like mentioned before , alternatively, one song after the other, played with the fingers or with the plectrum, is a real protagonist. Rob providess from time to time some back vocals, and, all in all, the show is really enjoyable. Rock style 80's romantic , a bit gothic, not metal but not too soft, with nice guitar escapades. the ideal music for a romantic rhyhtmed feeling. And the rythm is becoming more pushing with Serpent's Kiss and Severina. Applauses and applauses from the "dancing" Gaswerk. Wayne drinks a small sip of red wine Chianti oh yes! among the nice approval of the crowd. We go on with a repertoire that is not boring, well calibrated, with a touch of sensuality, echoes , guitar harmonies, hypnoticism, with some tribal instinct too, without missing some fast moments.
Well, without a single sign of tiredness we arrive around 23:00 hour when the first encore is called "Zugabe! Zugabe!" . Included in this show, we can follow moments where Wayne plays and sings alone with some acoustic vibes too. In few words, the show of The Mission opens windows for Wayne's solos, which are reaching one of their best emotional moments when the audience sings along "i can`t help falling in love again!" Practically, encores and wayne'solos interlace, Wayne is changing his guitars according to the various moments and looks clearly satisfied about the success that is emerging. 23.26 and still we are following the catchy and rhythmed songs. 23:30 Applauses ans applauses, acclamations lasting more than 5 minutes nonstop . A second encore is more than obvious and really deserved. The last tracks are proposed. Good taste and rock with a fresh wave provided by Rob. Though it's not my usual cup of blood, it was worth to be here, cause romantic atmospheres are like legends: they will never die.

Special thanks to Rob Holliday for the great helpfulness and hospitality. See you soon, but with Sulpher next time!