Metal legions far and wide, male or female, and without age limits; I wish to convey to you the best songs to work out to.
Working out could mean many things, having a massive radio blasting as you're playing basketball with your friends, soccer, running from one end of Zurich to the other, cycling, or just about anything else you can think of. Primarily, when I make up this list, I am writing from the perspective of working out at a gym, lifting weight, biometrics, and or running on a treadmill. Pushing your body to the limits releases endorphins that make one really really happy and to do it with fantastic music is even better. I realize everyone has different tastes, so bare with me though, there might be songs on this list you may never have heard of, so, please keep this in mind. I've read other lists of songs other people have written and it's the same shit, over and over, "Enter Sandman" "_____" from AC/DC <yawn>, "Toxicity"…the same popular bullshit found practically everywhere. Although, from the lists I've read, Rammstein was often mentioned and "Du Hast" was likely the track. The list I present you, my readers, is a composition of songs not found on their lists that rightfully should be, so please, if you don't know these tracks, please allow me to expand your horizon. I will only mention METAL songs and maybe one track that has metal tendencies, the list below is in no particular order.
"Sanctuary" – The Cavalera Conspiracy
This is a slamming track to run to, it's fast paced, it's in your face, the lyrics are forceful and aggressive. With blast-beat galore, this track will pay dividends as you're on your 7th kilometer. I should also add, this is quite possibly, the only track from this band that's worth listening to, do not bother buying the album.
"Fucking Hostile" – Pantera
Do I honestly have to give a description of this track? This is what you need to know, in case you've A: lived under a rock some place in Mongolia since the 90's or B: You're in our early 20's and have yet to be exposed to, quite possibly, one of the greatest metal products from the United States. 1: It's fucking Pantera, 2, it's Pantera in its prime, 3, they will not waste your time.
"The Flameout" - Soilwork
Soilwork to me is one of the most underrated bands in metal. Sure, their last two albums weren't the greatest, but "Figure Number Five," "Natural Born Chaos," and "Stabbing the Drama" were some of the finest metal albums of the 2000's. "The Flameout" came from their critically acclaimed album, "Natural Born Chaos." With combinations of singing and screaming, Speed Strid gives the listener the best of both worlds. Not to mention, the track is quite fast as well. This track is great for weight training and it's okay to run to.
"A Warrior's Call"- Volbeat
I didn't think I'd like this song, but after listening to it a million times on the local rock station, I decided to buy it and started listening to it while I was at the gym. It's upbeat and it's about fighting! I can't help but to think of UFC when this song comes on. It's upbeat with a tinge of metal and aggression. Not to mention it's catchy as hell. A must have for any work out mix.
"Public Enemy No.1" – Megadeth
I probably wouldn't suggest looking up this song on YouTube; you might be discouraged by the worst music video of all time. It's a damn shame because this is an awesome track to run to or to play sports to, it's got that "revenge" song to it that makes anyone that much more cockier than they already are. It gives people this sort of confidence to keep going. There are faster songs on this list, but this is still a gem of a song on Megadeth's new album that I feel is very overlooked.
"Winds of Death" – Darkmoon

www.gryphonmetal.ch/Darkmoon.html
Aside from basically having a permanent presence on this website, Darkmoon is a remarkable band from Basel of which unfortunately gets overlooked, but then again, that's underground metal for you. This song has a chorus and post chorus that is just fucking evil! It's catchy, dark, and mid-paced, perfect in exercise, including yoga! It's a great song to mosh to as well.
"Self-Bias Resistor" – Fear Factory
Fear Factory has so many tracks to choose from, I would have suggested "Edgecrusher" or "Cyberwaste" but after awhile, those tracks kind of sound redundant. They'll sound great the first couple of times, and then they get boring. "Self-Bias Resistor" on the other hand, stays awesome time and time again. For those not familiar with Fear Factory, A: no solos, don't look for them, B: The kick-drums and guitar are syncopated…perfectly, matter of fact Fear Factory perfected this type of metal and "Self Bias Resistor" is a perfect example of that.
"Ich Will" – Rammstein
It is so hard to just pick one track from Rammstein, because really, there are so many to choose from. I would have to say that Rammstein is the best band to work out to, period. Nearly every song is great for this application. "Ich Will" translates to "I Will" which should be motivation for picking up a heavy weight or running that extra kilometer. It isn't a fast song at all, and it's not catchy, but the way Till Lindeman sings the song is enough to motivate anyone.
"More Than Meets The Eye" – Testament
Like, most of the bands on this list, Testament has so many good tracks to go with. Although when most metallers think of Testament, they think about the older stuff from "The Preacher" or "Souls of Black" but "The Formation of Damnation" is much darker and heavier than anything they've ever done. It doesn't start out very well, it's a little on the "epic opening" side of it, which I don't care for, but once that's over with, it's a great song to weight train to.
Sepultura's version of "Symptom of the Universe" – Black Sabbath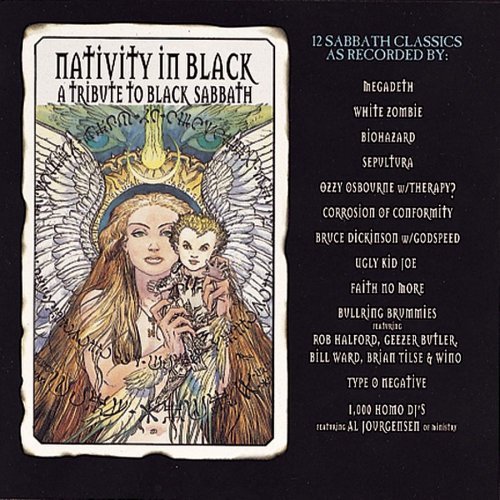 This version came out in 1994 or so back in what I call, the golden age of metal. It's Sepultura at its peak playing one of metal's most beloved tracks. They perfect it. You have the growl of Max Cavalera with faster guitars and faster drumming, Sepultura easily upgrades this song. Great for working out because it has an upbeat feel to it, although it's a Black Sabbath song. Not to mention it's a familiar song that most metaller should know, played to perfection.
"Wooden Pints" – Korpiklaani
For all tends and purposes, this is a drinking song. Not only is it a drinking song, it's a song about fighting…and drinking! The band is from Finland. There's a violin, there's metal guitars, it's upbeat…because it's a drinking song. Not to mention, the band sings a lot about stuff one would find in "The Hobbit" or "The Lord of the Rings." Which makes this song perfect for all physical activity! I usually have a smile on my face when I am done listening to this song.
The last one! I promise!
"TK-421" – Kilgore
I've written about Kilgore before on this site, just click here http://www.gryphonmetal.ch/kilgore.html to read the article. "TK-421" is just such a angry sounding song, sang from the perspective of a man addressing another person with very angry overtones. It's a great warm up song where it's a faster paced yet even sounding track with spoken word lyrics blended with Burton C. Bell's growling vocal guest spot.
There it is, put those songs in your mp3 player go to the gym and kick ass!


written by Matthew Haumschild www.facebook.com/matthaumschild