preview - review by dalia "gryphon_spirit" di giacomo____

---
synopsis - "Battle Metal" , though not perfect, is an impressive debut album that delivers a Pagan Metal intertwined with other genres. Therefore it will appeal to those who love Heavy and Power but also to the listeners of Folk/Medieval, Epic, and even Melodic Death and Gothic. Many influences make this album very rich within the almost always constant hymnic emphasis to battle echoes and choirs. Hymns that nothing have to do with the classic stereotypes. Moreover much sadness at times surfaces.Various are the instruments involved from e-guitars to accordions, from violins to recorder (flute) and Hammond, supported by plenty of different percussions (Shaman drum included) . Vocals too are varied, from growling to evil rasping tones and clean ones, while in some tracks even female vocals appear as counterpart of the male group. Short experimental passages are also present, as well as modern techniques. Such many and intense ingredients aren't always fluency combined, nevertheless some tracks are unforgettable. This is no simple Pagan or Viking Metal: this is a movie through a time-gate.
---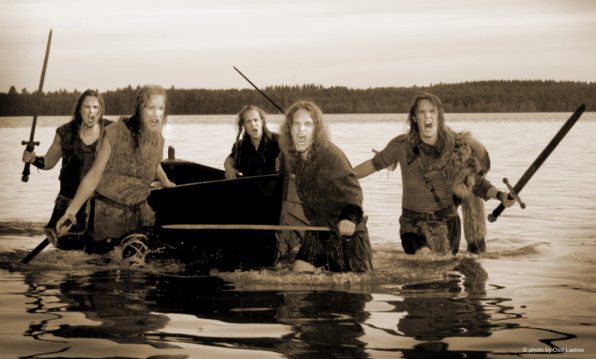 I read that Hämeenlinna is "a small city right in the heart of the pagan forests of South/Mid-Finland". It is in this small city that the band Turisas was formed by in 1997 by Mathias Nygård (vocals) and Jussi Wickström (guitar) and it is always in this small city that Turisas guitarist Georg Laakso was recently stabbed several time in the back , though fortunately with no serious consequences. Well it seems that the small and unknown Hämeenlinna is much more troubled than a bigger metropolis. Maybe it's the old hot battle spirit of Kalevala , the realm of finnish Gods, that still flatters over those woods. Indeed The name Turisas (very similar to the name of the rune Teiwaz) should go back to an ancient Finnish god of war, maybe a kind of morphing between Thor and Tyr, though i don't find him between Aino, Ajatar , Tuonetar and company. Anyway , as good "heir" of the somehow related Longobards , everything should have something to do with the Berserkers , the elite or warriors worshipping Tyr, then Wotan and always blood, knowing well the power of the runes. The die hard host in the battles. That elite of arrogant warriors that however was the first and last hope of their folks. On the other hand, war was not the most important thing for the northern European folks. On the contrary more an unwelcome necessity. All this couldn't explain better the music composed by Turisas, who, in this debut album, wonderfully create around us, like an holographic image, that varied screenplay of aggressiveness but also of light heartened feelings that marked that ancient life. Like in a concept album , Battle Metal presents us scenes of war, but also romanticism and even moderate joy. The parameter for that is the amazing junction between the anthemic spirit of Heavy Metal and Power and the darkness and growling force of darkest styles : from a certain Gothic and Melodic Death atmosphere to pure Folk Epic. I wouldn't identify this as "Viking metal" , but more as a well- nourished Pagan Metal with many structures fitting in, some of them near to Finntroll. Some folk structures yes , but attention: Turisas are no second Finntroll. Varied are also the vocals: growlings alternate with clean voices, with excellent choirs, whispers, and female vocals, but fortunately (imo) no opera tones are ever reached, so that Battle Metal can be listened by a large target .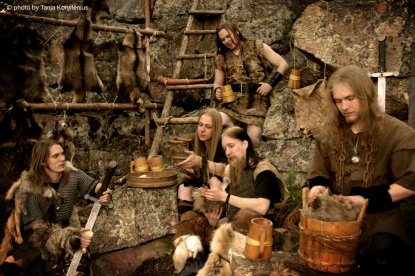 Instrumental elements and choirs are inserted so that you really get the impression to be there, in tight company of the warriors and their village. The number of instruments is extremely diversified: from horns, to violins, from accordion to Hammond , without listing the prolificacy of percussions, shaman drums included. I would also underline the nice- looking cover art by Niklas Sundin (Cabin Fever Media), who begins to establish himself as a solid reality " in puncto" graphics. The production is good enough in order to draw clearly any instrument and voice , in order to give the necessary dimensional prominence to various passages, though the surround effect could have been optimized, if reaching it already at lower volume.
The bit negative point in all this, is that the various structures are not always fluency bound, some "jumps" in pace and style are too evident, while sometimes a sense of tiredness (not boredom however) could overcome especially if you think to listen to it in an inattentive way. Every track ( i don't use the word song) has its clear identity and the album is actually very varied, but some pieces are a bit too long. Also in the variety, there is a recurrent tone that levels almost all tracks. Indeed you have to listen to it doing nothing else like you were watching a movie.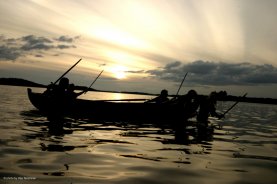 A movie yes, cause "Battle Metal" articulates in a sequence of tracks that is also a sequence of musical narration, that keeps the listeners busy, though enjoyable and catchy hook lines are of course not missed. Just think that the track Rex Regi Rebellis is based on an historical novel written by the Finnish poet Zacharias Topelius: "Surgeon's Stories", covering events of the Thirty Years War (1618-1648). The opener Victoriae & Triumphi Dominus is totally ancient- epic, with militar/sacral temperament, underlined by the military drumming and a solemn choir. As Torches rise is very strong with dirty vocals who graze growlings, with orchestral tones (which sometimes even remind of old Nightwish-ian rhythms) hook lines in uptempo and moments of sadness and instrumental virtuoso's . The following title track Battle Metal is very tight and cadenced, it's the direct development of As Torches rise and remains in its anthemic wake , just with more evilness and choirs, and with a drop of obscure symphonic and medieval. Same enthusiasm mixed with sorrow.
The contrast towards The Land of Hope and Glory is really exceptional cause this fourth track suddenly mitigates the Battle emphasis with an intro that shows modern techniques, the song then rises again towards horizons of eastern tzigane violins, and medieval tones mixed with even jazz/psycho short moments! 6.22 minutes of complexity and extreme musical variety, change of drumming pace and lots of catchy anthemic male choirs that makes unity and group. All this suggests to me not only the usual influences concerning music but above all the many historical influences that Finland guested. The Messenger begins with a rhythmic wall-riffing and goes on symphonic and imposing with a cornucopia of instrumental variations and rasping vocals until it shows a smoother intermezzo in which also female vocals appear. One More starts off as medieval balladesque with such a tenderness of strings and violins and delivers then a stronger cathy refrain and modern background effects, well this song gives actually the impression of a time machine: we jump through the centuries in few minutes, even superimposing the one on the other like many layers: a cool effect that you can appreciate if you are mooded for that. A catchy though not easy song lasting 6.50 mins.
Midnight Sunrise that makes you feel like you were in Prague or at the shores of the Balaton lake, instead than in Finland, are other 6:14 mins of engagement but ehi guys: these are the minutess that flow away like water, totally persuading: Midnight Sunrise is still complex, but it sprays immediately an incredible appeal, with tight and flattering Gothic/Dark and obscures atmospheres and the voice of Emmanuelle Zoldan that shines among the male counterpart.
Mysterious, ghostly and menacing is the intro for Among Ancestors that suggests both sacred choirs or the gloomy chants of the Visigoths when they digged the grave of their King Alaric in the South Italian river Busento (hehhe welcome Finland!), like the legend tells. Very beautiful and courageous the piano drops in this picture and the final force and aggression. Sahti- Waari is again very "tzigane" and pagan, even cheerful, an uptempo ride, like you were dancing around a fire . Prologue for R.R.R. is mystical and spoken : a flame for hystory, for the veil of the past, and for generations. Rex Regi Rebellis begins with a kind of Dimmu Borgir temperament that slows down in mild flutes or sad violins, while the dark cadenced hooks will remain long in our mind. Another super track of this album, though a bit too ambitious and too long with a drop of experimentation , that we don't necessarily need .
And finally the instrumental Katuman Kaiku which begins so slow emotional and sorrowful , mourning and nostalgic, but just in order to grow in heaviness with a potent steamhammering riffing evocation. So precious and beautiful, listening to it we can only wonder what does remain of what it was, while we fly on the wings of fluted sounds. Katuman Kaiku, what does it mean? A nice end for this debut album that though not perfect is impressive.
Battles, history, fantasy, runes and northern mythology , folk and epic elements intertwined in a wide and lively Metal spectrum are waiting for their fans, who have just to lay their hands on this album.

Rating: 8.8/10