review by dalia "gryphon_spirit" di giacomo____
---
synopsis - The legend returns with the seventh studio album, described as the more brutal and intense of the story of the band. Sworn Allegiance is of course very heavy and full of direct force, fortunately many hook's n loops, melodic enough, enrich the brutal tendency. The techniques in playing are varied and excellent, varied are also the tempo's though the fast lines are the protagonists. Many influences bring also waters of Thrash and American Death as well as some images from Deathwitch. Just few tracks show lack of ideas and originality, but the hooklines of Sworn Allegiance are enthralling and the effect live will be mighty. Beware of the moshing!
---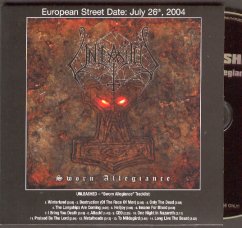 15th anniversary, celebrated with a bright new studio album: the seventh one. Unleashed are a part of the story of Death, and, as Death fan, i'm very honoured to review this new release. How do i find Sworn Allegiance, the album of "today"? In my opinion it is a good album: powerful, energetic, groovy, at times melodic, at times slightly insane, straight to the point, with some songs that are over the average level . It is an album for people whose blood is liquid Death, so nothing for apprentices and much for devotees, though some tracks, thanks to catchy and effective loops and hooklines could be inviting also for those who move their first steps into the realm of Death. Death presented with an almost general Swedish style, but mixed with many influences, from Black to Thrash, supported by a wide range of playing techniques. Even echoes of American Death belong to the picture. Nevertheless, not everything is completely brilliant and shining. The use of efficient resources was surely one of the themes and aims of this album, but the following development is not not always up to the task, cause a couple of tracks show a certain lack of ideas, for example The Longships Are Coming: in spite of the historical inspiration, it looks like being repetitive, based on a midtempo schema, that is however not sensational, it is even poor. Anyway after a second listening you're bewitched.
As mark, running clearly in foreground, throughout the album, the excellent techniques in playing, especially the percussive, the tremolo and reverberating ones, are emblematic. Here and there there is a gap of the best ideas and often you have a sensation of repetitiveness, cause the blocks alternating in a track are well detailed , not very long, designed with dry recurrent hooklines, so that you get the impression that the songs repeat enough each its own stuff. But it's cause they are very straight without forced luggage . Those 14 tracks actually differ one another in their fundamental scheme. Unleashed can use many influences: this is subtle, astute: an aggressiveness that is full of dry catchy hooklines. I'm also very convinced that this stuff can spread a terrible fascination when played live, if the playing technique can stand out superb like in the album. And finally, nice solo's are largely represented, while vocals and drumming provide for strength and blowing engine.
Winterland, the "ice cold" Winterland, is an excellent opener, with variety of sounds and guitar timbres, blowing drums, tight and steam-hammering work of strings able to draw melodic passages too, tempo changes from enough fast ones to slowing's down. The refrain is supported by an embroidery of clear cascades of notes so near to the Black style. Winterland is a neckbreaker featuring an hypnotic and deeply evil force, at the border line between pressing melodic Death and Black. Percussive and reverberating in a way of playing that reminds of Runemagick or Deathwitch.
Destruction (of the race of men) is a relentless ride , unleashed in almost 3 minutes of class that showcase many German thrash influences, while the vocals approach the lines of Swedish melodic death: an explosive cocktail. This track is built on 3 catchy blocks and an intermezzo with an agile solo. I won't discuss the lyrics of Only the Dead, but surely i 'd like to say that Only the Dead is one of the most original and interesting tracks of the album, above all concerning the musical scheme, cause we can trace also certain elements of Modern Metal and new American Death, with a touch of feral fierceness in the vocals. The Longships are coming, under the sign of the norsemen's drakkars , represents a lack of ideas, and though offering a midtempo whose wall of riffage is nice and heavy enough, executed in a winning Swedish style, its simple repetitiveness: a bit too simple, able for easily providing some headbanging; its positive factors: a brilliant lead solo and an attentive dynamic drumming.
Classic Death assault for Helljoy empowered by Thrash nuances, but, here again, we must deal with a certain repetitive concept, smoothened and broken only by an awesome solo. More valuable is Insane for Blood, a killer that unites bulldozing and merciless rhyhtmics with a research of a more marked depth in inspiration and pace changes: from a midtempo to a blowing rush. it follows I bring you Death, which maintains these characteristics with the insert of influences from classic Death, Thrash and even punk-ish tones. The short Attack!, like the title lets suppose, is an implacable assault in true old fast Death. CEO is a very good song which offers steam-hammering streams and well articulated solo's, both armed with attractive notes. Very good the work done from the bass. More or less, the same characteristics belong to One Night in Nazareth too, only they are assembled in no original way at all, with much Rock in disguise; no, i don't like One Night in Nazareth, it doesn't sounds very spontaneous. Praised is the Lord is the classical moshing- unleasher, absolutely strong with its loops that don't give you any breath. Live will be simply a bomb! Metalheads is another bangings' and moshing's instigator, fast with an agile solo's : "true metalheadz, bang your headz!" with no moment of rest!
To Miklagård is one of the best tracks and among the darkest ones of the album, showing a superior structure if compared with other moments of Sworn Allegiance. A long dynamic solo, and a melodic solid tension, in a midtempo whose colours turn just slightly in direction doom. Cadenced , with a refrain suitable for sing along choirs. The album closes with the catchy final assault of Long Live the Beast, sprayed with a thin Black appeal, concerning the soundscape tension, and very nice rhythm'n hooks. Very nice its solo.
Some shadows of doubt don't eclipse the many rays of approvals . Sworn Allegiance, with its sinister eyes inflamed and its hammer of Thor, is a good product, with vital loops, extreme enough , even if i wouldn't speak of super brutality or ferocity , cause fortunately lines of nearly melodic construction are safe and kept far away from blind and useless fury. This album could have been even better, and even more original, but it is however a must for Thrashers and Deathers. Legends never die and with Sworn Allegiance Unleashed make no exception to this legendary rule.

Rating: 8.5/10