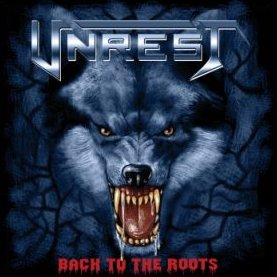 Go To Hell
Bang Your Head
A Legend Is Born
Far, Far, Away
Don`t Stop
We Will Rock
Breaking The Chains
Lost
Open The Gates
Burning Desire

Sönke Lau - vocals
Claus Wiechert - guitars
Guido Hettwer - drums
Andre Neuhaus - bass
Marco Liedtke - guitars
United we stand!

Always welcome, oh you wolves under the moon!
United we stand! Under the sign of the German wolves from Bremen this is surely a pleasure. Unrest belong to that group of (uptempo) Heavy metal bands whose ability to act as a bridge between the metal banks is simply precious. Yes. Classic Heavy Metal and Rock sound here totally fresh, rich in hooks and meet Power Metal as well as a darker attitude. With Unrest all Metallers ( no exception) can bang their heads till fever attacks. The drum lines are extremely inviting and involving with the kick sound is able to add that obscure touch, while the guitar solos are crystalline. Vocals are clear and well round, powerful, never high pitched and often raw and low- tuned, able to crawl your mind anytime: in ambush they wait you for a poisonous sting. By the way uptempo... most of the songs are so, anyway Unrest spread everlasting and evergreen vibes also with midtempo and romantic ballades. Unrest don't invent anything new indeed, but they actually re-invent and re-propose Classical Metal for the young generations. "Back to the Roots" gives immediately gas with the opener Go to Hell, where a super drumming and a perfect instrumental coordination mix True Metal with typical modern Teutonic Rammstein-y echoes running in the rhythmic background lines. Bang you Head is the shamefully beautiful earworm of the album that provides an elixir of eternal youth, a powerful rhythmic sustain, sane solid guitars, smashing force and tons of sing-along feeling. A Legend is born is one of the fastest songs with a pulsing double bass drums and a battering attitude rooted back to the 80's. The fourth track Far, far away is another fast track that reinforces the direction of furious Rock, with elastic thunderous riffs and captivating and even reverberating solos, whereas the rhythmic section builds up springboards of pressure.
With the leaden mid tempo of Don't stop Unrest offer an anthology of how and of what true metal's magnetism is when Dokken meet Primal Fear. And even stronger is the following We will rock, killing lively mid/up, with the omnipresent perfect drum discharge. The percussive Breaking the Chains opens up the way for another hit of this album (by the way the sixth one of Unrest's career) : Lost . Although full of influences, Lost is irresistible and surely another "must" of this CD.
Open the Gates has a subtle hymnic attitude "of steel" mixed with a just slight medieval taste and moments of very heavy waves of riffs. The sweet balladesque Burning Desire lets us dream with its guitar lines and a super catchy romantic refrain , which fortunately is by no means affected, on the contrary. The guitar arpeggios are particularly well tuned casting the spell of nostalgia and tear -calling harmony.
Unrest throw themselves in the battle with the attitude of Deathers (and i've admired it live, recently, at the Z7 Metal dayz 2006) though playing accordingly to the law of True Metal. Practically, the German wolves use the same grammar of Accept, Manowar, Grave Digger, Iced Earth, Judas Priest , just to name few, but the rules don't bore and don't seem trite, they even seem like bringing a total new motion. So classic, old fashioned yet so refreshing. The careful production and the experienced musical ability of the band just make then the rest. "Back to the Roots" is a nice genuine album without pretensions, well projected and well played, that's why it comes out so winning and useful. "Back to the Roots" is one of those albums worth every cent spent to buy it, that always will be listened to, and always will be aired in a metal party among friends. Always welcome, oh you wolves under the moon!
rating : 9/10
---